President's Day falls this year, as always, in the midst of Black History Month.  With educators, parents and citizens across race striving to make African American history and culture much, much more than a 28 Day celebration, what role does black history have in the study of our founding fathers?
A recent controversy in the children's literature world shows that George Washington, a slaveholder, can no longer escape our scrutiny.  In January, Scholastic Press canceled the publication of A Birthday Cake for George Washington by Ramin Ganeshram and illustrated by Vanessa Brantley-Newton.
In the picture book, George Washington's enslaved cook and his young daughter Delia bake the president a birthday cake.  Andrea Davis Pinkney, the executive editor, initially said that the book approached American slavery with "the utmost care."
She wrote that Mr. Washington "admired" Hercules and that the cook lived a life of "near-freedom" because of the president's fondness for him. Hercules and the other kitchen slaves reciprocated those warm feelings, she said, and "took great pride in their ability to cook for a man of such stature."

That pride in their position in the president's kitchen is why the book's illustrator, Vanessa Brantley-Newton, chose to depict the slaves "as happy people," Ms. Pinkney wrote.

"They were not happy about being enslaved, but there was joy in what they created through their intelligence and culinary talent," she said, adding that some historians consider Hercules to have been "the first celebrity chef in America." —New York Times, read more
Critics disagreed strongly with the creative team that produced the book.  The storm that surged on Twitter and blogs under the #SlaveryWithASmile hashtag took Hercules' and Delia's smiling pride for creating the cake as a callous misrepresentation of an enslaved family.  In their mind the author's attempt to show respect to George Washington's famous chef, ignored his enslavement and the historical fact that Hercules later fled his enslavement leaving his family (including Delia) behind.
Scholastic recalled the book stating, "without more historical background on the evils of slavery than this book for younger children can provide, the book may give a false impression of the reality of the lives of slaves and therefore should be withdrawn."
Librarian Edith Campbell response sums up the complexity of this nation's "encumbrance" and how it plays out in children's literature.
"While this victory is empowering, the fight itself is disheartening because the battle against the portrayal of 'happy slaves', of people who were less that human and who were being well cared for is a hundred years old. The need for accuracy, not for sweetening, with regards to the enslavement of Blacks in America is critical to this country. This era in American history has shaped our national identity and until we get it right, we will continue to be encumbered with racism." —Librarian Edith Campbell
Alan Singer, a Social Studies educator at Hofstra University, offered a clearer lesson on the Washington's treatment of slaves in a Huffington Post article and suggested that a book on the escape of Hercules or Martha Washington's slave Oney Judge would make a better tale.  In fact, several children's books featuring the life of Oney Judge exist.
We talk about this controversy and three children's books that merge African American history with that of the lives of George Washington and Abraham Lincoln on our podcast with WKVTs Green Mountain Morning on President's Day.
---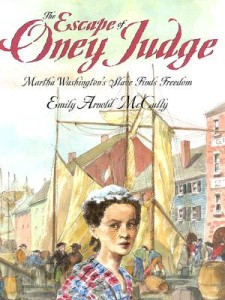 The Escape of Oney Judge:
Martha Washington's Slave Finds Freedom
By Emily Arnold McCully
ISBN-13: 9780374322250
Publisher: Farrar, Straus and Giroux
Age Range: 6 – 12 Years
Locate a Local Bookstore
When General George Washington is elected the first President of the United States, his wife chooses young Oney Judge, a house slave who works as a seamstress at Mount Vernon, to travel with her to the nation's capital in New York City as her personal maid. When the capital is moved to Philadelphia, the Washingtons and Oney move, too, and there Oney meets free blacks for the first time. At first Oney can't imagine being free – she depends on the Washingtons for food, warmth, and clothing. But then Mrs. Washington tells Oney that after her death she will be sent to live with Mrs. Washington's granddaughter. Oney is horrified because she knows it is likely that she will then be sold to a stranger – the worst fate she can imagine. Oney realizes she must run. One day she sees an opportunity and takes it, ending up in New Hampshire, where she lives the rest of her life, poor but free.
Pen-and-ink and watercolor illustrations bring to life this picture book biography of Oney Judge, a young woman who, in the end, has no mistress but herself.
The Escape of Oney Judge is a 2008 Bank Street – Best Children's Book of the Year.
---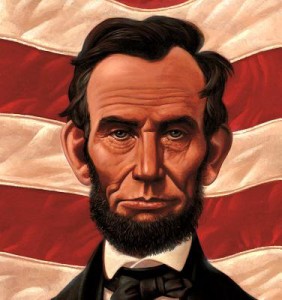 Abe's Honest Words:
The Life of Abraham Lincoln
By Doreen Rappaport
Illustrated by Kadir Nelson
ISBN-13: 9781484749586
Publisher: Disney Press
Series: Big Words Series
Age Range: 6 – 12 Years
Locate a Local Bookstore
From the time he was a young boy roaming the forests of the unsettled Midwest, Abraham Lincoln knew in his heart that slavery was deeply wrong. A voracious reader, Lincoln spent every spare moment of his days filling his mind with knowledge, from history to literature to mathematics, preparing himself to one day lead the country he loved toward greater equality and prosperity.
Despite the obstacles he faced as a self-educated man from the back woods, Lincoln persevered in his political career, and his compassion and honesty gradually earned him the trust of many Americans. As president, he guided the nation through a long and bitter civil war and penned the document that would lead to the end of slavery in the United States.
The passion for humanity that defined Lincoln's life shines through in this momentous follow-up to Martin's Big Words and John's Secret Dreams. Told in Doreen Rappaport's accessible, absorbing prose, and brought to life in powerful illustrations by Kadir Nelson, Abe's Honest Words is an epic portrait of a truly great American president.
---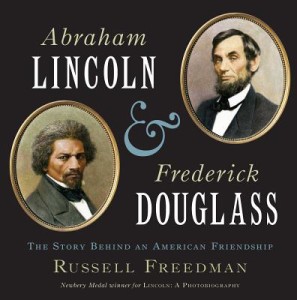 Abraham Lincoln and Frederick Douglass:
The Story Behind an American Friendship
By Russell Freedman
ISBN-13: 9780547385624
Publisher: Houghton Mifflin Harcourt
Age Range: 9 – 12 Years
Locate a Local Bookstore
From the author of Lincoln: A Photobiography, comes a clear-sighted, carefully researched account of two surprisingly parallel lives and how they intersected at a critical moment in U.S. history. Abraham Lincoln and Frederick Douglass were both self-taught, both great readers and believers in the importance of literacy, both men born poor who by their own efforts reached positions of power and prominence—Lincoln as president of the United States and Douglass as the most famous and influential African American of his time. Though their meetings were few and brief, their exchange of ideas helped to end the Civil War, reunite the nation, and abolish slavery. Bibliography, source notes, index.
---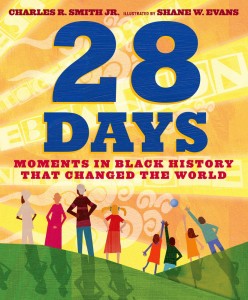 28 DAYS:
Moments in Black History That Changed the World
By Charles R. Smith Jr.
Illustrated by Shane W. Evans
Audiobook produced by Live Oak Media
The astounding production features performances by Dion Graham, William Jackson Harper,  Zainab Jah, January LaVoy, Robin Miles, Lizan Mitchell,  Jonathan, Earl Peck and Carter Redwood.
AudioFile Magazine is offering one excerpt each day of the 28 days of African American History Month.
Follow & Share the Daily Posts on SoundCloud
Locate the Live Oak Media Picture Book & CD Set