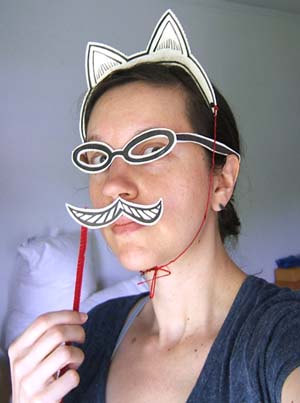 The fabulous Anna Alter has just released a book sure to rescue all us wallflowers and to playfully sedate the bodacious amongst us.
The picture book, Disappearing Desmond depicts a young creature who would just as soon NOT be noticed.  Desmond is a master of disguise, pulling attention away from himself by blending into the background.  He meets his match in Gloria, a gal who likes to notice and BE noticed.
Anna Alter and Curious City started their brainstorm with Desmond's Master of Disguise Kit (Lovely Anna modeling in photo!)  and grew that into 'an activity kit to help kids new friends and the joys of disguise.'
Check out the librarian, educator, bookstore, art class, reader activity kit here.