Naima asks, "But why?" when reminded she cannot drive her father's rickshaw to help her family because she is a girl.  Gender inequality in labor is just one of the beautifully handled international issues in Mitali Perkin's slim novel, Rickshaw Girl.
Days after the 2015 International Women's Day rallying cry of, ""Empowering Women, Empowering Humanity: Picture it!," Curious City features five books where girls asked, "but why?" when faced with economic and social injustices.
Curious City joined Chris Lenois on Green Mountain Mornings for this discussion.  Listen to the podcast here. __________________________________________________________________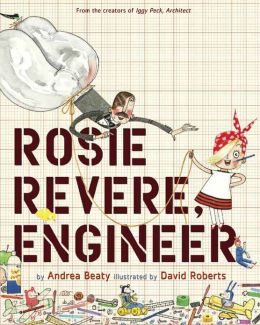 Rosie Revere, Engineer
By Andrea Beaty
Illustrated by David Roberts
Publisher: Margaret K. McElderry Books
Age range: 6 – 12 Years
Locate at a Indie Bookstore
Rosie may seem quiet during the day, but at night she's a brilliant inventor of gizmos and gadgets who dreams of becoming a great engineer. When her great-great-aunt Rose (Rosie the Riveter) comes for a visit and mentions her one unfinished goal—to fly—Rosie sets to work building a contraption to make her aunt's dream come true. But when her contraption doesn't fly but rather hovers for a moment and then crashes, Rosie deems the invention a failure. On the contrary, Aunt Rose insists that Rosie's contraption was a raging success: you can only truly fail, she explains, if you quit. From the powerhouse author-illustrator team of Iggy Peck, Architect comes Rosie Revere, Engineer, another charming, witty picture book about believing in yourself and pursuing your passion.
__________________________________________________________________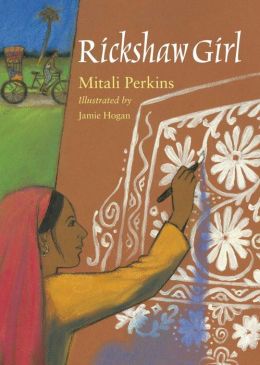 Rickshaw Girl
By Mitali Perkins
Illustrated by Jamie Hogan
Publisher: Charlesbridge Publishing, Inc.
Age range: 7 – 10 Years
Locate at a Indie Bookstore
Naima is a talented painter of traditional alpana patterns, which Bangladeshi women and girls paint on their houses for special celebrations. But Naima is not satisfied just painting alpana. She wants to help earn money for her family, like her best friend, Saleem, does for his family. When Naima's rash effort to help puts her family deeper in debt, she draws on her resourceful nature and her talents to bravely save the day. Includes a glossary of Bangla words and an author's note about a changing Bangladesh and microfinance.
__________________________________________________________________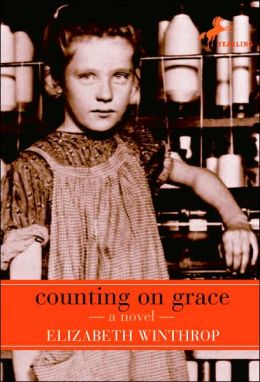 Counting on Grace
By Elizabeth Winthrop
Publisher: Random House Children's Books
Age range: 8 – 12 Years
Locate at a Indie Bookstore 1910.
Pownal, Vermont. At 12, Grace and her best friend Arthur must leave school and go to work as a "doffers" on their mothers' looms in the mill. Grace's mother is the best worker, fast and powerful, and Grace desperately wants to help her. But she's left handed and doffing is a right-handed job. Grace's every mistake costs her mother, and the family. She only feels capable on Sundays, when she and Arthur receive special lessons from their teacher. Together they write a secret letter to the Child Labor Board about underage children working in Pownal. A few weeks later a man with a camera shows up. It is the famous reformer Lewis Hine, undercover, collecting evidence for the Child Labor Board. Grace's brief acquaintance with Hine and the photos he takes of her are a gift that changes her sense of herself, her future, and her family's future.
__________________________________________________________________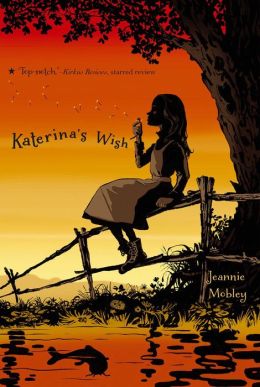 Katerina's Wish
by Jeannie Mobley
Publisher: Margaret K. McElderry Books
Age range: 8 – 12 Years
Locate at a Indie Bookstore
In this moving debut, an immigrant girl discovers that hard work and determination can make dreams come true. Katerina has a dream. It's her papa's dream, too. Her family came to America to buy their own farm. But a year later, Papa is still working in the dangerous coal mine. Each day, the farm seems farther away. Then Katerina is reminded of the carp that granted three wishes in an old folktale. When her younger sisters hear the story, they immediately make wishes. Trina doesn't believe in such silliness—but what is she to think when her sisters' wishes come true? A farm is still too big to wish for. But, with the help of the neighbor's handsome son, Trina starts building her dream with hard work and good sense. Then tragedy strikes, and it seems that nothing Trina wishes for will ever come true again. With warmth and gentle humor, Jeannie Mobley tells the story of a girl whose determination is as inspiring as her dreams
__________________________________________________________________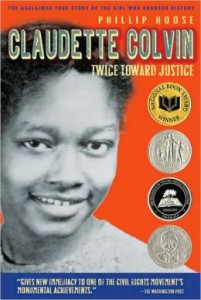 Claudette Colvin: Twice Toward Justice
by Phillip Hoose
Publisher: Square Fish
Age range: 13 – 17 Years
Locate at a Indie Bookstore
"It's my constitutional right!" screamed Claudette Colvin as she was dragged off a segregated city bus in Montgomery, Alabama, after refusing to give up her seat to a white woman. It was March 2, 1955—nine months before Rosa Parks took a similar stand. But instead of being celebrated as Parks was, Colvin was shunned by her classmates and dismissed by community leaders. Undaunted, a year later she dared to challenge segregation again as a key plaintiff in Browder v. Gayle, the landmark case that did for transportation what Brown v. The Board of Education did for education.
Called "unforgettable" by The Wall Street Journal, this outstanding, ground-breaking account of an almost forgotten civil rights pioneer garnered praise and accolades, including a National Book Award, a Newbery Honor, and a Robert F. Sibert Book. As The New York Times said in a glowing review, Hoose "finally gives [Colvin] the credit she deserves."
Winner of the 2009 National Book Award for Young People's Literature
LISTEN to Radio Diaries Podcast