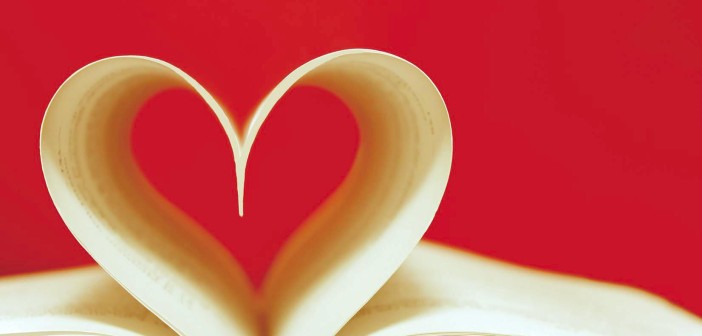 In honor of Valentine's Day we are going to talk about the BIG LOVE librarians show kidlit each year at the annual Youth Media Awards. Every January clever librarians gather to choose and announce medals and honors for 18 individual awards. The award that keeps Curious City on the edge of our seats is the Coretta Scott King Awards.
The Coretta Scott King Book Awards are given annually to outstanding African American authors and illustrators of books for children and young adults that demonstrate an appreciation of African American culture and universal human values. The award commemorates the life and work of Dr. Martin Luther King, Jr., and honors his wife, Mrs. Coretta Scott King, for her courage and determination to continue the work for peace and world brotherhood.
Towering among the winners this year was March – the graphic novel series by Congressman John Lewis (Top Shelf Productions). It won an unprecedented FOUR Youth Media Awards including a The Coretta Scott King. Having already shared how passionate we are about the production and impact of THAT series, we turn to three other titles we adore in our podcast conversation with Chris Lenois of WKVT's Green Mountain Morning.


---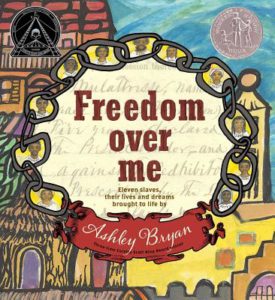 Freedom Over Me: Eleven Slaves, Their Lives
and Dreams Brought to Life by Ashley Bryan
By Ashley Bryan
Illustrated by Ashley Bryan
Publisher: Atheneum/Caitlyn Dlouhy Books
Age Range: 6 Years – Adult
Locate at Local Bookstore
Locate at Local Library

Newbery Honor Book
Coretta Scott King Author Honor Book
Coretta Scott King Illustrator Honor Book
Using original slave auction and plantation estate documents, Ashley Bryan offers a moving and powerful picture book that contrasts the monetary value of a slave with the priceless value of life experiences and dreams that a slave owner could never take away.
Imagine being looked up and down and being valued as less than chair. Less than an ox. Less than a dress. Maybe about the same as…a lantern.
You, an object. An object to sell.
In his gentle yet deeply powerful way, Ashley Bryan goes to the heart of how a slave is given a monetary value by the slave owner, tempering this with the one thing that CAN'T be bought or sold—dreams. Inspired by the actual will of a plantation owner that lists the worth of each and every one of his "workers", Bryan has created collages around that document, and others like it. Through fierce paintings and expansive poetry he imagines and interprets each person's life on the plantation, as well as the life their owner knew nothing about—their dreams and pride in knowing that they were worth far more than an Overseer or Madam ever would guess. Visually epic, and never before done, this stunning picture book is unlike anything you've seen.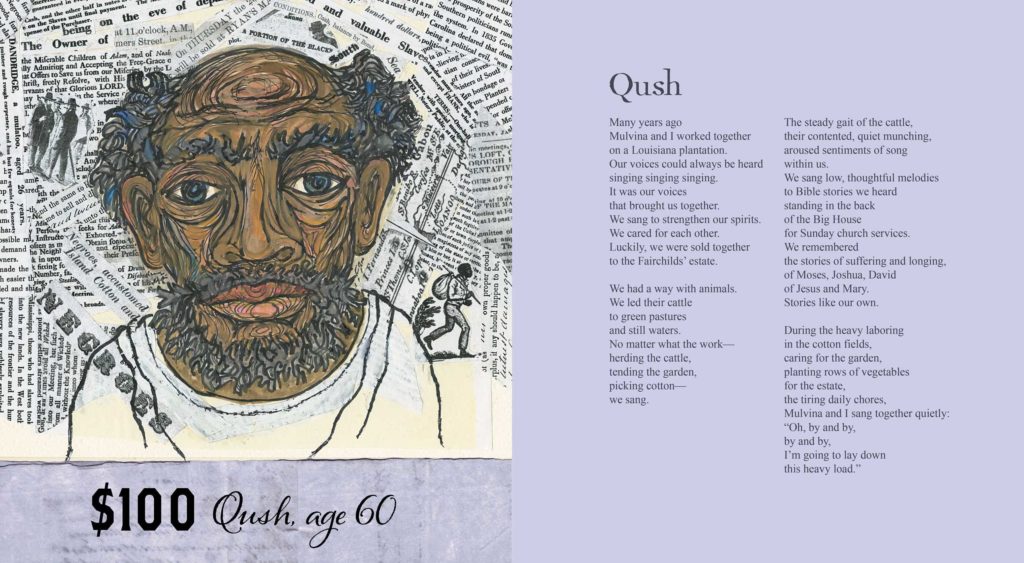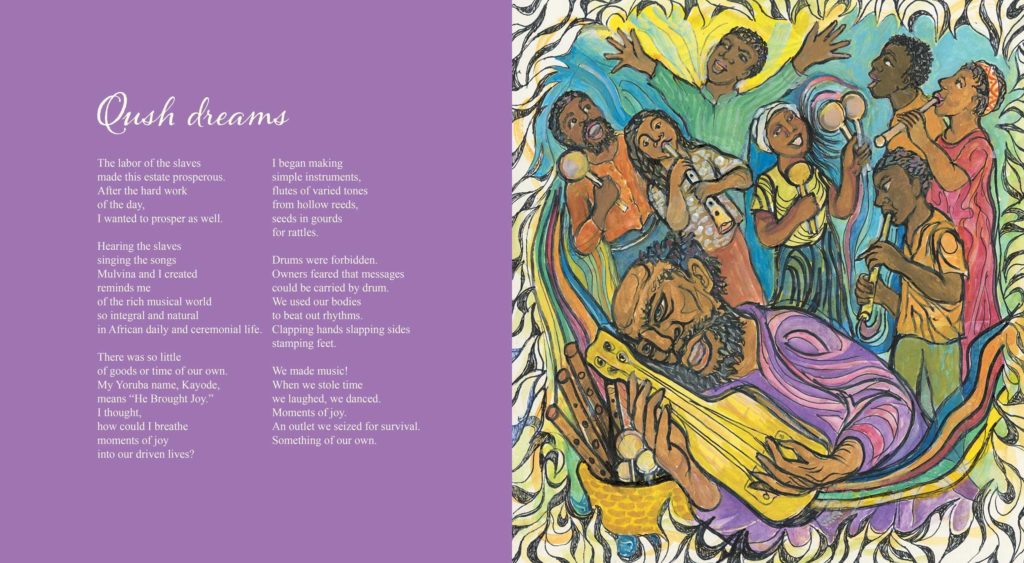 ---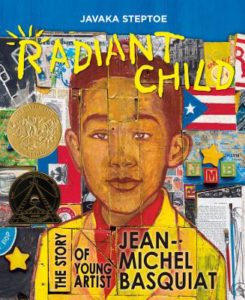 Radiant Child:
The Story of Young Artist Jean-Michel Basquiat
By Javaka Steptoe
Illustrated by Javaka Steptoe
Published by Little, Brown Books for Young Readers
Age Range: 4 Years – Adult
Locate at Local Bookstore
Locate at Local Library
Winner of the 2017 Randolph Caldecott Medal
Winner of the 2017 Coretta Scott King Illustrator Award
Somewhere in Brooklyn, a little boy dreams of being a famous artist, not knowing that one day he would make himself a king.
Jean-Michael Basquiat and his unique, collage-style paintings rocketed to fame in the 1980s as a cultural phenomenon unlike anything the art world had ever seen. But before that, he was a little boy who saw art everywhere: in poetry books and museums, in games and in the words that we speak, and in the pulsing energy of New York City. Now, award-winning illustrator Javaka Steptoe's vivid text and bold artwork echoing Basquiat's own introduce young readers to the powerful message that art doesn't always have to be neat or clean–and definitely not inside the lines–to be beautiful.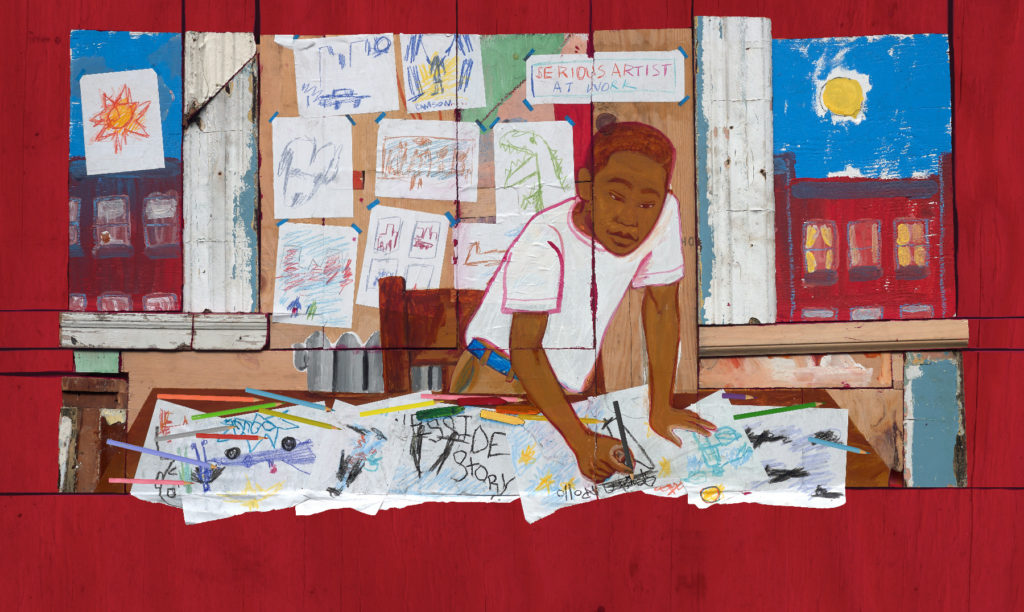 ---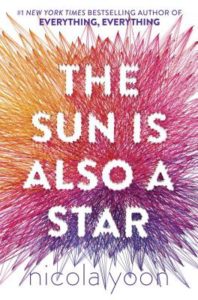 The Sun Is Also a Star
by Nicola Yoon
Published by Random House Children's Books
Age Range: 12 Years – Adult
Locate at Local Bookstore
Locate at Local Library
A National Book Award Finalist
A 2017 Michael L. Printz Honor Book
Coretta Scott King/John Steptoe New Talent Author Award
Natasha: I'm a girl who believes in science and facts. Not fate. Not destiny. Or dreams that will never come true. I'm definitely not the kind of girl who meets a cute boy on a crowded New York City street and falls in love with him. Not when my family is twelve hours away from being deported to Jamaica. Falling in love with him won't be my story.
Daniel: I've always been the good son, the good student, living up to my parents' high expectations. Never the poet. Or the dreamer. But when I see her, I forget about all that. Something about Natasha makes me think that fate has something much more extraordinary in store—for both of us.
The Universe: Every moment in our lives has brought us to this single moment. A million futures lie before us. Which one will come true?