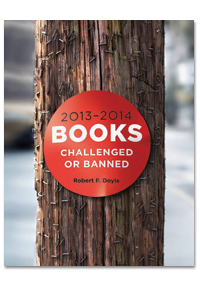 With Halloween approaching, we could consider the connection between fear and KitLit.  No, not spooky books, but people who have been spooked by books and have sought to challenge or ban them.
"I suggest that parents read these challenging (and challenged) books and use them for opportunities to talk about difficult subjects with their child. We need to remind ourselves that any book that has power also has the power to offend." —Children's Book Author, Katherine Paterson
You can listen to our conversation about Banned Books with Chris Lenois on Green Mountain Mornings here.
Here are the fine (and powerful) books we mentioned…
________________________________________________________________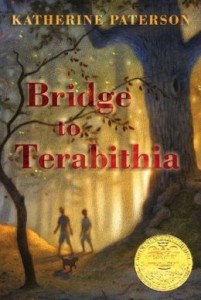 Bridge to Terabithia
By Katherine Paterson
Publisher: HarperCollins Publishers
ISBN-13: 9780064401845
Age range: 9 – 11 Years
Locate a copy at a Local Bookstore
All summer, Jess pushed himself to be the fastest boy in the fifth grade, and when the year's first school-yard race was run, he was going to win. But his victory was stolen by a newcomer, by a girl, one who didn't even know enough to stay on the girls' side of the playground. Then, unexpectedly, Jess finds himself sticking up for Leslie, for the girl who breaks rules and wins races. The friendship between the two grows as Jess guides the city girl through the pitfalls of life in their small, rural town, and Leslie draws him into the world of imagination-a world of magic and ceremony called Terabithia. Here, Leslie and Jess rule supreme among the oaks and evergreens, safe from the bullies and ridicule of the mundane world. Safe until an unforeseen tragedy forces Jess to reign in Terabithia alone, and both worlds are forever changed.
________________________________________________________________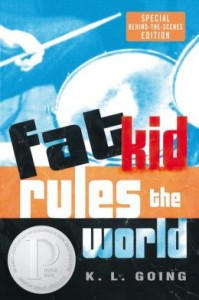 Fat Kid Rules the World
By K. L. Going
Publisher: Penguin Young Readers Group
ISBN-13: 9780142402085
Age range: 12 – 17 Years
Locate a copy at a Local Bookstore
Troy Billings is seventeen, 296 pounds, friendless, utterly miserable, and about to step off a New York subway platform in front of an oncoming train. Until he meets Curt MacCrae, an emaciated, semi-homeless, high school dropout guitar genius, the stuff of which Lower East Side punk rock legends are made. Never mind that Troy's dad thinks Curt's a drug addict and Troy's brother thinks Troy's the biggest (literally) loser in Manhattan. Soon, Curt's recruited Troy as his new drummer—even though Troy can't play the drums. Together, Curt and Troy will change the world of punk, and Troy's own life, forever.
A Michael L. Printz Honor Book
________________________________________________________________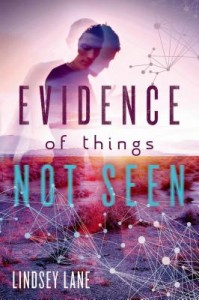 Evidence of Things Not Seen
By Lindsey Lane
Publisher: Farrar, Straus and Giroux
ISBN-13: 9780374300609
Age range: 12 – 18 Years
Locate a copy at a Local Bookstore
When high school junior Tommy Smythe goes missing, everyone has a theory about what happened to him. He was an odd kid, often deeply involved in particle physics, so maybe he just got distracted and wandered off. He was last seen at a pullout off the highway, so maybe someone snatched him. Tommy believes that everything is possible, and that until something can be proven false, it may be true. So as long as Tommy's whereabouts are undetermined, he could literally be anywhere.
Told in a series of first-person narratives from people who knew Tommy, Evidence of Things Not Seen by award-winning author Lindsey Lane explores themes of loneliness, connectedness, and the role we play in creating our own realities.
________________________________________________________________
The Absolutely True Diary of a Part-Time Indian
By Sherman Alexie
Publisher: Little, Brown Books for Young Readers
ISBN-13: 9780316013697
Age range: 12 – 17 Years
Locate a copy at a Local Bookstore
Sherman Alexie tells the story of Junior, a budding cartoonist growing up on the Spokane Indian Reservation. Determined to take his future into his own hands, Junior leaves his troubled school on the rez to attend an all-white farm town high school where the only other Indian is the school mascot. Heartbreaking, funny, and beautifully written, The Absolutely True Diary of a Part-Time Indian, which is based on the author's own experiences, coupled with poignant drawings that reflect the character's art, chronicles the contemporary adolescence of one Native American boy as he attempts to break away from the life he thought he was destined to live.
 "…I write books for teenagers because I vividly remember what it felt like to be a teen facing everyday and epic dangers. I don't write to protect them. It's far too late for that. I write to give them weapons–in the form of words and ideas-that will help them fight their monsters. I write in blood because I remember what it felt like to bleed." –Sherman Alexie in the Wall Street Journal
________________________________________________________________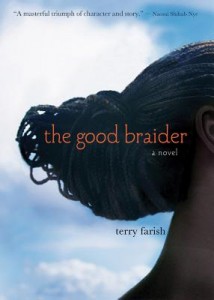 The Good Braider
By Terry Farish
Publisher: Skyscape
ISBN-13: 9781477816288
Locate a copy at a Local Bookstore
The Good Braider was selected as the 2013 Bank Street College of Education Best Book of the Year and a book of Outstanding Merit.
In spare free verse laced with unforgettable images, Viola's strikingly original voice sings out the story of her family's journey from war-torn Sudan, to Cairo, and finally to Portland, Maine. Here, in the sometimes too close embrace of the local Southern Sudanese Community, she dreams of South Sudan while she tries to navigate the strange world of America?a world where a girl can wear a short skirt, get a tattoo, or even date a boy; a world that puts her into sharp conflict with her traditional mother who, like Viola, is struggling to braid together the strands of a displaced life. Terry Farish's haunting novel is not only a riveting story of escape and survival, but the universal tale of a young immigrant's struggle to build a life on the cusp of two cultures.
The author of The Good Braider has donated this book to the Worldreader program.
________________________________________________________________
RESOURCES
Banned Books Week: Celebrating the Freedom to Read from the mighty ALA.
Top 100 Banned/Challenged Books: 2000-2009