k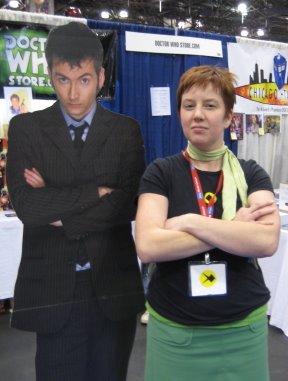 As a foreigner in the house of Comic Con from the much more tepid world of book trade shows, I wondered often and heartily over the weekend at "fandom." As someone who as a living tries to increase the readership of books for children, I marvel that Graphia (the new haute word for manga, comic books, and graphics novels) has FANS, not readers.
How different a writer's life would be if, say, (our dear departed) John Updike had readers pressing towards him at conventions dressed like Harry "Rabbit" Angstrom. I mean, the costume would not be so hard.
I saw many wonders of fandom. Comic Con began in the early morning hours of Friday as I hiked to the Javitz to set up the Nemo Publishing booth. Beside me was a large African American teen sporting a Celtics fleece and a enormous Japanese broadsword over his shoulder. He was given only an eye roll from security as we passed side by side into the show.
At the end of the show after the last of our booth had been shrink wrapped onto its pallet headed for Maine, we hit the local diner to sit beside Wonder Woman on a date with someone she picked up at the show. Her date declared in the imperative explanations of first dates, "…I am Portuguese actually, although most people think I am Samoan." When did she and Steve Trevor break up?
In between I saw a paper mache Hulk, a Jedi dragging a LL Bean suitcase, a Wookie signing autographs, a rather amazing African American Leia, zombies drinking smoothies, an 8-year-old dressed as Doctor Who (complete with the David Tennant hair gel), many, many Jokers in pilfered nurse uniforms, and anime characters that I will never, ever have the reference for.
As all the eye candy passed by the booth of Nemo Publishing where I was so proudly stationed, I tried to catch their eye and ear with story. The more contemplative ones stopped to listen and we have many fine sales and contacts for Maine's own Undersea Adventures of Capt'n Eli, but even so I resented the sea of people hell bent on the pursuit of fandom and deaf to my charms.
Eventually the sea pulled me in and I who scoffed at it all found the minutia of my own fandom. Could I really have a David Tennant Doctor Who action figure to toy with in my dark hours for only $29.95? I looked in my wallet and decided the Harry "Rabbit" Angstrom action figure will have to wait.

Capt'n Eli Videos & Pics from Comic Con