One weekend the horror of the Pulse attack.  The next weekend LGBTQIA communities all over the country celebrating PRIDE week.  Even as a straight ally, I cannot begin to touch the pain of the seven days between these events.  What can one DO to help?
My only answer is (my only answer ever is) to give and read stories.
LGBTQIA kids in every community in American need to see themselves in the pages of the books they read.  They need the camaraderie, the closeness, the confidence-building, the empathy of meeting someone like themselves on the page.  Why might LGBTQIA need this connection more than other kids?
FACT: "LGB youth are 4 times more likely, and questioning youth are 3 times more likely, to attempt suicide as their straight peers." (Source: The Trevor Project)

–

FACT: Each episode of LGBT victimization, such as physical or verbal harassment or abuse, increases the likelihood of self-harming behavior by 2.5 times on average.  (Source: The Trevor Project)

Books save lives.
LGBTQIA titles are not, of course, just for LGBTQIA kids.
TRUTH: "The true meeting takes place when the book opens, and a stranger reads about — and comprehends — a stranger." –Amit Majmudar, Author
We all need to be reading LGBTQIA Lit and sharing it with our kids.
How can you be an Ally for the safety and happiness of our rich, diverse, strong LGBTQIA community?  GIVE and READ books like the ones listed below.  Make a donation to your school library in honor of the young people lost in Orlando.
RESOURCE: Find more recommendations from the Stonewall Book Awards List and the Rainbow Book List.

LISTEN to Curious City talk about this topic in WKVT Green Mountain Morning Podcast!




---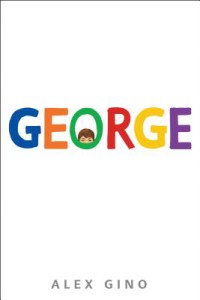 George
by Alex Gino
Publisher: Scholastic, Inc.
Age Range: 8 – 12 Years
Locate a Copy at a Local Bookstore
2016 Stonewall Book Award Children's Literature Winner
2016 Children's Choice Book Award Winner for Debut Author
2016 Lambda Literary Award Winner for LGBT Children's/Young Adult Literature
BE WHO YOU ARE.
When people look at George, they think they see a boy. But she knows she's not a boy. She knows she's a girl.
George thinks she'll have to keep this a secret forever. Then her teacher announces that their class play is going to be Charlotte's Web. George really, really, REALLY wants to play Charlotte. But the teacher says she can't even try out for the part…because she's a boy.
With the help of her best friend, Kelly, George comes up with a plan. Not just so she can be Charlotte—but so everyone can know who she is, once and for all.
INTERVIEW: Alex Gino: 'I knew I was different as a kid'
(Source: Guardian)
IN THE NEWS: Author alleges school bias after backing book with transgender kid
(Source: Austin Statesman)
---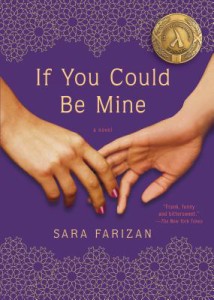 If You Could Be Mine: A Novel
by Sara Farizan
ISBN-13:9781616204556
Publisher: Algonquin Young Readers
Age Range: 14 – 18 Years
Locate a Copy at a Local Bookstore
Winner of the Lambda Literary Award for LGBT Children's/Young Adult
One of Rolling Stone's 40 Best YA Novels
A 2014 ALA Rainbow List Top 10 Title
A Booklist Top 10 First Novels for Youth 2013
A Chicago Public Library "Best of the Best" 2013
This Forbidden Romance Could Cost Them Their Lives
Seventeen-year-old Sahar has been in love with her best friend, Nasrin, since they were six. They've shared stolen kisses and romantic promises. But Iran is a dangerous place for two girls in love—Sahar and Nasrin could be beaten, imprisoned, even executed. So they carry on in secret until Nasrin's parents suddenly announce that they've arranged for her marriage. Then Sahar discovers what seems like the perfect solution: homosexuality may be a crime, but to be a man trapped in a woman's body is seen as nature's mistake, and sex reassignment is legal and accessible. Sahar will never be able to love Nasrin in the body she wants to be loved in without risking their lives, but is saving their love worth sacrificing her true self?


---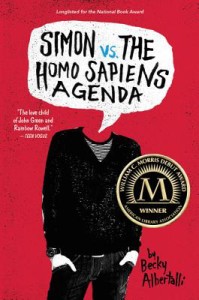 Simon vs. the Homo Sapiens Agenda
by Becky Albertalli
Publisher: HarperCollins Publishers
Age Range: 14 – 17 Years
Locate a Copy at a Local Bookstore
William C. Morris Award Winner
National Book Award Longlist
"A remarkable gift of a novel."—Andrew Smith, author of Grasshopper Jungle
"I am so in love with this book."—Nina LaCour, author of Hold Still
"Feels timelessly, effortlessly now."—Tim Federle, author of Better Nate Than Ever
"The best kind of love story."—Alex Sanchez, Lambda Award-winning author of Rainbow Boys
Sixteen-year-old and not-so-openly gay Simon Spier prefers to save his drama for the school musical. But when an email falls into the wrong hands, his secret is at risk of being thrust into the spotlight. Now change-averse Simon has to find a way to step out of his comfort zone before he's pushed out—without alienating his friends, compromising himself, or fumbling a shot at happiness with the most confusing, adorable guy he's never met.
Incredibly funny and poignant, this twenty-first-century coming-of-age, coming out story—wrapped in a geek romance—is a knockout of a debut novel by Becky Albertalli.
---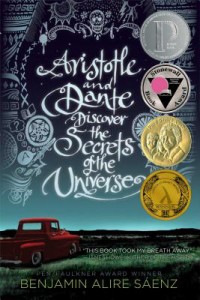 Aristotle and Dante Discover the Secrets of the Universe
By Benjamin Alire Sáenz
Publisher: Simon & Schuster Books For Young Readers
Age range: 12 – Adult
Locate a Copy at a Local Bookstore
Winner of the 2013 Pura Belpré Author Award
Winner of the 2013 Stonewall Book Award for Children's and Young Adult Literature
Winner of the 2013 Lambda Literary Award for LBGT Children's/YA Literature
A 2013 Michael L. Printz Honor Book
Aristotle is an angry teen with a brother in prison. Dante is a know-it-all who has an unusual way of looking at the world. When the two meet at the swimming pool, they seem to have nothing in common. But as the loners start spending time together, they discover that they share a special friendship—the kind that changes lives and lasts a lifetime. And it is through this friendship that Ari and Dante will learn the most important truths about themselves and the kind of people they want to be.