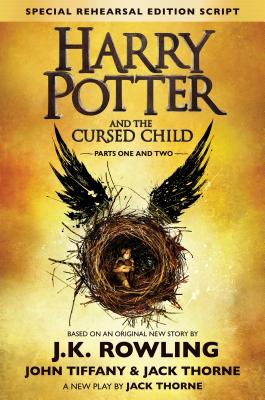 Just when you thought nothing more could be written or read about the 2016 American presidential election, in steps the boy wizard.
The Boy Wizard Returns

For twenty years author J.K. Rowling has held readers and movie-goers in thrall.  With 450 million copies of the Harry Potter books sold worldwide in 73 languages, Rowling has created a beloved brand that was worth 15 billion dollars in 2013.
That estimated worth was before tickets went on sale for "Harry Potter and the Cursed Child," the new play written by Jack Thorne with J.K. Rowling and John Tiffany.  The play premiered on July 30 and will run through the opening weeks of 2017.  The play is sold out for its entire London run.
That 15 billion dollar worth is also before the script of "Harry Potter and the Cursed Child" was released as a hardcover book over the weekend.  While sales numbers have not been fully released, it has preemptively been declared Amazon's bestseller for the year.  No one beats Harry Potter in the bestseller fight or most fights for that matter.  Not even presidential candidate Donald Trump.
Harry Potter and the Deathly Donald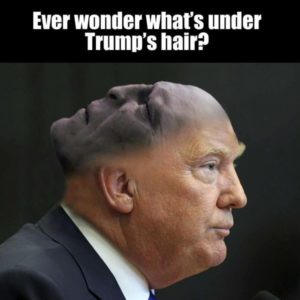 A new study by The Institute for the Study of Citizens and Politics at the University of Pennsylvania entitled, "Harry Potter and the Deathly Donald," found that reading Harry Potter books leads Americans to take a lower opinion of Donald Trump.
According to the study's results, reading any Harry Potter book predicts a 5 to 6 point increase in positive evaluations of Muslims and gays.  Additionally, having read any Harry Potter books predicts that a respondent will evaluate Trump over 9 points less.
"Even when controlling for party identification, gender, education level, age, evangelical self-identification, and social dominance orientation — all factors known to predict Americans' attitudes toward Donald Trump — the Harry Potter effect remained."
–
—Professor Diana C. Mutz, "Harry Potter and the Deathly Donald"
This is not the first time Harry Potter fans have been studied for attitudes towards larger social and political issues.  University of Vermont professor, Anthony Gierzynski researched undergraduate students from seven universities and released  Harry Potter and the Millennials: Research Methods and the Politics of the Muggle Generation with Kathryn Eddy in 2o13.
"Specifically, the evidence indicates that Harry Potter fans are more open to diversity and are more politically tolerant than nonfans; fans are also less authoritarian, less likely to support the use of deadly force or torture, more politically active, and more likely to have had a negative view of the Bush administration."
–
—Harry Potter and the Millennials: Research Methods and the Politics of the Muggle Generation
Trumpdemort
Google "Trump" and "Voldemort" and you will come up with memes with the two side-by-side and merch selling images of "Trumpdemort."  These items show Harry Potter fans are drawing comparisons between the rise of the Dark Lord in the Harry Potter books and the rise of Donald Trump to the Republican nomination. Why?
The books pit the boy wizard and his friends and mentors against Lord Voldemort and his supporters.  Voldemort is a demigod calling for a group purity of those of wizard blood and the suppression of Half-bloods (half-human/half-wizard), Mudbloods (magical people born to non-magical people) and Muggles (non-magical people).  In opposition to Voldemort, Harry Potter stands for diversity and equality.
He and his companions fight throughout the series not only against Voldemort but for oppressed out groups. Harry's friend Hermione forms the Society for the Promotion of Elfish Welfare (SPEW) to fight for oppressed house elves.  Harry and friends support werewolf  Remus Lupine, a character that many have thought is author J.K. Rowling's allusion to the ostracization of gay men during the early outbreak of AIDS.  And in support for the GLBTQ community, Rowling announced that Albus Dumbledore, the leading figure of wisdom, justice and light in the series was in fact a gay man.
What set Voldemort and his Death Eaters apart from the rest of the wizard world was not just his belief in purity and tyranny, but his use of torture to achieve his ends.  Named the Unforgivable Curses, these spells could cause mental and physical torment and death.
With 450 million Harry Potter books out in the world, is it any wonder that readers have drawn parallels between the fictional villain of their favorite series and a political figure whose rhetoric attacks out groups and supports the use of torture?
Oddly, J.K. Rowling's words have shown up at Trump campaign appearances.  Professor Diana C. Mutz, author of the study "Harry Potter and the Deathly Donald," found that "even Trump supporters seem to be buying into the analogy, purchasing Trump posters featuring their candidate in front of an American flag as backdrop, with a quote from the Dark Lord himself."  The quote?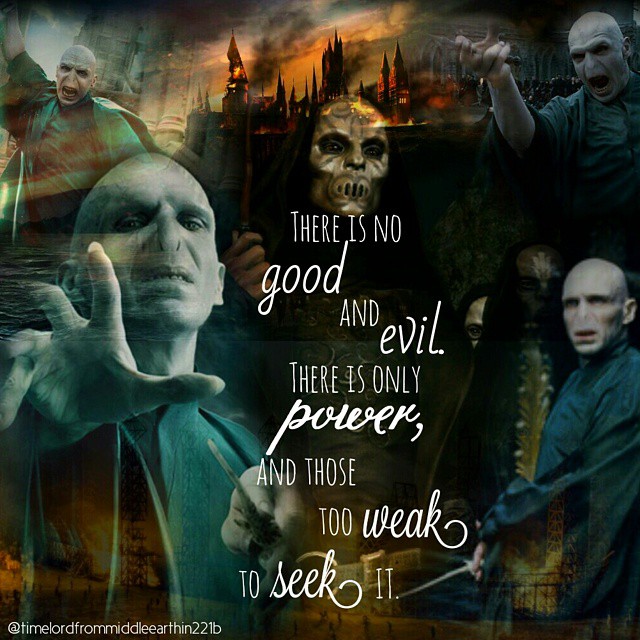 Now the quote, "There is no good and evil, there is only power, and those too weak to seek it" looks sinister with images of Voldemort, look at the quote displayed on QuoteFancy, a site of motivational quotes: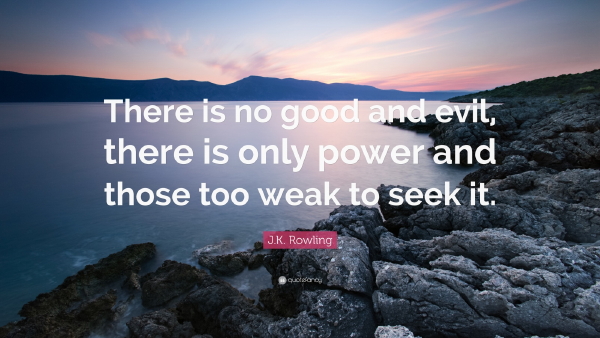 In this business motivational context, you can see the quote as a perfect match for Trump's business and political bravado.
Turning Fans Into Heroes
The most heartening result and example of the social awareness that has arisen from 20 years of Harry Potter readers is The Harry Potter Alliance (HPA).
The Harry Potter Alliance is a nonprofit organization run primarily by Harry Potter fans. It was founded by Andrew Slack in 2005 to draw attention to human rights violations in Sudan.  Since then, the organization's campaigns have focused on topics such as literacy, United States immigration reform, economic justice, gay rights, sexism, labor rights, mental health, body image, and climate change.
The group famously (and brilliantly) lead a letter writing campaign to get Warner Brothers to use only child slavery-free, fair trade chocolate in their Harry Potter related merchandise.

Currently they are leading a campaign called PROTEGO.  Protego is a protection charm in the Harry Potter universe and the HPA wand-wielding activists are seeking state-by-state, community-by-community protections for Trans community.
Legacy of Tolerance
Imagine this.  In 1997 when the series began, Harry Potter's first readers were 10 years old.  By the release of the final book in the series, those readers were 20 years old.  The release of Harry Potter and the Cursed Child finds Harry's first readers hitting age 30 or over.
Professor Diana C. Mutz, the author of the study and paper, "Harry Potter and the Deathly Donald" said her study showed evidence of  a "Harry Potter legacy of tolerance."
Will this legacy defeat the rise of Trumdemort?  Like awaiting the release of the next Harry Potter book, we have to wait to find out how this story ends…
Listen to the Podcast
Thanks to WKVT Green Mountain Mornings for this Harry Potter conversation!