With the headlines screaming "Muslim Extremists" and "Muslim Terrorists" in wake of attacks in Paris, it is good time to feed your children a good diet of books featuring Muslim families from around the world and from our very own neighborhoods.
After 9/11, many looked to the bookshelves in the United States and found them bereft of stories about Muslim children and families. Children's book authors, illustrators and publishers sought to quickly fill the gap in our literature.  We still have so far to go, but there are now so many wonderful stories—including the ones below.
You can explore stories of your neighbors (Muslim and otherwise) on our resource website, I'm Your Neighbor.
"Aref knew how people moved, crossing a street, how they wrapped their scarves, how the call to prayer echoed across the city and made everyone feel peaceful and proud inside." —

The Turtle of Oman

by Naomi Shihab Nye
In the wake of tragedy, respond with stories and balance.  Why not donate these books to your local school or public library?
LISTEN to a podcast conversation with Chris Lenois of WKVT's Green Mountain Morning about these books.
__________________________________________________________________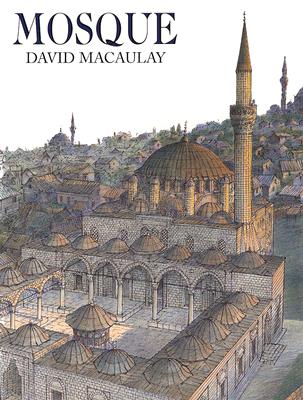 Mosque
by David Macaulay
Publisher: Houghton Mifflin Harcourt
ISBN-13: 9780547015477
Age range: 10 – 14 Years
Find at Your Local Bookstore
Following in the tradition he established with Cathedral: The Story of Its Construction and in the many books he has published in the thirty years since, David Macaulay provides explanations of the how and the why in a way that is both accessible and entertaining.
His work has earned numerous accolades, including a Caldecott Medal, two Caldecott Honors, and a MacArthur Grant, and many fans around the globe. With Mosque, he turns his talents toward the magnificent structures of the Ottoman Empire.
__________________________________________________________________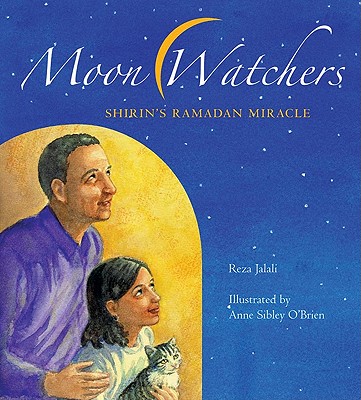 Moon Watchers: Shirin's Ramadan Miracle
By Reza Jalali
Illustrated by Anne Sibley O'Brien
Publisher: Tilbury House Publishers
ISBN-13: 9780884483212
Age range: 7 – 12 Years
Find at Your Local Bookstore
"This thought-provoking tale straddles American, Persian, and Islamic cultures. Shirin, nine, watches for the moon signaling the start of Ramadan. She is disappointed because she is too young to fast, but her father encourages her to do good deeds. Jalali depicts the Shia-Muslim form of prayer, which includes kissing a stone, and also touches on the issue of women covering their hair.
Throughout the story, Shirin follows the waxing and waning stages of the moon and is delighted when she gets permission to do half-day fasts and even more pleased when it appears that she is able to cope with them better than her brother. To her astonishment, she discovers him secretly eating. She decides not to expose Ali and counts it as a good deed. As Ramadan ends, the family prepares for Eid-ul-Fitr. O'Brien's watercolor illustrations evoke a culturally authentic Persian-American aesthetic, depicting warm characters in a family setting. An explanation of Ramadan and Eid is given in the back matter. This is another wonderful contribution to the slowly increasing collection of fictional books on the observance of Ramadan and a great resource for librarians and teachers." —School Library Journal
__________________________________________________________________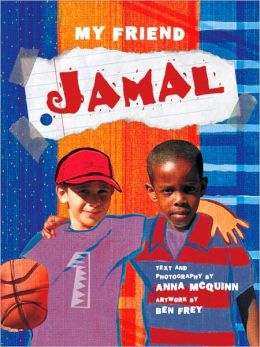 My Friend Jamal
by Anna McQuinn
Photographed by Anna McQuinn
Illustrated by Ben Frey
Publisher: Annick Press, Limited
ISBN-13: 9781554511228
Age range: 4 – 7 Years
Find at Your Local Bookstore
Different cultures. Fast friends.
Jamal and Joseph were born in the same hospital in the same month. Now they're best friends. The two like to play at each other's homes. Joseph's mom knows Jamal can't eat pork sausages because he's Muslim. She knows, too, that he can't have ice cream because of his eczema.
Some things that happen at Jamal's house are a lot different from Joseph's: the food his mother prepares, the way they sit to eat, and the special clothes they sometimes wear. Jamal and Joseph like to play superheroes and cheer their favorite basketball stars. They even say they're going to sign with the same team when they grow up.
A poignant story about a childhood friendship where unfamiliar cultures meet, My Friend Jamal lets readers sample the differences and recognize the powerful bond that draws two boys together. The visuals, which combine photography and original art, are wonderfully playful and imaginative.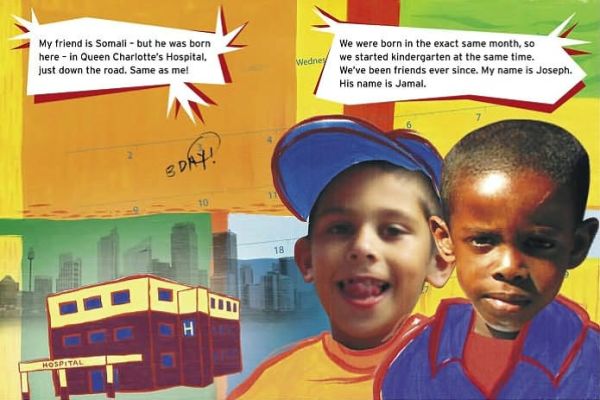 __________________________________________________________________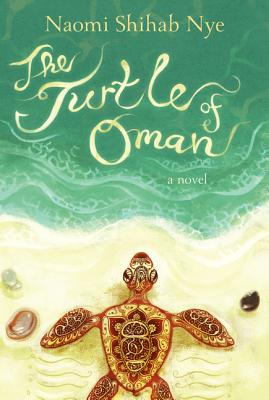 The Turtle of Oman
By Naomi Shihab Nye
Publisher: HarperCollins Publishers
ISBN-13: 9780062019721
Age range: 8 – 12 Years
Read a Sample
Find at Your Local Bookstore
Here are some things Aref loves about his home.
-Mish-Mish, his cat
-The dunes in the desert
-His friends Diram and Sulima
-Fresh apricots
-Crispy fish served in baskets
-His grandfather, Sidi
-His excellent rock collection
-The turtles of Oman
Aref does not want to move to Michigan. He's sure the kids there won't like him. Also, he has everything he needs right where he is! But Sidi has another point of view. Sidi says Aref will go and come back. Just like a falcon or the turtles of Oman, he'll travel far and make his way home to Muscat.
So Aref sets out to say good-bye to everything he loves. Good-bye to Mish-Mish, Diram, Sulima, dunes, Sidi…But how can he stand it?
__________________________________________________________________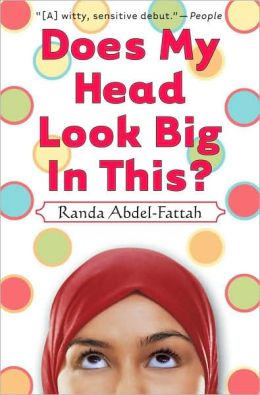 Does My Head Look Big in This?
by Randa Abdel-Fattah
Publisher: Scholastic, Inc.
ISBN-13: 9780439922333
Age range: 12+ years
Find at Your Local Bookstore
"With an engaging narrator at the helm, Abdel-Fattah's debut novel should open the eyes of many a reader. Headstrong and witty, 16-year-old Amal, an Australian-Muslim-Palestinian ("That means I was born an Aussie and whacked with some seriously confusing identity hyphens") decides during winter break from her posh private school that she's ready to wear the hijab, the Muslim head scarf, fulltime, as a testament to her faith.
Amal knows she will face discrimination by classmates and misinformed people but she is committed to her decision; her parents are initially concerned, but ultimately rally behind her. Their worries, in fact, are well-founded: Amal attracts her share of stares and taunts both at school and around town, but she finds strength, not only from her convictions, but from her close-knit group of friends, who for various reasons-being Japanese, Jewish, nerdy or body-conscious-are perceived as being outside "the norm."
As Amal struggles with her identity in a post-9/11 world ("Do you have any idea how it feels to be me, a Muslim, today? I mean, just turn on the television, open a newspaper…. It feels like I'm drowning in it all"), her faith-and an array of ever-ready quips-help her navigate an often-unforgiving world. Using a winning mix of humor and sensitivity, Abdel-Fattah ably demonstrates that her heroine is, at heart, a teen like any other. This debut should speak to anyone who has felt like an outsider for any reason. Ages 12-up." —Publishers Weekly