A children's book award season that began in November with a racist joke by National Book Award host Daniel Handler (aka Lemony Snicket, author of A Series of Unfortunate Events) minutes after Jacqueline Woodson accepted her National Book Award for Brown Girl Dreaming ended with resounding support for diverse books at the 2015 ALA Youth Media Awards on February 2nd.
Daniel Handler's tasteless remarks were followed by a tasteful donation of $10,000 to We Need Diverse books and a pledge to match donations up to $100,000.  Before the 24 hours were out, close to 1/4 million dollars were raised for We Need Diverse Books.  The organization is a grassroots organization created to address the lack of diverse, non-majority narratives in children's literature. They are committed to the ideal that embracing diversity will lead to acceptance, empathy, and ultimately equality.
Librarians on awards committees stepped into this season's book deliberations with their sleeves rolled up and ready to make a difference and with a deeper understanding of why we need diverse books, books that reflect ALL the kids in their communities.
"It is my theory that all the things we can't take for granted, like race, like gender, like sexuality, become ripe subjects for art in later years. It is the benefit we reap from years of frustration." —Mariko Tamaki, This One Summer in interview on Diversity in YA blog
Having just a few minutes on the radio/podcast on Green Mountain Mornings to review award-winning books (and having previously discussed many of the diverse award-winning books), I kept Caldecott and Printz award honoree Mariko Tamaki's words in mind.  I talked about three books where gender and sexuality (and more) were presented with an honesty and courage that will be a revelation to kids and (perhaps) a ground-shaker for adults.
As Tamaki says, the teen years are "ripe subjects for art." Let's all welcome these authors who allow all of us to "benefit…from years of frustration."
__________________________________________________________________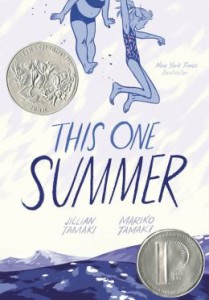 This One Summer
By Mariko Tamaki
Jillian Tamaki (Illustrator)
Publisher: First Second
ISBN-13: 9781596437746
Age range: 12 – 17 Years
Locate at a Indie Bookstore
Every summer, Rose goes with her mom and dad to a lake house in Awago Beach. It's their getaway, their refuge. Rosie's friend Windy is always there, too, like the little sister she never had. But this summer is different. Rose's mom and dad won't stop fighting, and when Rose and Windy seek a distraction from the drama, they find themselves with a whole new set of problems. One of the local teens – just a couple of years older than Rose and Windy – is caught up in something bad… Something life threatening.
It's a summer of secrets, and sorrow, and growing up, and it's a good thing Rose and Windy have each other.
This One Summer is a tremendously exciting new teen graphic novel from two creators with true literary clout. Cousins Mariko and Jillian Tamaki, the team behind Skim, have collaborated on this gorgeous, heartbreaking, and ultimately hopeful story about a girl on the cusp of childhood – a story of renewal and revelation.
A 2015 Caldecott Honor Book
A 2015 Michael L. Printz Honor Book
__________________________________________________________________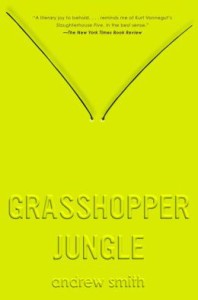 Grasshopper Jungle
By Andrew Smith
Publisher: Penguin Young Readers Group
ISBN-13: 9780525426035
Age range: 14 – 17 Years
Locate at a Indie Bookstore
"This is the truth. This is history.
It's the end of the world. And nobody knows anything about it.
You know what I mean."
In the small town of Ealing, Iowa, Austin and his best friend, Robby, have accidentally unleashed an unstoppable army. An army of horny, hungry, six-foot-tall praying mantises that only want to do two things.
Funny, intense, complex, and brave, Grasshopper Jungle brilliantly weaves together everything from testicle-dissolving genetically modified corn to the struggles of recession-era, small-town America in this groundbreaking coming-of-age stunner.
Winner of the 2014 Boston Globe-Horn Book Award for Fiction

A 2015 Michael L. Printz Honor Book
__________________________________________________________________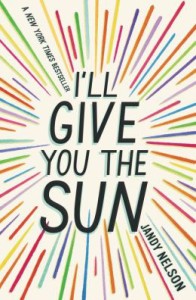 I'll Give You the Sun
by Jandy Nelson
Publisher: Penguin Young Readers Group
ISBN-13: 9780803734968
Age range: 14 – 17 Years
Locate at a Indie Bookstore
Jude and her twin brother, Noah, are incredibly close. At thirteen, isolated Noah draws constantly and is falling in love with the charismatic boy next door, while daredevil Jude cliff-dives and wears red-red lipstick and does the talking for both of them. But three years later, Jude and Noah are barely speaking.
Something has happened to wreck the twins in different and dramatic ways . . . until Jude meets a cocky, broken, beautiful boy, as well as someone else—an even more unpredictable new force in her life. The early years are Noah's story to tell. The later years are Jude's. What the twins don't realize is that they each have only half the story, and if they could just find their way back to one another, they'd have a chance to remake their world.
This radiant novel from the acclaimed, award-winning author of The Sky Is Everywhere will leave you breathless and teary and laughing—often all at once.
A 2015 Michael L. Printz Award Winner
__________________________________________________________________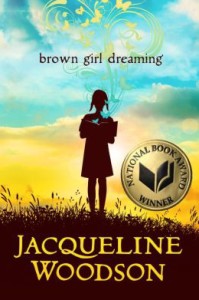 Brown Girl Dreaming
By Jacqueline Woodson
Publisher: Penguin Young Readers Group
ISBN-13: 9780399252518
Age range: 10 – 14 Years
Locate at a Indie Bookstore
Raised in South Carolina and New York, Woodson always felt halfway home in each place. In vivid poems, she shares what it was like to grow up as an African American in the 1960s and 1970s, living with the remnants of Jim Crow and her growing awareness of the Civil Rights movement.
Touching and powerful, each poem is both accessible and emotionally charged, each line a glimpse into a child's soul as she searches for her place in the world. Woodson's eloquent poetry also reflects the joy of finding her voice through writing stories, despite the fact that she struggled with reading as a child. Her love of stories inspired her and stayed with her, creating the first sparks of the gifted writer she was to become.
Winner of the 2014 National Book Award for Young People's Literature
Winner of the 2015 Coretta Scott King Author Book Award
A 2015 Newbery Honor Book
A 2015 Sibert Honor Book