Marketing children's book allows one to play in every conceivable era.
In Searching for Silverheels by Jeannie Mobley (Margaret K. McElderry Books), the political climate of 1917 Como, Colorado, churns with the declaration of war against Germany, exhibitions of patriotism and accusations of un-American behavior, and a lone cry for the women's right to vote.
The novel opens with 13-year-old Pearl saying that it is "strange how sometimes, even though the whole world is changing around you, everything can feel so much the same."
But, like every girl coming of age, the world starts to affect Pearl's day-to-day life in Como. The war will bring soldiers into the cafe, friends' patriotism will be questioned, and Pearl's sense of the rights of women and her own power will grow.
How to market this title?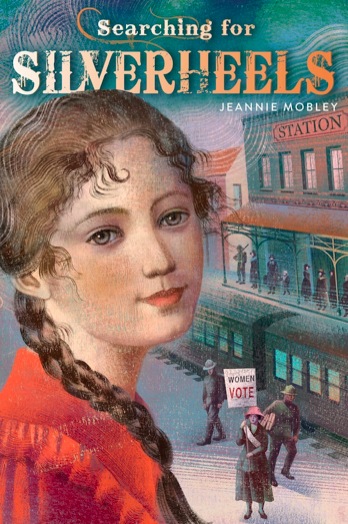 BOOK CLUB KITS
Not only are tween and teen book clubs back in fashion in libraries, but mother-daughter book clubs have been strong nationally for several years.
Just recently author Lori Day received significant national press for her new book, Her Next Chapter: How Mother-Daughter Book Clubs Can Help Girls Navigate Malicious Media, Risky Relationships, Girl Gossip and So Much More.
In Searching for Silverheels both mother and daughter must raise their voices in a way that does not alienate a community on the edge about patriotism and women's roles.  
Author Jeannie Mobley and Curious City decided if this book was not sweet fodder for a Mother-Daughter Book Clubs or any book club of clever young women, then we would hand in our suffragist sashes.
Merely suggesting your book as a selection for book clubs is not enough.  Creating a book club guide can save a book club leader and reader much prep time and make your book a rather attractive choice.  
Author Jeannie Mobley and Curious City partnered to create a guide that would allow book club readers to explore both our larger history and their personal coming-of-age. 
In the Searching for Silverheels Book Club Kit available for free on Curious City DPW we offers ideas to:
– Introduce the book with suggested readings, themes and read-alikes.
– Promote the book club with a poster and suggested calendar copy.
– Discuss the book with chapter-by-chapter questions.
– Prepare for your book club with ideas and tools for:
– Holding a Skype Q&A with the author.
– Brushing up on your history.
– Including multimedia.
– Craft projects to make suffragette sashes and silver heels.
– Cooking projects for book club setting and eating
(And, yes, the kit does include suggestions to roast a liberty dog to roast the Kaiser!)
What could your title offer Book Clubs??