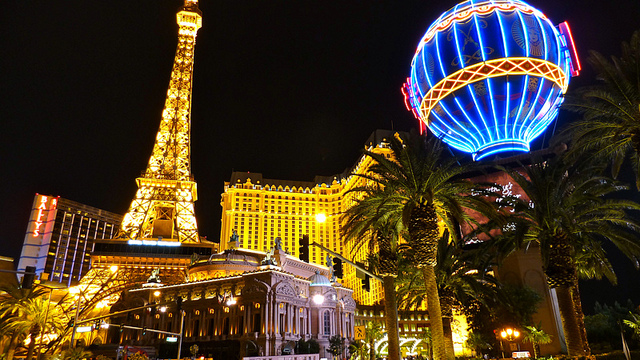 20,000 Librarians walk into a Vegas casino…
It sounds like the set up to a bad joke. 
Even my Ethiopian American cab driver got the joke.  Dropping me off at the Convention Center for the week-long ALA Annual Convention, he said, "Here it is party, party all day and all night.  But you women are quiet and thinking.  How can you be here?  It is almost funny."
20,000 librarians, publishers, and other book professionals walk into a Las Vegas casino bombarded with cigarette smoke, slot machine clangs, loud music, and scantily-clad women.  With the dawning realization that this casino has no marked exits, the overwhelmed and bookish find that this stimuli dangerously overstimulates.  Repeat this scenario daily for six days and (please) don't call me in the morning.
So why on this, the final morning of the Las Vegas ALA Convention, do I feel reluctant to leave?  Because no ALA conference in the past decade has made me love my profession and my colleagues so intensely.  Every teen novelist knows the drill, let you characters evolve in a new and/or threatening setting.  The plot-driven apocalypse/war/cancer/parent death will allow our protagonists to rise to the occasion, to fight anew, to discover themselves.
This ALA conference set up my own private dystopia.  (I chose to read that sentence to the tune of "My Own Private Idaho."  You are welcome to do the same.)  Here is what I learned in my ALA Dystopia…
We Are Not Shushers
Yes, the music was loud.  Yes, it kept many people up when they needed blessed sleep.  Yes, hearing B52's hits sung as ballads on Dueling Pianos in a bar dedicated to Napoleon breaks all cultural context.  But ALA-ers don't dislike music or even LOUD music.  Libraries let people check out music for free and let bands perform (loudly) in their spaces.  Libraries have even let Curious City set up Ukulele Lending Libraries and tour a Fictional Band.  The difference?  Choice.  Libraries expose and lend, leading to free choice of music, not a forced consumption of "Love Shack" on piano as you struggle to find the nonexistent exits.
ALA-ers also want everyone to be heard.  My best evening of ALA was when five brilliant authors from EMLA, agent Erin Murphy, and myself headed to a Paris Casino hotel room with a bottle of Malbec so we could actually hear each other talk.  Librarians don't shush.  They let the world express their opinion in the books it writes and they let patrons express themselves in every way possible.  Librarians are the vanguard of Free Speech and just speech and conversation in general.
Yes, the music was loud, but we did not dislike it because we were shushers, but because we can't imagine a place where you all cannot be heard.
We Are Not Prudes
Kerry McManus at Boyds Mills Press said, "What I hate most here, is that it makes me feel like a prude.  And I am NOT a prude."  Debra Cardillo of Live Oak Media lamented that you can see that the girls dancing on the bars with nearly nothing on, "take no joy in it.  Their eyes show that.  It is heartbreaking."  I witnessed a man in my hotel hallway telling a departing woman, "That was way too much money for what I actually got.  You should be offering discounts!"
The objectification of woman's bodies (by individuals and by every moving and still image) was flabbergasting.  Does saying so make us prudes?  No.  Every day libraries fight for sexual freedom, sex education, and the end to sexual violence.  From recommending It's Perfectly Normal by Robie Harris to responsible parents to hosting GLBTQ youth events to putting Laurie Halse Anderson's Speak into the hands of teen girls, librarians help teens and adults lead healthy sexual lives.
The women on the Vegas Strip that bared more in the casinos than most librarians bare on the beach do not get the wrath of my prudish judgement, but I do lament their one script for beauty.
Librarians stopped each other at the show to admire shoes, dresses, fabrics, glasses, jewelry, and witty t-shirt sayings.  I passed on my favorite dress company, eShakti.com to scores and a librarian passed me the name of the eco shoe company, MoHop.   We are not prudes.  We admire the uniqueness and beauty of bodies and the women within them.  Vegas Strip ladies, keep rocking your look, but consider other ways to be completely gorgeous.
We Are Not Opposed to Fantasy
Las Vegas has created a world theme park with "reproductions" of Paris, New York, Venice, Rome, and Ancient Egypt.  I respect the effort, but know that the books on our library shelves contain more adventure and unexpected moments than a billion dollar casino ever could.  Compare the novel The Passion by Jeannette Winterson to the Venetian Casino.  Compare even the illustrated streets of Ludwig Bemelmans' Madeline to the fake painted ceilings of the Paris Casino.  Compare Rebecca Stead's When You Reach Me to the New York, New York Casino.
Writers and illustrators bring us the stories of countless cities and worlds.  They ask us to believe, to imagine, and to participate in the story.  Las Vegas brings us cities and stories scripted for our ultimate pleasure (with no visible exit in sight).  ALA-ers might just prefer to go off script and build story with a more reliable (and cooperative) narrator.
We Are Not Alone
The ALA conference is a collection of librarians, publishers, vendors, book professionals, and the annointed authors and illustrators whose creativity inspires this whole industry of ours.  We ride on their merry-go-round and invite millions on board.  Librarians flocked to signings, workshops, and talks to get to know these authors and illustrators better and to try and find out how to better share their stories.
These authors and illustrators also felt the press of dystopia and looked to each other and the ALA-ers.  Author Mike Jung wrote on Facebook, "it makes it possible for me to go to Las Vegas, a grotesque, ludicrously crowded place that practically beats you over the head with messages designed to make you feel bad about your life and yourself, and come home without going into a spiral of psychological doom. It's because of the tribe, you know? The kidlit tribe."
There is it.  We are a tribe.  A tribe offering an alternative to the unimaginative and scripted dystopia of America media and its distillation in the Las Vegas casinos.
ALA, you helped me feel the solidity of this tribe.
It turns out Las Vegas was not a joke afterall.
NOTE: I speak here of Casino Las Vegas a.k.a. The Strip.  The wider city of Las Vegas is mighty, full of intriguing people and institutions.  I also speak as an individual and NOT for all ALA members or librarians.