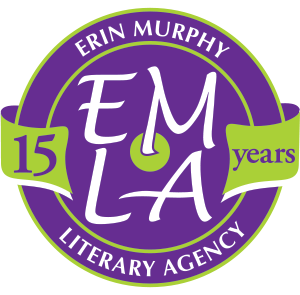 PLEASE NOTE: The sub-pages of "EMLA" are password protected and available to The Erin Murphy Literary Agency, Inc. clients only.
About the EMLA & Curious City Partnership
The Erin Murphy Literary Agency, Inc. (EMLA) marked their 15th year anniversary by announcing both a new partnership and a new concept in how literary agents can invest in the future of their clients' books. EMLA agents and clients will now receive ongoing children's book marketing consultation from Kirsten Cappy of Curious City. EMLA clients will also be able to charge individual marketing projects with Curious City against EMLA royalty payments. On EMLA's behalf, Curious City will work alongside publishers' publicity and marketing departments on EMLA titles.
"Self-promotion is a reality for all published authors and illustrators," says Erin Murphy, President of EMLA, "Our agents do their best to answer marketing questions, but ultimately it is not our area of expertise. I have long admired Curious City's creative marketing solutions and projects. With Kirsten Cappy's help, the agency and our clients will be investing more pointedly in the continued success of our books."
Since 2003, Curious City has developed unique children's book marketing campaigns for close to 100 authors, illustrators and publishers including Newbery honorees Phillip Hoose and Grace Lin and Caldecott honoree Melissa Sweet. Curious City produces marketing that allow booksellers, librarians and other gatekeepers to use programming and other tools to engage with young readers.
"EMLA takes great care in matching and maintaining author and publisher relationships," says Kirsten Cappy of Curious City, "My partnership with EMLA comes out of long conversations with Erin Murphy about how to improve upon an author's post-publication experience with their readers. Stronger engagement with readers means stronger ongoing sales."
Celebrating its 15th year, the Erin Murphy Literary Agency has established a strong reputation in the children's publishing industry. The agency has seen steady growth topped by the last four years of impressive increases in revenues, staff, and awards and recognition for clients' books. As a leading U.S. children's book agency, EMLA focuses on connections—between writer and editor, story and reader—as well as on helping their clients build their careers and grow as artists.