Let's admit it.  This Winter is a guest that has stayed far too long.  We stand in our lawns waiting for him to pack up, shake hands with us and head down the road in a big rusty snowplow.  He is supposed to be gone by Easter (if not sooner).  But here we are at Easter weekend and we have not seen more than a glimpse of Spring.  She is being shy this year.   Spring does not want to come into New England until Winter he's reeved up his old truck and started backing out of the driveway.
It is time to start dropping some serious hints with Winter.  I charge you to head to your bookstore or library and bring home armloads of books with warm sunshine, blooming flowers, bears, bunnies, and bicycles.  Here are some suggestions…
Curious City joined Chris Lenois on Green Mountain Mornings for this discussion of the misery winter guest.  Listen to the podcast here. 
__________________________________________________________________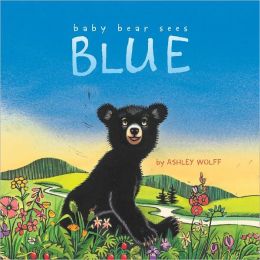 Baby Bear Sees Blue
By Ashley Wolff
Illustrated by Ashley Wolff
Publisher: Beach Lane Books
Age range: 2 – 5 Years
Locate at a Indie Bookstore
Explore the world of color with Baby Bear!
Baby Bear has so much to learn about the world! From the moment he wakes until it's time to curl up and go to sleep, he explores outside with his mama. They see green leaves, blue jays, brown trout, and—best of all—a patch of yummy red strawberries.
From bestselling picture book creator Ashley Wolff, here is a clever concept book that combines engaging and intricate linocut illustrations with a story that enthusiastically encourages children to identify a variety of vibrant colors. Young readers will delight in this chance to join Baby Bear as he discovers the colorful wonders of his lively, leafy forest home.
__________________________________________________________________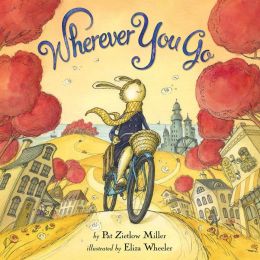 Wherever You Go
By Pat Zietlow Miller
Illustrated by Eliza Wheeler
Publisher: Little, Brown Books for Young Readers
Age range: 3 – Adult Years
Locate at a Indie Bookstore
Roads give you chances to seek and explore.
Want an adventure?
Just open your door.
Join an adventurous rabbit and his animal friends as they journey over steep mountain peaks, through bustling cityscapes, and down long, winding roads to discover the magical worlds that await them just outside their doors.
Award-winning author Pat Zietlow Miller's lilting rhyme and bestselling illustrator Eliza Wheeler's enchanting, lush landscapes celebrate the possibilities that lie beyond the next bend in the road–the same road that will always lead you home again.
CELEBRATE a graduation with this picture book.
__________________________________________________________________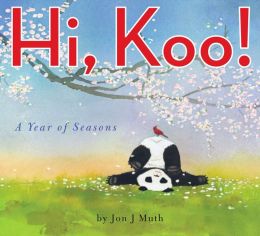 Hi, Koo!: A Year of Seasons
By Jon J. Muth
Illustrated by Jon J. Muth
Publisher: Scholastic, Inc.
Age range: 4 – 8 Years
Locate at a Indie Bookstore
"Twenty-six gossamer watercolors celebrate the changing seasons with Koo, the young panda Muth introduced in Zen Ties (he's the nephew of Stillwater, Muth's famous panda sage). Each page features a haiku about an evocative moment (eating cookies, accidentally killing an insect) or small natural miracle (crocuses, fireflies), which, in turn, contains a word that begins with a letter of the alphabet. In the "D" haiku ("Dance through cold rain/ then go home/ to hot soup"), Koo mimics Gene Kelly, hanging off a street lamp and beaming in the rain; a second vignette shows Koo seated at the lunch table. White space is used to marvelous effect. On the "K" page, a cardinal sits on a branch against a backdrop of white, while Koo smiles from beneath it under a headdress of snow: "King!/ my crown a gift/ from a snowy branch." In spring, Koo frolics on a grassy hill, his stubby legs up in the air, then tickles a friend with a flower for "V" ("Violet petal/ caressing a cheek/ butterfly kisses"). It's a joyous addendum to the Stillwater books, and it overflows with the same characteristic tenderness."  —Publishers Weekly
__________________________________________________________________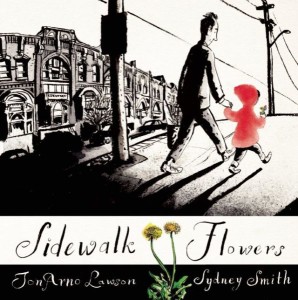 Sidewalk Flowers
By JonArno Lawson
Illustrated by Sydney Smith
Publisher: Groundwood Books
Age range: 4 – Adult
Locate at a Indie Bookstore
In this wordless picture book, a little girl collects wildflowers while her distracted father pays her little attention. Each flower becomes a gift, and whether the gift is noticed or ignored, both giver and recipient are transformed by their encounter. "Written" by award-winning poet JonArno Lawson and brought to life by illustrator Sydney Smith, Sidewalk Flowers is an ode to the importance of small things, small people, and small gestures.
"A poignant, wordless storyline . . this ode to everyday beauty sings sweetly." — Kirkus Reviews, starred review
"A reminder that what looks like play can sometimes be a sacrament." — Publishers Weekly, starred review
"An emotionally moving, visually delightful ode to the simple powers of observation and empathy. . . . A book to savor slowly and then revisit again and again." — School Library Journal, starred review
"A quiet, graceful book about the perspective-changing wonder of humble, everyday pleasures." — Booklist, starred review
__________________________________________________________________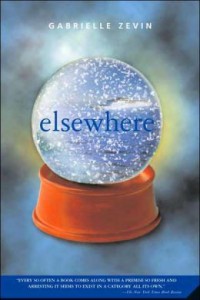 Elsewhere
By Gabrielle Zevin
Publisher: Square Fish
Age range: 12 – 18 Years
Locate at a Indie Bookstore
Welcome to Elsewhere. It is warm, with a breeze, and the beaches are marvelous. It's quiet and peaceful. You can't get sick or any older. Curious to see new paintings by Picasso? Swing by one of Elsewhere's museums. Need to talk to someone about your problems? Stop by Marilyn Monroe's psychiatric practice.
Elsewhere is where fifteen-year-old Liz Hall ends up, after she has died. It is a place so like Earth, yet completely different. Here Liz will age backward from the day of her death until she becomes a baby again and returns to Earth. But Liz wants to turn sixteen, not fourteen again. She wants to get her driver's license. She wants to graduate from high school and go to college. And now that she's dead, Liz is being forced to live a life she doesn't want with a grandmother she has only just met. And it is not going well. How can Liz let go of the only life she has ever known and embrace a new one? Is it possible that a life lived in reverse is no different from a life lived forward?
This moving, often funny book about grief, death, and loss will stay with the reader long after the last page is turned.
Elsewhere is a 2006 Bank Street – Best Children's Book of the Year.