Curious City is a children's book consulting company building creative marketing projects and outreach for authors, illustrators, and publishers focused on engaging readers with story.
Many of the marketing projects or "reader engagement tools" Curious City creates are hosted and shared on the website Curious City DPW (Department of Public Works).  Curious City DPW offers  librarians, educators, literacy specialists, parents, and other children's book programmers materials free of charge for their outreach to readers.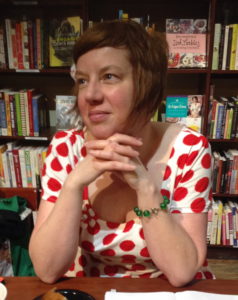 Kirsten Cappy is the owner of Curious City.  Formed to tackle projects that forge a stronger relationship between children and the literature created for them, Curious City designs and implements creative theme-based marketing for children's authors, illustrators, and publishers.
Kirsten Cappy has been a part of the book industry for more than 22 years.  Starting out as a bookseller, she quickly became a buyer, and then a sales representative helping select books for stores throughout the Northeast.  Working with more than 200 bookstores, she observed what forms of outreach by authors worked for booksellers and what forms of outreach by booksellers worked for readers.
Fascinated with how books are discovered, Kirsten formed Curious City to help children better access their literature and children's book authors and illustrators better access their readers.
Through Curious City, Kirsten has created the marketing plans for countless board, picture, chapter, and young adult books.  Each marketing plan is a unique approach based on the book's story and potential readership.  To keep both ideas and tools fresh, Kirsten follows marketing trends, publishing trends, and new technologies.
Mark Mattos is the lead partner in Curious City.  With over 40 years experience with innovative small businesses, Mark has an uncanny ability to turn a project concept into an operating plan.   An avid follower of new technology and a collector of old, Mark can solve almost any conundrum or challenge.
Mark is a creative thinker whose insight and ideas drive many of Curious City's projects.  Mark splits his time between Curious City and his company serving artists, Mattos Custom Guitars.
Curious City Partners with other creative small businesspeople including Marty Braun Illustration & Design for graphic design and illustration.
The community of Portland, Maine is also a Curious City partner.  All materials and ideas are brainstormed and tested with members of the education, library, arts, and other professional organizations before being shared nationally.
Curious City Affiliations include:
I'm Your Neighbor – Founding Partner
Association for Library Service to Children (ALSC) – Member
Association of School Librarians – Member
Young Adult Library Services Association (YALSA) – Member