What book will be a child's "bestie"?   What 2015 book will be your child's favorite companion?
Best Children's Books of 2015
Everyone in the book review press is lining up to declare the best of 2015.  They are, indeed, astounding reads all.  See the latest lists at the bottom of this post.
Buying Books for Children?
If you are buying books for children, though, the best route is to approach a bookseller or librarian and describe your young reader by personality and (if you know) by their favorite books.  Those booksellers and librarians are magic at making book matches.  Let them give you a unique idea for a book gift.
Buying Gifts for a Teacher?
If you're buying gifts for a teacher, consider buying the teacher a small gift certificate to a local bookstore.  While you're at it, buy a bookstore gift card for your school librarian.  Books bought for your school's classrooms or libraries will not only benefit your child's educational experience, but the entire school community.  Not to mention driving traffic to a local business…
Listen to the Podcast


CURIOUS CITY BESTIES 2015
Curious City declares their 2015 "Besties" — the 2015 children's book releases that have been their constant companions this fine KidLit year!
Best Laugh for Beleaguered Toddler Parents
Wild! Playtime — Wild! Mealtime
Wild! Bathtime — Wild! Bedtime
By Courtney Dicmas
Publisher: Child's Play-International
Age Range: 1 – 3 Years
Discover at a Local Bookstore
Days with toddlers can be wild, especially when animal babies are involved! Sometimes messy, often chaotic and always exhausting, they offer perfect bonding opportunities – of a kind!
Courtney's wacky style and eye for detail perfectly illustrate the fun, laughter and love shared each day in family life.
---
Best Reason to be a Townie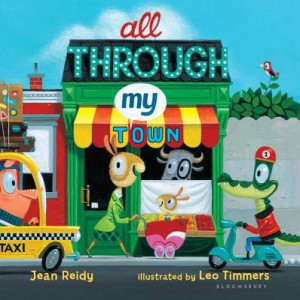 All Through My Town
By Jean Reidy
Illustrated by Leo Timmers
Publisher: Bloomsbury USA
Age Range: 3 – 6 Years
Discover at a Local Bookstore
Rising, waking
Bread is baking
School bus honks its horn
Who are the people in your neighborhood? Perfect for the pre-K set, this adorable rhyming text takes a walking tour of your community. The fresh modern art of Leo Timmers features hidden details and a perennial theme reminiscent of Richard Scarry. Little ones will beg to re-read again as they discover the characters who repeat throughout the art in this sweet and vibrant story.
---
Best Sibling Spat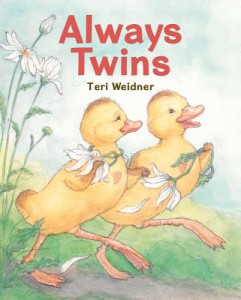 Always Twins
By Teri Weidner
Publisher: Holiday House, Inc.
Age Range:2 – 5 Years
Discover at a Local Bookstore
"You two are just alike!" everyone tells duckling twins Olivia and Lily. But while Olivia likes to "jump in the mud," run around, and quack so everyone can hear, Lily prefers studying and daydreaming. These different activities don't always work well together, and eventually the twins grow annoyed by their differences and head off in opposite directions.
But the twins can't stand to be apart for long. Lily comes looking for Olivia only to find her stuck in a tree. An adventure ensues that ends in a frightening tumble. Finally safe, the twins realize that while sometimes they are the same and sometimes they are different, one thing is certain: they are "'always twins.'"
EXPLORE Always Twins: Story Hour Kit
---
Best Book to Drag Into Your Den
A Bear's Year
By Kathy Duval
Illustrated by Gerry Turley
Publisher: Random House Children's
Age Range: 3 – 7 Years
Discover at a Local Bookstore
In this gorgeous, lyrical celebration about the passing of seasons, readers will follow a mother bear and her cubs through the course of a year.
Deep in her den under a snowflake blanket, Mama snuggles her newborn babies. When spring arrives, the bears awaken and emerge from their lair, and as the weather warms to summer, Mama teaches her young ones to fish, gather berries, and dig for roots. Then, in fall, the leaves turn gold, food grows scarce, and the family prepares for hibernation and the coming winter.
With spare, accessible text and charming illustrations, here is a sweet, gentle introduction to how bears experience the changing seasons, perfect for the youngest readers and listeners.
EXPLORE A Bear's Year: Read Aloud & Celebration of the Seasons Kit
---
Best Bragging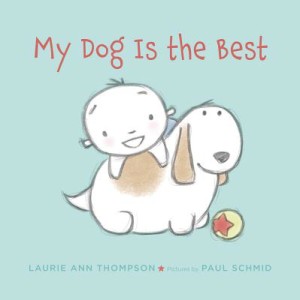 My Dog is the Best
By Laurie Ann Thompson
Illustrated by Paul Schmid
Publisher: Farrar, Straus and Giroux
Age Range: 3 – 6 Years
Discover at a Local Bookstore
A round-headed toddler describes all the qualities that make his roly-poly dog the best, from playing dead and playing tug to blowing bubbles and reading books. The simple illustrations tell a different story, however, as the dog is just trying to sleep…
The simplicity of both the words and the pictures creates a charming, toddler-sized ode to man's best friend.
---
Best Bet for Birders and Babies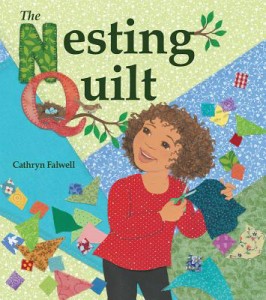 The Nesting Quilt
By Cathryn Falwell
Publisher: Tilbury House Publishers
Age Range: 4 – 8 Years
Discover at a Local Bookstore
Maya is a going to be a big sister! Family and friends are getting ready for the new baby.
Nana says they are nesting, just like the birds they love to watch. But what can Maya do? With help from a little bird, a kind Nana, and scraps of cloth, Maya creates the perfect gift just in time for the new baby.
---
Best Way to Capture Happiness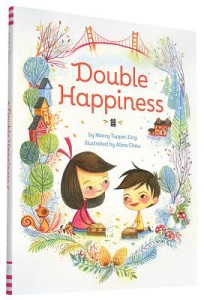 Double Happiness
By Nancy Tupper Ling
Illustrated by Alina Chau
Publisher: Chronicle Books
Age Range: 5 – 8 Years
Discover at a Local Bookstore
For their move far away, Gracie and Jake are sad to leave the golden bridge,
the trolley tracks,
and Nai Nai.But they fill empty boxes with treasures—
a marble, a snake,
a pair of wings.
Tiny reminders of all they love—
so happiness stays close,
no matter where they go.
With grace and warmth, this lyrical picture book speaks to the difficulty of transition, and celebrates the ways in which love and family give us the strength to weather life's changes.
EXPLORE Double Happiness: Origami Box & Poetry Activity
---
Best Proof that Words are Freedom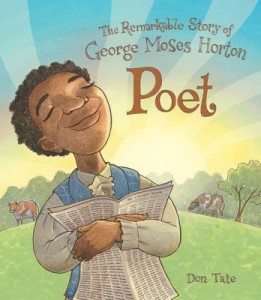 Poet: The Remarkable Story
of George Moses 
Horton
By Don Tate
Publisher: Peachtree Publishers
Age Range: 7 – 10 Years
Discover at a Local Bookstore
"Born a slave, George Moses Horton taught himself to read, memorizing the poems he composed until he later learned to write. Hand-lettered excerpts of Horton's writing amplify his successes and setbacks as he gains a reputation as a poet among students at the University of North Carolina, to whom he sold produce.
Horton's poems drew additional attention and were published ("Needless to say, it was a dangerous time for Horton, whose poems often protested slavery," Tate writes in an afterword), but freedom remained elusive until the signing of the Emancipation Proclamation, when Horton was 66 years old.
Tate's mixed-media illustrations glow with bright greens and yellows, radiating a warmth, hope, and promise that echo this stirring biography's closing message: "Words loosened the chains of bondage long before his last day as a slave." —Publishers Weekly
EXPLORE Words as Freedom: Poetry Workshop Based on Don Tate's Poet
---
Best Underwater Hipster Beard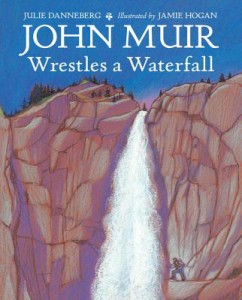 John Muir Wrestles a Waterfall
By Julie Danneberg,
Illustrated by Jamie Hogan
Publisher: Charlesbridge
Age Range: 4 – 8 Years
Discover at Local Bookstore
"A noted naturalist nearly loses his life exploring a waterfall.
In April 1871, when explorer and early environmentalist John Muir was living in Yosemite Valley, he decided to climb up to and under its falls with near-disastrous results. Danneberg has taken an incident Muir described twice in articles about Yosemite for the Century Illustrated Monthly Magazine, in 1890 and 1912, and turned it into a surprisingly suspenseful survival story for a 21st-century audience.
There are two parallel texts at the beginning—one that works for reading aloud and another, in a slightly smaller font, that provides more explanation and background. But at the climax, it becomes one story, and a very scary one at that, as the falling water shifts and pins Muir against the granite wall.
The rough strokes of the pastel-and-colored-pencil illustrations emphasize the texture of the rock, water and wood of the natural world Muir loved. Though sometimes dark (this was an evening adventure), these images show nicely at a distance. Pictured at the beginning and the end are quotations from Muir's writings, penned in script that will probably stump young readers, emphasizing his steady habit of journal-keeping. A final author's note explains more about Muir's life and work, as well as about Yosemite.
---
Best Monster Beneath the Bed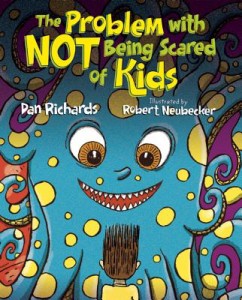 The Problem with Not Being Scared of Kids
The Problem with Not Being Scared of Monsters
By Dan Richards
Illustrated by Robert Neubecker
Publisher: Highlights Press
Age Range: 4 – 8 Years
Discover at a Local Bookstore
Who knew there was a problem with not being scared of monsters? The hero of this story knows it—all too well. Because he's not scared, the monsters think he's one of them. And now, they're way too friendly. They want to share everything! Which is, of course, a disaster. Good thing there's a terrified little brother to come to the rescue. With an understated text and hilarious illustrations, this picture book will have kids laughing away their fears.
---
Best Push Out the Door
Wherever You Go
By Pat Zietlow Miller
Illustrated by Eliza Wheeler
Publisher: Little, Brown Books for Young Readers
Age Range: 3 – 6 Years
Discover at a Local Bookstore
Roads give you chances to seek and explore.
Want an adventure?
Just open your door.
Join an adventurous rabbit and his animal friends as they journey over steep mountain peaks, through bustling cityscapes, and down long, winding roads to discover the magical worlds that await them just outside their doors.
Award-winning author Pat Zietlow Miller's lilting rhyme and bestselling illustrator Eliza Wheeler's enchanting, lush landscapes celebrate the possibilities that lie beyond the next bend in the road—the same road that will always lead you home again.
EXPLORE Wherever You Go: Graduation Event Kit
---
Best Bribe for a Short Winter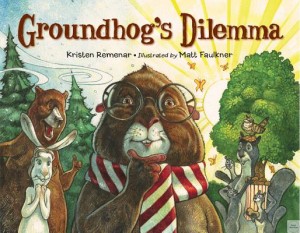 GroundHog's Dilemma
By Kristen Remenar
Illustrated by Matt Faulkner
Publisher:Charlesbridge
Age Range: 3 – 7 Years
Discover at a Local Bookstore
After Groundhog announces six more weeks of winter, half his animal friends are disappointed, while the other half are excited. Each animal asks Groundhog to make his prediction in their favor the following year. Rather than being truthful about the fact that he just "calls it like he sees it," he leads them to believe he can control the weather, accepting their gifts of food and favor. On the next Groundhog Day, he finally admits he made promises he couldn't keep because he was trying to please everyone and makes amends.
Matt Faulkner's rich illustrations are packed with hilarious details that will delight readers of all ages. No matter what weather the Groundhog predicts, curling up with this fun book is a great way to spend the winter.
---
Best Display of Canine Cavorting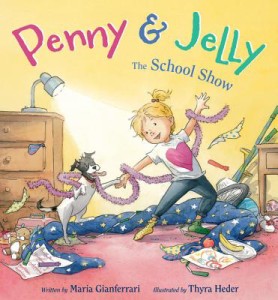 Penny & Jelly: The School Show
By Maria Gianferrari
Illustrated by Thyra Heder
Publisher: Houghton Mifflin Harcourt
Age Range: 4 – 8 Years
Discover at a Local Bookstore
This young and funny picture book introduces the soon-to-be star of her school talent show: Penny. Despite her desire to knock everyone's socks off, Penny's having a tough time deciding on what talent she might have. With a little help from her dog, Jelly, Penny tries out various talents—from dancing to unicycling, fashion designing to snake charming—with disastrous results. That is, until she realizes that she and Jelly have a talent to share that's unlike any other. Readers of Pinkalicious and Ladybug Girl will swoon over the talent of Penny & Jelly.
---
Best Entrepreneurial Spirit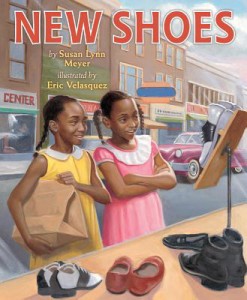 New Shoes
By Susan Lynn Meyer
Illustrated by Eric Velasquez
Discover at a Local Bookstore
Set in the South during the time of segregation, this lushly illustrated picture book brings the civil rights era to life for contemporary readers as two young girls find an inventive way to foil Jim Crow laws.
When her brother's hand-me-down shoes don't fit, it is time for Ella Mae to get new ones. She is ecstatic, but when she and her mother arrive at Mr. Johnson's shoe store, her happiness quickly turns to dejection. Ella Mae is unable to try on the shoes because of her skin color. Determined to fight back, Ella Mae and her friend Charlotte work tirelessly to collect and restore old shoes, wiping, washing, and polishing them to perfection. The girls then have their very own shoe sale, giving the other African American members of their community a place to buy shoes where they can be treated fairly and "try on all the shoes they want."
---
Best Way to Declare #RefugeesWelcome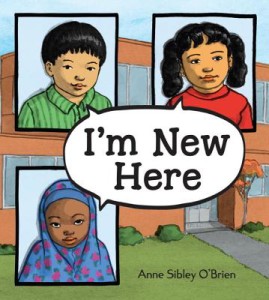 I'm New Here
By Anne Sibley O'Brien
Publisher: Charlesbridge
Age Range: 5 – 8 Years
Discover at a Local Bookstore
Maria is from Guatemala, Jin is from Korea, and Fatima is from Somalia. All three are new to their American elementary school, and each has trouble speaking, writing, and sharing ideas in English. Through self-determination and with encouragement from their peers and teachers, the students learn to feel confident and comfortable in their new school without losing a sense of their home country, language, and identity.
Young readers from all backgrounds will appreciate this touching story about the assimilation of three immigrant students in a supportive school community.
Anne Sibley O'Brien is one of the founders of I'm Your Neighbor, an organization that promotes children's literature featuring "new arrival" cultures. As the rate of immigration to the United States increases, topics related to immigration are increasingly more important in the classroom and home. I'm New Here demonstrates how our global community can work together and build a home for all.
---
Best Big Hair & Big Attitude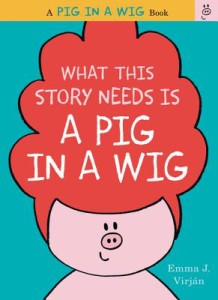 What This Story Needs Is a Pig in a Wig
By Emma J. Virjan
Publisher: HarperCollins
Age Range: 4 – 8 Years
Discover at a Local Bookstore
What this story needs is a pig in a wig, on a boat in a moat with a frog, a dog, and a goat on a log…
As a panda in a blouse, a skunk on a trunk, and more hop on board, it becomes clear that what this story really needs is a bigger boat! Join Pig on an exciting boat ride as she discovers that life is more fun with friends in this fantastic funny read-aloud with cumulative text from author-illustrator Emma J. Virján.
---
Best Use of Inclement Weather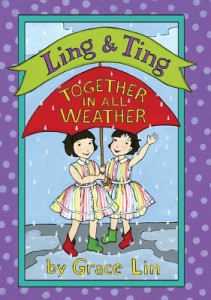 Ling & Ting: Together in All Weather
by Grace Lin
Publisher: Little, Brown Books for Young Readers
Age Range: 6 – 9 Years
Discover at a Local Bookstore
Ling and Ting have fun, rain or shine, in the fourth book of this irresistible early reader series.

The adorable twins Ling and Ting from the Geisel Honor early reader series are back to have fun in Winter, Spring, Fall, and Summer, giving parents and educators the perfect opportunity to teach young readers about every season of the year. This beloved series has received five starred reviews. Kirkus writes about the series, "These twins make learning to read double the fun."
EXPLORE the "Together in Every Weather: Blustery Board Game"
---
Best Reason to Move to Maine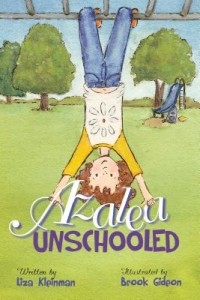 Azalea, Unschooled
By Liza Kleinman
Illustrated by Brook Gideon
Published by Islandport Press
Age Range: 8 – 12 Years
Discover at a Local Bookstore
When Azalea's family moves to Portland, Maine, so that her father can try driving a tour bus for a living, Azalea's mom decides she wants Azalea (11) and her older sister Zenith (13) to try unschooling. The sisters try to find the right balance between homeschooling, unschooling, and adjusting to a new home. And when someone sabotages the tour bus, Azalea decides to use her new unschooling methods learned to find the culprit and hold her family together. The author deftly explores, with humor and insight, the new and growing unschooling movement as well as the challenge of moving to a new home, making new friends, and finding room for differences within a family.
---



Best Barrel of Laughs & Pack of Lies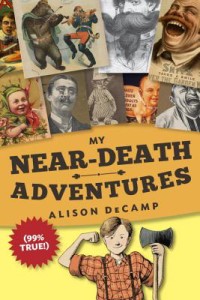 My-Near Death Adventures
By Alison DeCamp
Publisher: Random House Children's
Age Range: 8 – 12 Years
Discover at a Local Bookstore
There are many things that 11-year-old Stanley Slater would like to have in life—most of all, a father. But what if Stan's missing dad isn't "dearly departed" after all?
Armed with his stupendous scrapbook, full of black-and-white 19th-century advertisements and photos, Stan's attempt to locate his long-lost hero/cowboy/outlaw dad is a near-death adventure fraught with pesky relatives, killer lumberjacks, and poisonous pies! His tale will leave readers in stitches, but not the kind that require medical attention.
---
Best Cryptozoology Chiller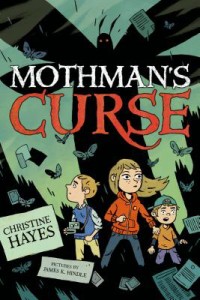 Mothman's Curse
By Christine Hayes
Illustrated by James K. Hindle
Publisher: Roaring Brook Press
Age Range: 8 – 12 Years
Discover at a Local Bookstore
When Josie and her brothers uncover a haunted camera, the Mothman legend becomes a terrifying reality that threatens their entire town in this spooky and action-filled novel.
Josie may live in the most haunted town in America, but the only strange thing she ever sees is the parade of oddball customers that comes through her family's auction house each week. But when she and her brothers discover a Polaroid camera that prints pictures of the ghost of local recluse John Goodrich, they are drawn into a mystery dating back over a hundred years. A desperate spirit, cursed jewelry, natural disasters, and the horrible specter of Mothman all weave in and out of the puzzle that Josie must solve to break the curse and save her own life.
EXPLORE Taking a Picture of Mothman to Win Book or Camera for Your Library
---
Best Use of Vomit as a Plot Device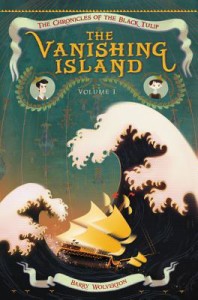 Vanishing Island
By Barry Wolverton
Publisher: HarperCollins Publishers
Series: Chronicles of the Black Tulip Series
Age Range: 8 – 12 Years
Discover at a Local Bookstore
An engrossing fantasy, a high-seas adventure, an alternate history epic—this is the richly imagined and gorgeously realized new book from acclaimed author Barry Wolverton, perfect for fans of John Stephens's the Books of Beginning series.
It's 1599, the Age of Discovery in Europe. But for Bren Owen, growing up in the small town of Map on the coast of Britannia has meant anything but adventure. Enticed by the tales sailors have brought through Map's port, and inspired by the arcane maps his father creates as a cartographer for the cruel and charismatic map mogul named Rand McNally, Bren is convinced that fame and fortune await him elsewhere.
That's when Bren meets a dying sailor, who gives him a strange gift that hides a hidden message. Cracking the code could lead Bren to a fabled lost treasure that could change his life forever, and that of his widowed father. Before long, Bren is in greater danger than he ever imagined and will need the help of an unusual friend named Mouse to survive.
EXPLORE Vanishing Island: Nautical Adventure Event & Classroom Kit
---
Best Birthday Present—A Country
Princess Juniper of the Hourglass
By Ammi-Joan Paquette
Publisher: Penguin Young Readers Group
Age Range: 8 – 12 Years
Discover at a Local Bookstore
In this royal adventure, Princess Juniper learns what it means to rule a kingdom—the perfect story for girls who love princesses AND adventure!
For her thirteenth nameday all Princess Juniper wants is a country of her own. So when rumblings of unrest start in his kingdom, Juniper's father decides to grant his daughter's wish and sends her to a small, idyllic corner of the Hourglass Mountains until trouble blows over. Once there, Juniper discovers that ruling a small country–even just for the summer–is a bit harder than she'd expected, especially when cousin Cyril challenges her rule. Still, the most difficult part is to come. Juniper and her friends discover that her father's kingdom is at war. The only way to stay safe is to remain in the Hourglass Mountains much longer than planned. Juniper may have her own country after all . . . but what will that mean for the kingdom of Torr?
EXPLORE Princess Juniper: Book Club Kit
---
Best Item Left in a Pocket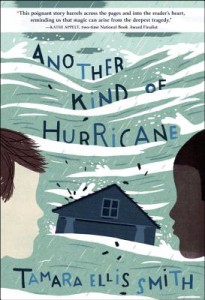 Another Kind of Hurricane
By Tamara Ellis Smith
Publisher: Random House Children's Books
Age Range: 9 – 12 Years
Discover at a Local Bookstore
In this stunning debut novel, two very different characters—a black boy who loses his home in Hurricane Katrina and a white boy in Vermont who loses his best friend in a tragic accident—come together to find healing.
A hurricane, a tragic death, two boys, one marble. How they intertwine is at the heart of this beautiful, poignant book. When ten-year-old Zavion loses his home in Hurricane Katrina, he and his father are forced to flee to Baton Rouge. And when Henry, a ten-year-old boy in northern Vermont, tragically loses his best friend, Wayne, he flees to ravaged New Orleans to help with hurricane relief efforts—and to search for a marble that was in the pocket of a pair of jeans donated to the Red Cross.
Rich with imagery and crackling with hope, this is the unforgettable story of how lives connect in unexpected, even magical, ways.
---
Best Reason to "Go Greyhound"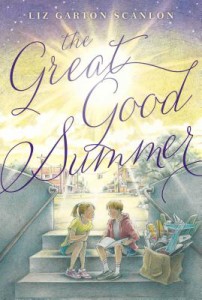 The Great Good Summer
By Liz Garton Scanlon
Publisher: Beach Lane Books
Age Range: 8 – 12 Years
Discover at a Local Bookstore
Ivy and Paul hatch a secret plan to find Ivy's missing mom and say good-bye to the space shuttle in this heartfelt and "engaging debut novel" (School Library Journal, starred review) reminiscent of Each Little Bird that Sings and Because of Winn-Dixie.
Ivy Green's mama has gone off with a charismatic preacher called Hallelujah Dave to The Great Good Bible Church of Panhandle Florida. At least that's where Ivy and her dad think Mama is. But since the church has no website or phone number and Mama left no forwarding address, Ivy's not entirely sure. She does know she's missing Mama. And she's starting to get just a little worried about her, too.
Paul Dobbs, one of Ivy's schoolmates, is also having a crummy summer. Paul has always wanted to be an astronaut, and now that NASA's space shuttle program has been scrapped, it looks like his dream will never get off the ground.
Although Ivy and Paul are an unlikely pair, it turns out they are the perfect allies for a runaway road trip to Florida—to look for Mama, to kiss the Space Shuttle good-bye, and maybe, just maybe, regain their faith in the things in life that are most important.
---
Best Reason to Wander the Stacks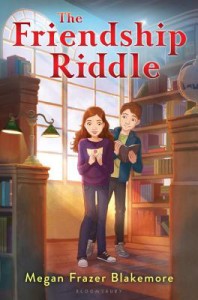 The Friendship Riddle
By Megan Frazer Blakemore
Publisher: Bloomsbury USA
Age Range: 8 – 12 Years
Discover at a Local Bookstore
"Sixth-grader Ruth, who teachers describe as "a bit in her own world," lives in the small seaside town of Promise, Maine, with her Mom and Mum; her former best friend Charlotte—adopted from China by her fathers—is now aligned with the popular girls.
During a relentlessly snowy winter, Ruth is focused on a "secret clue" she found in a library book (Could it be the start of a "saga-worthy" quest like her favorite fantasy novel heroine is always embarking upon?) and on the upcoming spelling-bee championships. But her heart is on her lost friendship with Charlotte and her uncertainty about investing in new friends..." —Publishers Weekly
---
Best Reason to Look Under Garbage Cans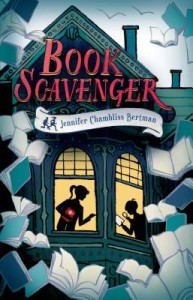 Book Scavenger
By Jennifer Chambliss Bertman
Publisher: Henry Holt and Co.
Age Range: 9 – 14 Years
Discover at a Local Bookstore
For twelve-year-old Emily, the best thing about moving to San Francisco is that it's the home city of her literary idol: Garrison Griswold, book publisher and creator of the online sensation Book Scavenger (a game where books are hidden in cities all over the country and clues to find them are revealed through puzzles). Upon her arrival, however, Emily learns that Griswold has been attacked and is now in a coma, and no one knows anything about the epic new game he had been poised to launch. Then Emily and her new friend James discover an odd book, which they come to believe is from Griswold himself, and might contain the only copy of his mysterious new game.
Racing against time, Emily and James rush from clue to clue, desperate to figure out the secret at the heart of Griswold's new game—before those who attacked Griswold come after them too.
---
Best Reason to Grow Gills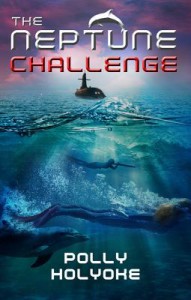 The Neptune Project
The Neptune Challenge
By Polly Holyoke
Publisher: Disney-Hyperion
Age Range: 8 – 12 Years
Discover at a Local Bookstore
Danger lurks beneath. . . .
Genetically engineered to survive in the ocean, Nere and her friends are recovering from their treacherous journey to Safety Harbor, an undersea refuge founded by the scientists of the Neptune Project. But plenty of enemies prowl just outside the colony's boundaries, and when two of the children are kidnapped, Nere, her loyal dolphins, and the other Neptune kids must set out on an expedition even more perilous than their first.
Tasked with infiltrating the kidnapper's high-tech undersea base, Nere soon discovers that rescuing the missing Neptune kids isn't all there is to her mission: the secret to saving the world's oceans is hidden somewhere deep inside this vast fortress, and she and her friends will have to risk everything to find it.
With bloodthirsty shark mutates and savage kids roaming the corridors, will Nere and her companions find a way to save their friends, themselves, and their underwater world? The stakes couldn't be higher in this thrilling sequel to the award-winning The Neptune Project.
---
Best Grab for Greek God Geeks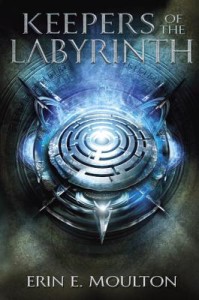 Keepers of the Labyrinth
By Erin E. Moulton
Publisher: Penguin Young Readers Group
Age Range: 12 Years
Discover at a Local Bookstore
Courage is tested, myths come to life, and long-held secrets are revealed
Lilith Bennette runs at midnight. She scales walls in the dark and climbs without a harness. She hopes that if she follows exactly in the steps of her strong air force pilot mother, she'll somehow figure out the mystery of her mother's death—and the reason why her necklace of Greek symbols has been missing ever since.
So when Lil is invited to Crete for a Future Leaders International conference, the same conference her mom attended years ago, she jumps at the chance to find some answers. But things in Melios Manor are not what they seem. Lil finds herself ensnared in an adventure of mythological proportions that leads her and her friends through the very labyrinth in which the real Minotaur was imprisoned. And they're not in there alone. What secrets does the labyrinth hold, and will they help Lil find the truth about her mother?
This book is perfect for older fans of Percy Jackson and the Olympians and the Heroes of Olympus—and anyone who wants to find out the true story behind the magic of the Greek gods.
EXPLORE Keepers of the Labyrinth: Greek God Trivia Game
---
Best Reason to Get Arrested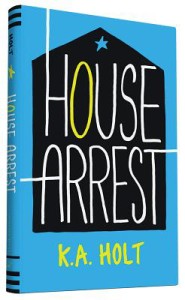 House Arrest
By K.A. Holt
Publisher: Chronicle Books LLC
Age Range: 10 – 14 Years
Discover at a Local Bookstore
Timothy is on probation. It's a strange word—something that happens to other kids, to delinquents, not to kids like him. And yet, he is under house arrest for the next year. He must check in weekly with a probation officer and a therapist, and keep a journal for an entire year. And mostly, he has to stay out of trouble. But when he must take drastic measures to help his struggling family, staying out of trouble proves more difficult than Timothy ever thought it would be. By turns touching and funny, and always original, House Arrest is a middlegrade novel in verse about one boy's path to redemption as he navigates life with a sick brother, a grieving mother, and one tough probation officer.
---
Best Cultural Tightrope Walk
Watch Out for Flying Kids!:
How Two Circuses, Two Countries,
and Nine Kids Confront Conflict
and Build Community
By Cynthia Levinson
ISBN-13: 9781561458219
Publisher: Peachtree Publishers, Ltd.
Age Range: 10 – 13 Years
Discover at a Local Bookstore
The author of We've Got a Job explores the world of social circus—a movement that brings kids from different worlds together to perform remarkable acts on a professional level. Levinson follows the participants of two specific circuses that also work together periodically: Circus Harmony, in St. Louis, whose participants are inner-city and suburban kids, and Circus Galilee in Israel, whose participants and Jews and Arabs. As the kids' relationships evolve over time, the members learn how to overcome assumptions, animosity, and obstacles both physical and personal.
---
Best #Black Lives Matter Coming of Age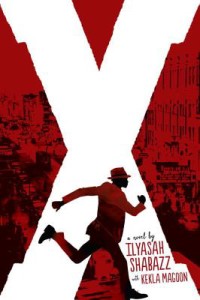 X: A Novel
By Ilyasah Shabazz, Kekla Magoon
Publisher: Candlewick Press
Age Range: 14 – 17 Years
Discover at a Local Bookstore
Cowritten by Malcolm X's daughter, this riveting and revealing novel follows the formative years of the man whose words and actions shook the world.
Malcolm Little's parents have always told him that he can achieve anything, but from what he can tell, that's a pack of lies—after all, his father's been murdered, his mother's been taken away, and his dreams of becoming a lawyer have gotten him laughed out of school. There's no point in trying, he figures, and lured by the nightlife of Boston and New York, he escapes into a world of fancy suits, jazz, girls, and reefer. But Malcolm's efforts to leave the past behind lead him into increasingly dangerous territory. Deep down, he knows that the freedom he's found is only an illusion—and that he can't run forever.
X follows Malcolm from his childhood to his imprisonment for theft at age twenty, when he found the faith that would lead him to forge a new path and command a voice that still resonates today.
---
Best Screenplay Non Sequiturs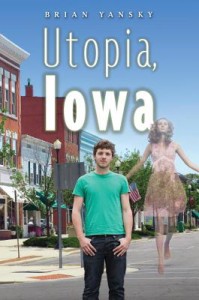 Utopia, Iowa
By Brian Yansky
Publisher: Candlewick Press
Age Range: 14 – 17 Years
Discover at a Local Bookstore
Jack Bell has an unusual gift—or curse, depending on your point of view. And he's not the only one. In Utopia, Iowa, anything can happen.
For the most part, aspiring screenwriter Jack Bell is just your typical Midwestern kid. He's got a crush on his hot best friend, Ash. He's coping with a sudden frostiness between his once crazy-in-love parents. He's debating where to go to college next year—or whether to go at all. But then there's his gift (or curse): Jack can see dead people, just like the kid in The Sixth Sense. Lately, the ghosts are more distracting than usual, demanding that Jack get to the bottom of their mysterious deaths—all while avoiding the straitlaced Detective Bloodsmith, who doesn't believe in gifts or curses and can't help wondering why Jack keeps turning up at crime scenes. Is there a happily-ever-after in Jack's future, or is that only the stuff of movies?
---
Best Electrifying Opening
Best Depiction of War's Impact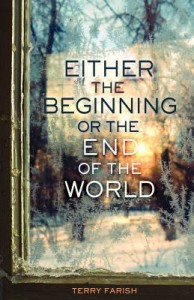 Either the Beginning or the End of the World
By Terry Farish
Publisher: Lerner Publishing GroupP
Age Range: 14 – 17 Years
Discover at a Local Bookstore
For sixteen years, it's been just Sofie and her fisherman father living along the New Hampshire coast. Then Sofie meets Luke, an Army medic back from Afghanistan. Sofie's dad orders her to stay away from him, but the pull is too strong: they can't obey.
When her father decides to go south to find a better winter catch, he asks Sofie's estranged mother to stay with her. Sofie had been bitter at her mother's desertion, denying any part of her mother's Cambodian heritage. Now she's forced to face her family's history.
Luke and Sofie discover they both have their secrets, their ghosts, their wars. Together, they need to choose if they're at the beginning or the end.
---
Best Jailbreak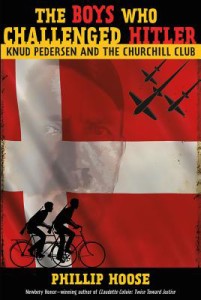 The Boys Who Challenged Hitler:
Knud Pedersen and the Churchill Club
By Phillip Hoose
Publisher: Farrar, Straus and Giroux
Age Range: 12 – 17 Years
Discover at a Local Bookstore
At the outset of World War II, Denmark did not resist German occupation. Deeply ashamed of his nation's leaders, fifteen-year-old Knud Pedersen resolved with his brother and a handful of schoolmates to take action against the Nazis if the adults would not. Naming their secret club after the fiery British leader, the young patriots in the Churchill Club committed countless acts of sabotage, infuriating the Germans, who eventually had the boys tracked down and arrested. But their efforts were not in vain: the boys' exploits and eventual imprisonment helped spark a full-blown Danish resistance. Interweaving his own narrative with the recollections of Knud himself, here is Phillip Hoose's inspiring story of these young war heroes.
---


BEST CHILDREN'S BOOKS OF 2015
(From Book Press)
PICTURE BOOKS (Ages 3-7)
School Library Journal: Best Books 2015
Publisher's Weekly: Best Books 2015
Kirkus Review's Best Picture Books of 2015
Boston Globe Best Kids Books of 105
New York Times Best Illustrated 2015
MIDDLE GRADE (Ages 7-12)
School Library Journal: Best Books 2015
Publisher's Weekly: Best Books 2015
Kirkus Review's Best Middle Grade of 2015

GRAPHIC NOVELS
Best Middle-Grade Graphic Novels of 2015

YOUNG ADULT
School Library Journal: Best Books 2015
Publisher's Weekly: Best Books 2015
Boston Globe's Best Books of 2015: Young Adult


NONFICTION
School Library Journal: Best Books 2015
CHILDREN'S BOOKS
Washington Post Best Children's Books of 2015
New York Times Book Review Notable Children's Books of 2015