CURIOUS CITY BESTIES 2016:
Non-Fiction & Novels

Curious City declares their 2016 "Besties" — the 2016 children's book releases that have been their constant companions this fine KidLit year!
What non-fiction book, chapter book, middle grade novel, or young adult novel will be a child's "bestie"? What 2016 book will be your favorite companion?
Illustration from THE NIAN MONSTER © Alina Chau
………………………………………………………
NON-FICTION
………………………………………………………
BEST NON-HUMAN SPELLING BEE
BEST TRUE STORY YOU HAVE NEVER HEARD & WON'T BE ABLE TO STOP TALKING ABOUT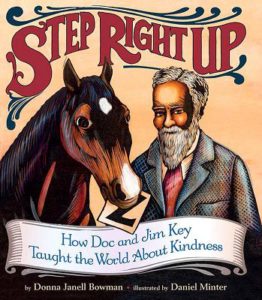 Step Right Up: How Doc and Jim Key Taught the World About Kindness
By Donna Janell Bowman
Illustrated by Daniel Minter
Published by Lee & Low Books, Inc.
Age Range: 7 – 12 Years
William "Doc" Key had a special way with animals. Growing up enslaved in Tennessee, Doc was sent to plantations around the state to care for sick and wounded animals. When the Civil War ended and Doc was freed, he began to dream of breeding a winning racehorse. But those dreams were dashed when his colt was born weak and sickly. Although many people would have euthanized the colt, Doc nursed him back to health and named him Jim.
Noticing a level of curiosity and eagerness in the horse, Doc began teaching Beautiful Jim Key first to recognize letters, then to read, write, add, subtract, and more. Doc soon took his talented horse on the road, spreading a message of patience and kindness, over cruelty, to all animals.
………………………………………………………
BEST PRIMER FOR YOUNG FEMINISTS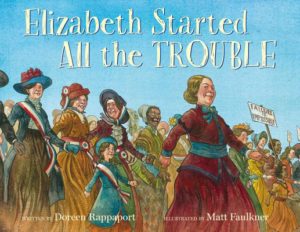 Elizabeth Started All the Trouble
By Doreen Rappaport
Illustrated by Matt Faulkner
Published by Disney Press
Age Range: 6 – 8 Years
She couldn't go to college.
She couldn't become a politician.
She couldn't even vote.
But Elizabeth Cady Stanton didn't let that stop her.
She called on women across the nation to stand together and demand to be treated as equal to men-and that included the right to vote. It took nearly seventy-five years and generations of women fighting for their rights through words, through action, and through pure determination . . . for things to slowly begin to change.
With the help of these trailblazers' own words, Doreen Rappaport's engaging text, brought to life by Matt Faulkner's vibrant illustrations, shows readers just how far this revolution has come, and inspires them to keep it going!
………………………………………………………
BEST REASON TO GET AN OLD TYPEWRITER (AND A PIG)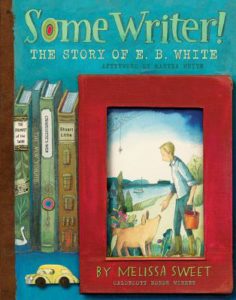 Some Writer!: The Story Of E.B. White
By Melissa Sweet
Published by Houghton Mifflin Harcourt
Age Range: 7 – 10 Years
"SOME PIG," Charlotte the spider's praise for Wilbur, is just one fondly remembered snippet from E. B. White's Charlotte's Web. In Some Writer!, the two-time Caldecott Honor winner Melissa Sweet mixes White's personal letters, photos, and family ephemera with her own exquisite artwork to tell his story, from his birth in 1899 to his death in 1985. Budding young writers will be fascinated and inspired by the journalist, New Yorker contributor, and children's book author who loved words his whole life. This authorized tribute is the first fully illustrated biography of E. B. White and includes an afterword by Martha White, E. B. White's granddaughter.
………………………………………………………
BEST REMINDER THAT AFRICAN AMERICAN HISTORY IS MORE THAN A MONTH
28 Days: Moments in Black History that Changed the World
By Charles R. Smith
Illustrated by Shane W. Evans
Audiobook Produced by Dion Graham
Published by Live Oak Media
Each day features a different influential figure in African-American history, from Crispus Attucks, the first man shot in the Boston Massacre, sparking the Revolutionary War, to Madame C. J. Walker, who after years of adversity became the wealthiest black woman in the country, as well as one of the wealthiest black Americans, to Barack Obama, the country's first African-American president.
With powerful illustrations by Shane Evans, this is a completely unique look at the importance and influence of African Americans on the history of this country.
EXPLORE & LISTEN TO the 26 Audiobook Excerpts.
………………………………………………………
BEST DISPLAY OF PERSEVERANCE
BEST USE OF A NEEDLE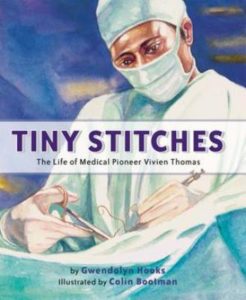 Tiny Stitches: The Life of Medical Pioneer Vivien Thomas
By Gwendolyn Hooks
Illustrated by Colin Bootman
Published by Lee & Low Books, Inc.
Age Range: 7 – 12 Years
Vivien Thomas's greatest dream was to attend college to study medicine. But after the stock market crashed in 1929, Vivien lost all his savings. Then he heard about a job opening at the Vanderbilt University medical school under the supervision of Dr. Alfred Blalock. Vivien knew that the all-white school would never admit him as a student, but he hoped working there meant he was getting closer to his dream.
As Dr. Blalock's research assistant, Vivien learned surgical techniques. In 1943, Vivien was asked to help Dr. Helen Taussig find a cure for children with a specific heart defect. After months of experimenting, Vivien developed a procedure that was used for the first successful open-heart surgery on a child. Afterward, Dr. Blalock and Dr. Taussig announced their innovative new surgical technique, the Blalock-Taussig shunt. Vivien's name did not appear in the report.
Overcoming racism and resistance from his colleagues, Vivien ushered in a new era of medicine—children's heart surgery. Tiny Stitches is the compelling story of this incredible pioneer in medicine.
………………………………………………………
BEST WAY TO BELIEVE IN THE PRESIDENCY AGAIN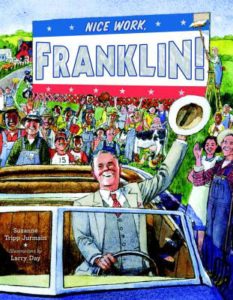 Nice Work, Franklin!
By Suzanne Tripp Jurmain
Illustrated by Larry Day
Published by Penguin Young Readers Group
Age Range: 5 – 9 Years
As one of our most inspirational and determined presidents, Franklin Roosevelt overcame his disability to lead the country out of the Great Depression.
Franklin Roosevelt idolized his cousin Teddy Roosevelt. He started wearing eyeglasses like Teddy, he spoke like Teddy, and he held the same public offices as Teddy. But then one day his life changed—he got sick. He developed polio and he could no longer walk. But Franklin also had Teddy's determination, so after physical therapy and hard work, he ran for governor of New York and won. Then a different kind of sickness, the Great Depression, spread across the country: Banks were closing, and thousands lost their jobs.
Franklin said that if you have a problem, solve it. If one solution doesn't work, try another but above all TRY SOMETHING. So Franklin ran for president, and on Inauguration Day, he made it clear that together they would conquer this sickness. He got to work creating jobs and slowly America started getting better.
Suzanne Tripp Jurmain and Larry Day of George Did It and Worst of Friends fame are teamed up again to tell the story of how our only disabled president saved himself and then saved the country.
………………………………………………………
CHAPTER BOOKS & MIDDLE GRADE
………………………………………………………
BEST REASON TO NOT TAKE YOUR FATHER'S ADVICE
BEST ASSURANCE THAT YOU ARE TOUGH ENOUGH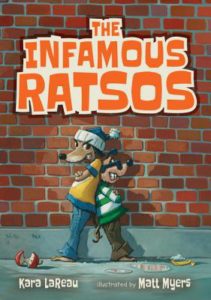 The Infamous Ratsos
By Kara LaReau
Illustrated by Matt Myers
Published by Candlewick Press
Age Range: 5 – 8 Years
Louie and Ralphie Ratso are no softies! Readers are sure to chuckle as the determined Ratso brothers' plans to act tough go hilariously awry.
Louie and Ralphie Ratso's dad, Big Lou, always says that there are two kinds of people: those who are tough and those who are soft. Louie and Ralphie are tough, tough, tough, just like Big Lou, and they're going to prove it. But every time they try to show just how tough they are, the Ratso brothers end up accidentally doing good deeds instead. What'll Big Lou do when he finds out they've been acting like softies all over the Big City? Perfect for emerging and reluctant readers, this clever and surprisingly warmhearted chapter book shows that being tough all the time can be really tough.
………………………………………………………
BEST REASON TO FIB
BEST REASON TO NOT BELIEVE IN MAGIC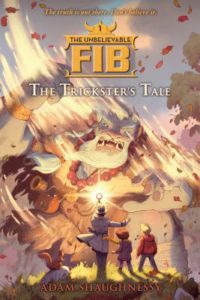 The Trickster's Tale
(The Unbelievable FIB Series #1)
By Adam Shaughnessy
Published by Algonquin Books of Chapel Hill
Age Range: 8 – 12 Years
MAGIC is everywhere..and the last thing you should do is believe your own eyes.
Dark clouds and ominous thunder have been hanging over Middleton for days. Some say it's just bad weather, but eleven-year-old Pru will soon learn that it's much, much more dangerous than that. Mythical beings are invading her usually ordinary town, and it's up to Pru and newcomer ABE–with help from an uncommonly rude squirrel and the mysterious Mister Fox–to save their home from being destroyed by battling Norse gods.
To do that, they'll have to outrun trolls and enter worlds of myth and magic. When the pair find themselves locked in a battle against a dangerously clever enemy, they race to find the lost Eye of Odin, source of all knowledge–and the key to stopping a war that could destroy both human and immortal realms.
………………………………………………………
BEST REASON TO TAKE AN EXTENDED COFFEE BREAK
BEST REASON TO HOP IN A SIDECAR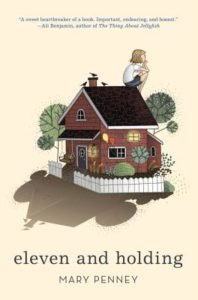 Eleven and Holding
Bby Mary Penney
Published by HarperCollins Publishers
Age Range: 8 – 12 Years
Macy Hollinquest is eleven years old, and don't count on her to change that anytime soon.
Her birthday is just days away, but she has no intention of turning twelve without her dad by her side. He'd promised to be there for her big day, and yet he's been gone for months—away after his discharge from the army, doing some kind of top secret, "important work."
So Macy's staying eleven, no matter what—that is, until she meets Ginger, a nice older lady who is searching for her missing dog. Ginger's dog search is the perfect cover for Macy's attempt to locate her dad. But her hunt puts her on a path to a head-on collision with the truth, where she discovers that knowing can sometimes be a heavy burden. And that change, when finally accepted, comes with an unexpected kind of grace.
Mary Penney's earnest, heartfelt story of change, loss, and new beginnings will resonate with young readers on the cusp of new beginnings, and stay in their hearts long after it's done.
EXPLORE the Discussion Questions.
………………………………………………………
BEST RALLYING CRY FOR SWEATSHOP-FREE CLOTHING
BEST REVOLUTION BY A PRINCESS-TO-BE
BEST USE OF FANTASY TO EXPLAIN COMPLEX LABOR PRACTICES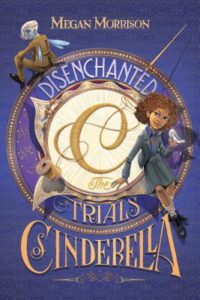 Disenchanted: The Trials of Cinderella
(Tyme #2)
By Megan Morrison
Published by Scholastic, Inc.
Age Range: 8 – 12 Years
Ella Coach has one wish: revolution. Her mother died working in a sweatshop, and Ella wants every laborer in the Blue Kingdom to receive fairer treatment. But to make that happen, she'll need some high-level support…
Prince Dash Charming has one wish: evolution. The Charming Curse forced generations of Charming men to lie, cheat, and break hearts — but with the witch Envearia's death, the curse has ended. Now Dash wants to be a better person, but he doesn't know where to start…
Serge can grant any wish — and has: As an executive fairy godfather, he's catered to the wildest whims of spoiled teenagers from the richest, most entitled families in Blue. But now a new name has come up on his list, someone nobody's ever heard of… Ella Coach.
This is a story about three people who want something better and who together find the faith to change their worlds. It's "Cinderella," brilliantly reimagined, and a delightful expansion of the wonderful world of Tyme.
………………………………………………………
BEST *EVER* STEALTH PLOT DEVICE THAT WE CANNOT TELL YOU ABOUT
BEST WINDOW INTO THE IMPACT OF MICROAGRESSIONS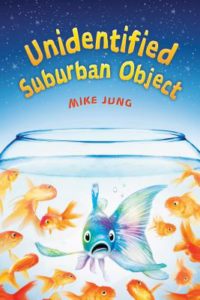 Unidentified Suburban Object
By Mike Jung
Published by Scholastic, Inc.
Age Range: 8 – 12 Years
The next person who compares Chloe Cho with famous violinist Abigail Yang is going to HEAR it. Chloe has just about had it with people not knowing the difference between someone who's Chinese, Japanese, or Korean. She's had it with people thinking that everything she does well — getting good grades, winning first chair in the orchestra, et CETera — are because she's ASIAN.
Of course, her own parents don't want to have anything to DO with their Korean background. Any time Chloe asks them a question they change the subject. They seem perfectly happy to be the only Asian family in town. It's only when Chloe's with her best friend, Shelly, that she doesn't feel like a total alien.
Then a new teacher comes to town: Ms. Lee. She's Korean American, and for the first time Chloe has a person to talk to who seems to understand completely. For Ms. Lee's class, Chloe finally gets to explore her family history. But what she unearths is light-years away from what she expected.
Explore a Guide to Discussing Identity, Difference & Cross-Group Friendship.
………………………………………………………
BEST TOOL TO MEASURE YOUR EMPATHY
BEST REASON TO STOCKPILE TWIZZLERS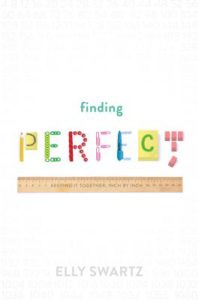 Finding Perfect
By Elly Swartz
Published by Farrar, Straus and Giroux
Age Range: 8 – 12 Year
To twelve-year-old Molly Nathans, perfect is:
—The number four
—The tip of a newly sharpened No. 2 pencil
—A crisp white pad of paper
—Her neatly aligned glass animal figurines
What's not perfect is Molly's mother leaving the family to take a faraway job with the promise to return in one year. Molly knows that promises are sometimes broken, so she hatches a plan to bring her mother home: Win the Lakeville Middle School Poetry Slam Contest. The winner is honored at a fancy banquet with white tablecloths. Molly is sure her mother would never miss that. Right…?
But as time passes, writing and reciting slam poetry become harder. Actually, everything becomes harder as new habits appear, and counting, cleaning, and organizing are not enough to keep Molly's world from spinning out of control. In this fresh-voiced debut novel, one girl learns there is no such thing as perfect.
Explore the Unfolding Identity Project.
………………………………………………………
BEST REASON TO LOOK FOR TREASURE
BEST REASON TO THINK YOUR LIBRARIAN MIGHT BE MAGIC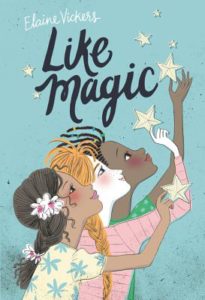 Like Magic
By Elaine Vickers
Spot Illustrations by Sara Not
Published by HarperCollins Publishers
Age Range: 8 – 12 Years
This sweet middle grade novel featuring a diverse cast of characters proves that friendship can be just around the corner.
For three ten-year-old girls, their once simple worlds are starting to feel too big. Painfully shy Grace dreads starting fifth grade now that her best friend has moved away. Jada hopes she'll stop feeling so alone if she finds the mother who left years ago. And Malia fears the arrival of her new baby sister will forever change the family she loves. When the girls each find a mysterious treasure box in their library and begin to fill the box with their own precious things, they start to feel less alone. But it's up to Grace, Jada, and Malia to take the treasures and turn them into something more: true friendship.
EXPLORE Creating a Treasure Book for Your Local Library.
………………………………………………………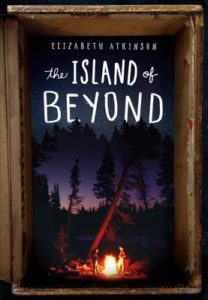 BEST REASON TO HANG A ROPE OUT YOUR WINDOW
BEST REASON TO GET STRANDED BY YOUR PARENTS
The Island of Beyond
By E. J. Atkinson, Elizabeth Atkinson
Published by Lerner Publishing Group
Age Range: 8 – 12 Years
Awkward, unsocial eleven-year-old Martin knows he's going to have a terrible summer with his weird great-aunt Lenore, who lives on a tiny island called Beyond. But nothing about Beyond is what Martin expects.
………………………………………………………
BEST REASON TO TAKE YOUR PRINCESS TO THE LOCAL CLIMBING WALL
BEST REASON FOR PRINCESSES TO SWITCH TO PANTS
Princess Juniper of the Anju
By Ammi-Joan Paquette
Published by Penguin Young Readers Group
Age Range: 8 – 12 Years
In this sequel to Princess Juniper of the Hourglass, Juniper may have secured her kingdom, but danger—and adventure—are far from over. For fans of The Princess Diaries and Pennyroyal Academy!
The land known as Queen's Basin is securely under Juniper's rule, and now she must focus on saving her father's kingdom. But first, Juniper must find her subjects' missing horses. When she and her advisors set out to track them down, they discover that the horses were taken by a tribe of the Anju–the very tribe her mother once belonged to. The Anju are about to begin ritual trials to select their next leader, and Juniper, whose mother had been next in line for the throne, throws her own hat in the ring. As she competes, she must answer the question that's been tugging at her heart: Does she want to rule the Anju because they are her mother's people, or does she have less noble intentions in mind? Juniper must prove to everyone—especially herself—that she is a brave and strong ruler who puts all her subjects first.
EXPLORE Reading the Princess Juniper series with your Book Club.
………………………………………………………
BEST HISTORICAL NOVEL TO KEEP US FROM REPEATING OUR MISTAKES
BEST BOOK ON IMMIGRATION RESILIENCE & CROSS-GROUP FRIENDSHIP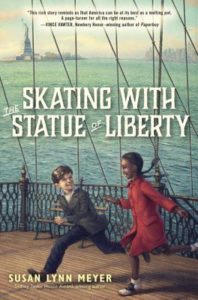 Skating with the Statue of Liberty
By Susan Lynn Meyer
Published by Random House Children's Books
Age Range: 8 – 12 Years
In this gripping and poignant companion to Sydney Taylor Honor Award winner Black Radishes, Gustave faces racism and anti-Semitism in New York City during World War II, but ultimately finds friendship and hope.
After escaping the Germans in Nazi-occupied France, Gustave and his family have made it to America at last. But life is not easy in New York. Gustave's clothes are all wrong, he can barely speak English, and he is worried about his best friend, Marcel, who is in danger back in France. Then there is September Rose, the most interesting girl in school, who doesn't seem to want to be friends with him. Gustave is starting to notice that not everyone in America is treated equally, and his new country isn't everything he'd expected. But he isn't giving up.
………………………………………………………
BEST WAY TO SET OFF YOUR EXCITE-O-METER
BEST REASON TO QUOTE ELEANOR ROOSEVELT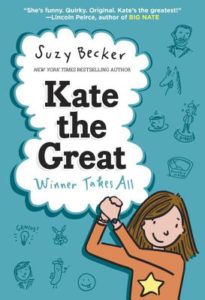 Kate the Great Series
By Suzy Becker
Published by Random House Children's Books
Age Range: 8 – 12 Years
Fifth grader Kate (the Great) is back in business. Specifically the food-drive business, as she, Brooke, and (odd) Nora try to win the Junior Guides competition. But lately their trio has felt imbalanced, with Kate on the outside. It doesn't help that the American Revolution unit at school is turning everyone against each other. Armed with her smarts, an artillery of doodles, and maybe even some advice from Eleanor Roosevelt, Kate must find a way to keep her friends, old and new.
………………………………………………………
BEST REASON TO EAT ROCKS
BEST REASON TO PAY ATTENTION TO YOUR EDLERS' STORIES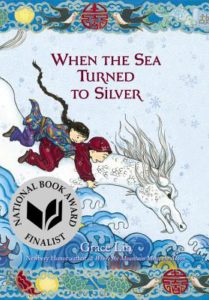 When the Sea Turned to Silver
By Grace Lin
Published by Little, Brown Books for Young Readers
Age Range: 9 – 12 Years
This breathtaking, full-color illustrated fantasy is inspired by Chinese folklore, and is a companion to the Newbery Honor winner Where the Mountain Meets the Moon
Pinmei's gentle, loving grandmother always has the most exciting tales for her granddaughter and the other villagers. However, the peace is shattered one night when soldiers of the Emperor arrive and kidnap the storyteller.
Everyone knows that the Emperor wants something called the Luminous Stone That Lights the Night. Determined to have her grandmother returned, Pinmei embarks on a journey to find the Luminous Stone alongside her friend Yishan, a mysterious boy who seems to have his own secrets to hide. Together, the two must face obstacles usually found only in legends to find the Luminous Stone and save Pinmei's grandmother–before it's too late.
A fast-paced adventure that is extraordinarily written and beautifully illustrated, When the Sea Turned to Silver is a masterpiece companion novel to Where the Mountain Meets the Moon and Starry River of the Sky.
EXPLORE Holding a Dramatic Reading.
EXPLORE Reader and Classroom Activities.
………………………………………………………
BEST THING TO GO BUMP IN THE NIGHT
BEST REASON NOT TO DRINK THE HOT CHOCOLATE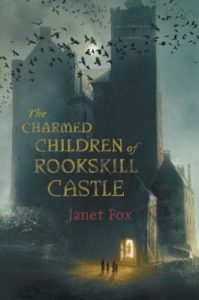 The Charmed Children of Rookskill Castle
By Janet Fox
Published by Penguin Young Readers Group
Age Range: 10 – 14 Years
"Keep calm and carry on." That's what Katherine Bateson's father told her, and that's what she's trying to do: when her father goes off to the war, when her mother sends Kat and her brother and sister away from London to escape the incessant bombing, even when the children arrive at Rookskill Castle, an ancient, crumbling manor on the misty Scottish highlands.
But it's hard to keep calm in the strange castle that seems haunted by ghosts or worse. What's making those terrifying screeches and groans at night? Why do the castle's walls seem to have a mind of their own? And why do people seem to mysteriously appear and disappear?
Kat believes she knows the answer: Lady Eleanor, who rules Rookskill Castle, is harboring a Nazi spy. But when her classmates begin to vanish, one by one, Kat must uncover the truth about what the castle actually harbors—and who Lady Eleanor really is—before it's too late.
EXPLORE Playing a Game with the Book in your Library or Bookstore.
………………………………………………………
YOUNG ADULT
………………………………………………………
BEST WIN OF FRIENDSHIP OVER TOTALITARIANISM
BEST USE OF A CLOUD AS CODE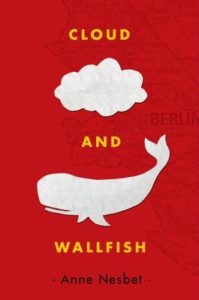 Cloud and Wallfish
By Anne Nesbet
Published by Candlewick Press
Age Range: 10 – 14 Years
Slip behind the Iron Curtain into a world of smoke, secrets, and lies in this stunning novel where someone is always listening and nothing is as it seems.
Noah Keller has a pretty normal life, until one wild afternoon when his parents pick him up from school and head straight for the airport, telling him on the ride that his name isn't really Noah and he didn't really just turn eleven in March. And he can't even ask them why — not because of his Astonishing Stutter, but because asking questions is against the newly instated rules. (Rule Number Two: Don't talk about serious things indoors, because Rule Number One: They will always be listening). As Noah—now "Jonah Brown"—and his parents head behind the Iron Curtain into East Berlin, the rules and secrets begin to pile up so quickly that he can hardly keep track of the questions bubbling up inside him: Who, exactly, is listening — and why? When did his mother become fluent in so many languages? And what really happened to the parents of his only friend, Cloud-Claudia, the lonely girl who lives downstairs? In an intricately plotted novel full of espionage and intrigue, friendship and family, Anne Nesbet cracks history wide open and gets right to the heart of what it feels like to be an outsider in a world that's impossible to understand.
………………………………………………………
BEST REASON TO TAKE A BREAK FROM WATCHING CAT VIDEOS
BEST REASON TO SIGN UP FOR A SALSA CLASS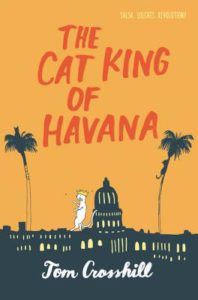 The Cat King of Havana
By Tom Crosshill
Published by HarperCollins Publishers
Age Range: 13 Years+
lolcats. Salsa dancing. Unrequited love. Tom Crosshill's smart and witty debut teen novel treads a colorful coming-of-age journey from New York City to Havana that will appeal to fans of books by Matthew Quick and Junot Díaz.
When Rick Gutiérrez—known as "That Cat Guy" at school—gets dumped on his sixteenth birthday for uploading cat videos from his bedroom instead of experiencing the real world, he realizes it's time for a change. So Rick joins a salsa class . . . because of a girl, of course. Ana Cabrera is smart, friendly, and smooth on the dance floor. He might be half Cuban, but Rick dances like a drunk hippo. Desperate to impress Ana, he invites her to spend the summer in Havana. The official reason: learning to dance. The hidden agenda: romance under the palm trees.
Except Cuba isn't all sun, salsa, and music. As Rick and Ana meet his family and investigate the reason why his mother left Cuba decades ago, they learn that politics isn't just something that happens to other people. And when they find romance, it's got sharp edges.
………………………………………………………
BEST REASON TO SEND YOUR GIRLS TO NINJA SCHOOL
BEST REASON TO NOT VISIT THE KITCHEN AT NIGHT
Deadly Flowers: A Ninja's Tale
By Sarah L. Thomson
Published by Highlights Press
Age Range: 10 – 14 Years
Kata, a ninja, embarks on her first solo mission, for which she must enter a warlord's castle and make sure that a certain sleeping occupant never awakens. But then Kata discovers that her target is just a young boy (and that her new accomplice is that boy's slightly older sister), and suddenly her mission is much more complicated than she bargained for. Faced with taking someone's life or confronting the dire consequences of failure in her mission, Kata must make a hard choice, one that leads her into a more dangerous battle than she ever expected. In this action-packed coming-of-age novel, Kata discovers that while a ninja must always act alone, humanity requires that you accept the trust and friendship of others.
………………………………………………………
BEST REASON TO NOT TELL A BOOK BY ITS COVER
BEST REASON TO NOT CORNER A GIRL IN AN ALLEY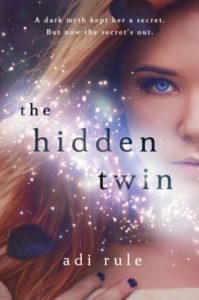 The Hidden Twin
By Adi Rule
Published by St. Martin's Press
Age Range: 12 – 18 Years
For eighteen years a girl with no name, a Redwing, has been hidden away in a small attic room within a city of hissing pipes and curving temples perched on the side of the great volcano, Mol, while her sister, Jey-identical except for her eyes-has lived her life in public as an only child. Their father had hoped the hidden girl would one day grow up to be a normal human girl and not the wicked creature mythology has promised, so he secretly spared her life as an infant.
But when she switches places with her sister, striking up a flirtation with the son of the Empress while working in the royal gardens and gets attacks by two suspicious priests on her journey home, she is forced to call forth fire to protect herself, unleashing her previously dormant powers and letting her secret out. She soon catches the attention of a cult with a thousand year old grudge as well as a group of underground rebels, both seeking her for their own gain. But when her sister goes missing and the Redwing uncovers a great plot to awaken Mol and bring fiery destruction upon them all, she is forced to embrace her powers.
In Adi Rule's stunning new novel, The Hidden Twin, the girl with no name, must finally choose a name and a path for herself, drawing a line between myth and history to prove herself more than a monster if she is to save both her sister and her home.
………………………………………………………
BEST REASON TO GO PLACES YOU'RE TOLD NOT TO
BEST REASON TO FOLLOW BOYS IN TRENCH COATS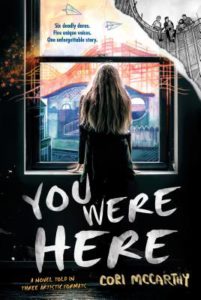 You Were Here
By Cori McCarthy
Published by Sourcebooks
Age Range: 14 – 17 Years
Jaycee is about to accomplish what her older brother Jake couldn't: live past graduation.
Jaycee is dealing with her brother's death the only way she can — by re-creating Jake's daredevil stunts. The ones that got him killed. She's not crazy, okay? She just doesn't have a whole lot of respect for staying alive.
Jaycee doesn't expect to have help on her insane quest to remember Jake. But she's joined by a group of unlikely friends — all with their own reasons for completing the dares and their own brand of dysfunction: the uptight, ex-best friend, the heartbroken poet, the slacker with Peter Pan syndrome, and… Mik. He doesn't talk, but somehow still challenges Jayce to do the unthinkable-reveal the parts of herself that she buried with her brother.
Cori McCarthy's gripping narrative defies expectation, moving seamlessly from prose to graphic novel panels and word art poetry. From the petrifying ruins of an insane asylum to the skeletal remains of the world's largest amusement park, You Were Here takes you on an unforgettable journey of friendship, heartbreak, and inevitable change.
………………………………………………………
BEST REASON TO LISTEN TO METEOROLOGIST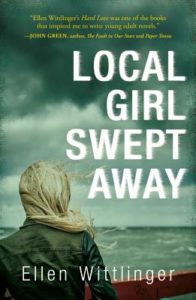 Local Girl Swept Away
By Ellen Wittlinger
Published by Adams Media
Age Range: 14 – 18 Years
They are four best friends who've shared joy and secrets, love and memories, and since the beginning, Lorna was the one who held them all together. Then, the unthinkable happens. During a storm, Lorna is swept out to sea, leaving the three survivors with nothing to cling to except grief and questions. How did this happen? Why was Lorna in such danger, and was she alone? When her body is never found, the mystery deepens. Did Lorna really die? Or has she made a crazy bid for freedom? Inevitably, the dynamic of the four friends' everyday life is changed forever. But the pain and confusion go deepest for Jackie, who must face her feelings of unrequited love for Lorna's boyfriend as well as try to put to rest her own questions about Lorna's presumed death. Does one of the boys in their inner circle know more than he's letting on? Will Lorna's fate ever be discovered? And how will Jackie become her own person in the wake of a wound that may never close? In this beautifully written, intense novel, one girl has to travel through loss and disillusionment to make sense of her own future.