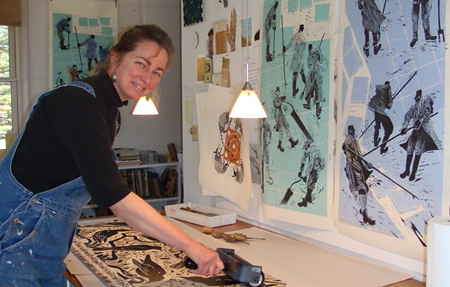 It is utterly heartbreaking to think there will not be another children's book illustrated by Holly Meade.  The children's book community and community of readers mourns the loss of Caldecott Honor winner Holly Meade who passed on June 28th near her home in Maine.
In memory of Holly, Curious City encourages those that love her children's book work to donate a copy or copies of her picture books to the Maine Children's Cancer Program (MCCP) for an in-house library and for distribution to the children they serve.  The incredible MCCP team integrates books into their care whenever they can and is exploring a future children's illustration art gallery.
If you care to participate, you might…
1) Order Holly's books from Amazon | IndieBound | B&N
2) Have them shipped to:
Debra Matson
Maine Children's Cancer Program (MCCP)
100 Campus Drive, Suite 107
Scarborough, ME 04074
207.396.7565
Curious City will provide bookplates to MCCP that read, "Readers and friends of children's book illustrator Holly Meade offer this book to you in her memory.  May the beauty of her pictures take you around the world."
Thanks for considering honoring Holly's legacy this way.  This is purely Curious City's way of remembering Holly.  Those wanting to honor Holly by other means should be in touch with her marvelous family.