"I have never really seen myself as a leader in the traditional sense of the word, I saw myself as a participator, an activist, a doer." —John Lewis from his memoir Walking With the Wind
John Lewis not only has a legacy in the Civil Right Movement and the Congress, but now has had that legacy cemented in the minds of educators and young people with the release of a graphic novel series and a picture book.
Honored to join Chris Lenois of WKVT for this podcast conversation about Congressman Lewis.
---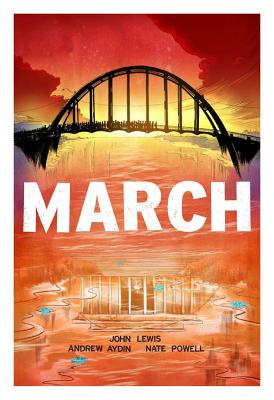 March
By John Lewis and Andrew Aydin
Illustrated by Nate Powell
Publisher: Top Shelf Productions
Series: John Lewis' March Series
Age Range: 13 – Adult
Locate a Local Bookseller
Winner of the National Book Award for Young People's Literature.
Discover the inside story of the Civil Rights Movement through the eyes of one of its most iconic figures, Congressman John Lewis.
March is the award-winning, #1 bestselling graphic novel trilogy recounting his life in the movement, co-written with Andrew Aydin and drawn by Nate Powell. This commemorative set contains all three volumes of March in a beautiful slipcase.
#1 New York Times
Washington Post Bestseller
First graphic novel to receive a Robert F. Kennedy Book Award
Winner of the Eisner Award
A Coretta Scott King Honor Book
One of YALSA's Outstanding Books for the College Bound
One of Reader's Digest's Graphic Novels Every Grown-Up Should Read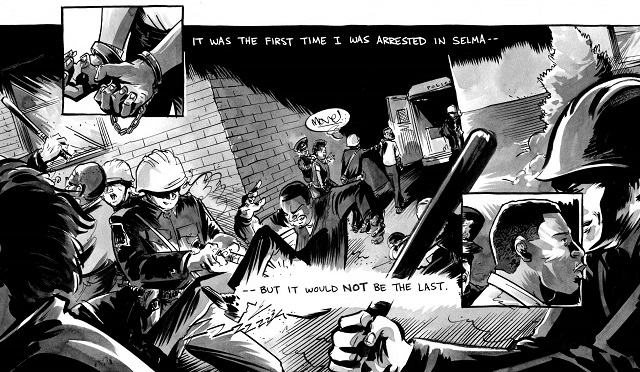 ---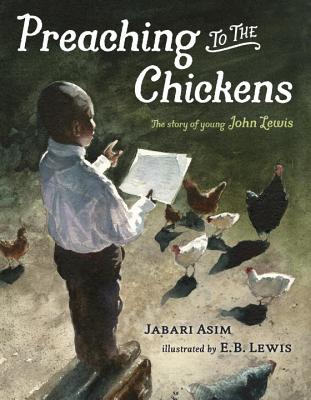 Preaching to the Chickens:
The Story of Young John Lewis
By Jabari Asim
Illustrated by E.B. Lewis
Published by Penguin Young Readers Group
Age Range: 5 – 8 Years
Locate a Local Bookseller
Critically acclaimed author Jabari Asim and Caldecott Honor-winning illustrator E. B. Lewis give readers a fascinating glimpse into the boyhood of Civil Rights leader John Lewis.
John wants to be a preacher when he grows up—a leader whose words stir hearts to change, minds to think, and bodies to take action. But why wait? When John is put in charge of the family farm's flock of chickens, he discovers that they make a wonderful congregation! So he preaches to his flock, and they listen, content under his watchful care, riveted by the rhythm of his voice.
Celebrating ingenuity and dreaming big, this inspirational story, featuring Jabari Asim's stirring prose and E. B. Lewis's stunning, light-filled impressionistic watercolor paintings, includes an author's note about John Lewis, who grew up to be a member of the Freedom Riders, chairman of the Student Nonviolent Coordinating Committee, and demonstrator on the Edmund Pettus Bridge in Selma, Alabama. John Lewis is now a Georgia congressman, who is still an activist today, recently holding a sit-in on the House floor of the U.S. Capitol to try to force a vote on gun violence.
Listen to an Excerpt of the Audio:

---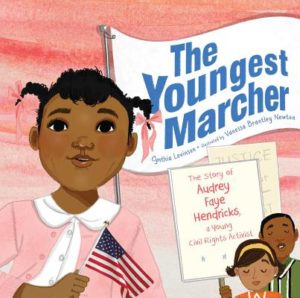 The Youngest Marcher:
The Story of Audrey Faye Hendricks,
a Young Civil Rights Activist
By Cynthia Levinson
Illustrated by Vanessa Brantley Newton
Published by Atheneum Books for Young Readers
Age Range: 4 – 8 Years
Locate at a Local Bookseller
Meet the youngest known child to be arrested for a civil rights protest in Birmingham, Alabama, 1963, in this moving picture book that proves you're never too little to make a difference.
Nine-year-old Audrey Faye Hendricks intended to go places and do things like anybody else.
So when she heard grown-ups talk about wiping out Birmingham's segregation laws, she spoke up. As she listened to the preacher's words, smooth as glass, she sat up tall. And when she heard the plan—picket those white stores! March to protest those unfair laws! Fill the jails!—she stepped right up and said, I'll do it! She was going to j-a-a-il!
Audrey Faye Hendricks was confident and bold and brave as can be, and hers is the remarkable and inspiring story of one child's role in the Civil Rights Movement.