Curious City has an ocean view.  Or at least, if we walk out our doors and down a steep hill we found ourselves on a sheltered bay of the Atlantic.  From the beach these last weeks, you can watch people squeezing the last sails of the season before high winds and cold settle in.
As the refugee crisis continues to play out on the beaches of the Middle East, Northern Africa and Europe, those images screen in over my idyllic Maine view.  And, of course, the image of 3-year-old Aylan Kurdi washed ashore is there.  That is an image of lost childhood that we can never unsee.
Kevin Sherry's picture book Turtle Island may be a balm for those images of Aylan.  If I were a millionaire, I would ship Turtle Island by the caseloads to those families lost at sea and the families on land that need to take them in.
Children have been sailing the perilous sea since the beginning of time and "going to sea" has been a beloved theme of children's literature from Treasure Island to Barry Wolverton's Vanishing Island.  Reading these tales may give our minds an imaginative respite.  And imagination is the BEST tool for problem solving.  And we have some problems to solve…
Curious City joined Chris Lenois on Green Mountain Mornings for this seafaring discussion.  Listen to the podcast below!
__________________________________________________________________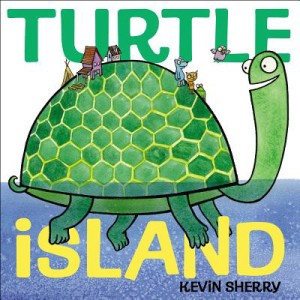 Turtle Island
By Kevin Sherry
Illustrated by Kevin Sherry
Publisher:Penguin Young Readers Group
ISBN-13:9780803733916
Age Range:3 – 5 Years
Discover at Your Local Bookstore
Turtle is big. But the ocean is bigger. And Turtle is all alone. Until four shipwrecked folks–a bear, an owl, a frog, and a cat–climb to safety on his shell. Before long, they're fast friends, and the sea doesn't seem so vast anymore. But when Frog confides that he misses his family, Turtle doesn't understand. Isn't he their family? And when the group decides to sail for home, will Turtle be left behind? Never fear–a surprise on the horizon promises friends, family, and a home at last. Uplifting and heartfelt, this is a book about the power of friendship and making a home of one's own.
__________________________________________________________________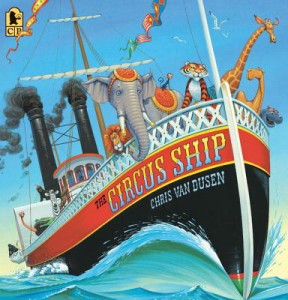 The Circus Ship
By Chris Van Dusen
Illustrated by Chris Van Dusen
ISBN-13: 9780763655921
Publisher: Candlewick Press
Age Range: 4 – 8 Year
Discover at Your Local Bookstore
When a circus ship runs aground off the coast of Maine, the poor animals are left on their own to swim the chilly waters. Staggering onto a nearby island, they soon win over the wary townspeople with their kind, courageous ways. So well do the critters blend in that when the greedy circus owner returns to claim them, villagers of all species conspire to outsmart the bloated blowhard. With buoyant rhymes and brilliantly caricatured illustrations evoking the early nineteenth century, Chris Van Dusen presents a hugely entertaining tale about the bonds of community — and a rare hidden-pictures spread for eagle-eyed readers of all ages.
__________________________________________________________________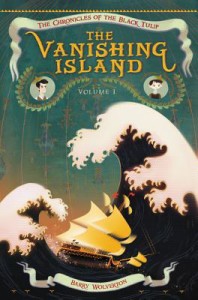 The Vanishing Island
Series: Chronicles of the Black Tulip Series, Book 1
By Barry Wolverton
ISBN-13: 9780062221902
Publisher: HarperCollins Publishers
Age Range: 8 – 12 Years
Discover at Your Local Bookstore
An engrossing fantasy, a high-seas adventure, an alternate history epic—this is the richly imagined and gorgeously realized new book from acclaimed author Barry Wolverton, perfect for fans of John Stephens's the Books of Beginning series.
It's 1599, the Age of Discovery in Europe. But for Bren Owen, growing up in the small town of Map on the coast of Britannia has meant anything but adventure. Enticed by the tales sailors have brought through Map's port, and inspired by the arcane maps his father creates as a cartographer for the cruel and charismatic map mogul named Rand McNally, Bren is convinced that fame and fortune await him elsewhere.
That's when Bren meets a dying sailor, who gives him a strange gift that hides a hidden message. Cracking the code could lead Bren to a fabled lost treasure that could change his life forever, and that of his widowed father. Before long, Bren is in greater danger than he ever imagined and will need the help of an unusual friend named Mouse to survive.
HAVE A LOOK at a series of activities for readers, libraries and classrooms bed on the book!
__________________________________________________________________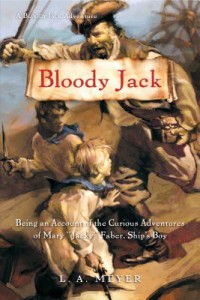 Bloody Jack: Being an Account of the Curious Adventures of Mary Jacky Faber, Ship's Boy
Series: Bloody Jack Adventure Series, #1
By L. A. Meyer
ISBN-13: 9780152050856
Publisher: Houghton Mifflin Harcourt
Age Range: 12 – 17 Years
Discover at Your Local Bookstore
or even better yet….
Experience the delightful audiobooks!
"Posing as a lad in the late 1790s, a spunky orphan girl secures a job as a ship's boy in the British Navy, a position that becomes compromised by her evolving maturity and love for a fellow crewmember. Meyer, a debut novelist, has penned a rousing old-time girl's adventure story, with an outsized heroine who is equal parts gutsy and vulnerable, then sets her loose on a pirate-hunting vessel in the high seas. The novel is full of action and derring-do, but the real suspense is generated by maintaining what the heroine calls "The Deception," her disguise as a boy. Initially, it's fairly easy because Jacky, as the heroine decides to call herself, is as flat-chested, hairless, and high-voiced as the rest of the boys. She simulates using the ship's head, imitating the boys' "shake-and-wiggle action" and even creates a faux penis out of cloth under her drawers, so that she's as "well rigged out" as the rest of the lads.
Clever and courageous, Jacky deals with both the ship's bully and pedophile, fights pirates valiantly, and manages to save the day for her shipmates, enabling them to secure the buccaneers' booty. Jacky is such a marvelous creation that the other characters feel shadowy in comparison, and the least engaging parts of the novel involve her secret romance with a fellow ship's boy. Capped by a fitting but bittersweet ending, the first-person narrative shines, and a wealth of historical research is seamlessly knitted into the material. A first-rate read." —Kirkus Reviews
__________________________________________________________________
Shipwrecked!: The True Adventures of a Japanese Boy
By Rhoda Blumberg
ISBN-13: 9780688174859
Publisher: HarperCollins P
Age Range:8 – 12 Years
Discover at your Local Bookstore
Any person who leaves the country to go to another and later returns will be put to death.
This was the law in Japan in the early 1800s. When fourteen-year-old Manjiro, working on a fishing boat to help support his family, was shipwrecked three hundred miles away from his homeland, he was heartbroken to think that he would never again be able to go home. So when an American whaling boat rescued him, Manjiro decided to do what no other Japanese person had ever done: He went to America, where he received an education and took part in events that eventually made him a hero in the Land of the Rising Sun.
__________________________________________________________________
Immigration Book & Resource:
I'm Your Neighbor is a project which promotes the use of children's literature featuring "new arrival" cultures and groups to engage the entire community in a discussion of commonalities and differences. The project features a recommended list of books and an evolving list of engagement projects for educators, librarians, and community organizations who seek to build bridges.
The goal of the project is to both support communities as their cultural makeup evolves and to create opportunities for children's literature featuring refugees, immigrants, and "new" marginalized groups.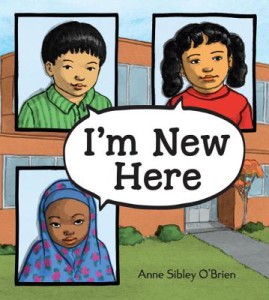 I'm New Here
By Anne Sibley O'Brien
Illustrated by Anne Sibley O'Brien
SBN-13: 9781580896122
Publisher: Charlesbridge
Age Range: 5 – 8 Years
Discover at your Local Bookstore
Maria is from Guatemala, Jin is from Korea, and Fatima is from Somalia. All three are new to their American elementary school, and each has trouble speaking, writing, and sharing ideas in English. Through self-determination and with encouragement from their peers and teachers, the students learn to feel confident and comfortable in their new school without losing a sense of their home country, language, and identity.
Young readers from all backgrounds will appreciate this touching story about the assimilation of three immigrant students in a supportive school community.
Anne Sibley O'Brien is one of the founders of I'm Your Neighbor, an organization that promotes children's literature featuring "new arrival" cultures. As the rate of immigration to the United States increases, topics related to immigration are increasingly more important in the classroom and home. I'm New Here demonstrates how our global community can work together and build a home for all.