There was a time when there MIGHT have been giants.  The existence of giant, ill-tempered men could explain thunderstorms, volcanoes, mountain ranges and people that disappeared in the night.  But as the world was explored and explained, giants fell into myth.  But all things that have sifted into myth live on in children's stories.
Giants may stand in for that childhood feeling that other humans and the world are awfully BIG and sometimes awfully mean.  Like Jack, children may want to outwit these big people by sheer bravado.
But then there are the friendly giants that spare us from harm and set our whole perception of the world sweetly askew.  The friendliest of giants, the BFG, will be hitting the big screen this summer.  Roald Dahl fans of all ages are hoping they don't make a "gobblefunk" of the beloved story.


Curious City joined WKVT for a kidlit conversation. Listen to the Podcast!


---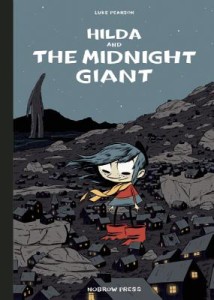 Hilda and the Midnight Giant
By Luke Pearson
Publisher: Nobrow Ltd
Series: Hildafolk Series
Age Range: 6+ Years
Find in a Local Bookstore
In Hilda and the Midnight Giant, our protagonist finds her world turned upside down as she faces the prospect of leaving her snow-capped birthplace for the hum of the megalopolis, where her mother (an architect) has been offered a prestigious job. During Hilda's daily one-and-a-half hour trek to school she looks for ways to stall her mother's decision. She conspires with the beings of the mystical Blue Forest to delay the inevitable. Will they help or hinder her? More importantly, who is this mysterious Midnight Giant?
---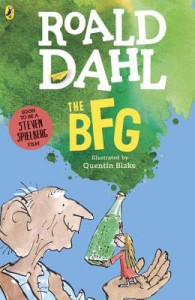 The BFG
By Roald Dahl
With illustrations by Quentin Blake
Publisher: Penguin Young Readers Group
Age Range: 7 – 12 Years
Find in a Local Bookstore
For thirty years, readers have been enchanted by this story of young Sophie and the benevolent Big Friendly Giant—inspired by Roald Dahl's own granddaughter. Come celebrate and join them as they take on the Bonecruncher, the Bloodbottler, and other monsters to help make the world a better place for children everywhere!
"'Words', he said, 'is oh such a twitch-tickling problem to me all my life. So you must simply try to be patient and stop squibbling. As I am telling you before, I know exactly what words I am wanting to say, but somehow or other they is always getting squiff-squiddled around."  ― Roald Dahl, The BFG
---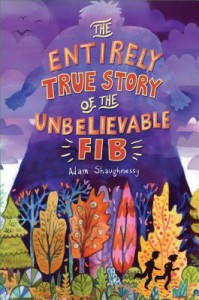 The Entirely True Story of the Unbelievable FIB
By Adam Shaughnessy
Publisher: Algonquin Books of Chapel Hill
Age Range: 8 – 12 Years
Find in a Local Bookstore
That's the question eleven-year-old Prudence Potts discovers on a baffling card no one else in Middleton–except ABE, a new kid at school with a knack for solving riddles–seems to see. Then a mysterious man asks for ABE and Pru's help investigating mythical beings infiltrating the town, and that's just the first of many things Pru finds hard to believe.
Soon Pru and ABE discover another world beneath their quiet town, where Viking gods lurk just out of sight. And when the pair find themselves locked in a battle against a dangerously clever enemy, they must race to secure the Eye of Odin, source of all knowledge–and the key to stopping a war that could destroy both human and immortal realms.
Author Adam Shaughnessy draws from classic lore to create a tale rich in puzzles, plot twists, charming characters, and sly humor in which uncertainty opens the door to magic and the last thing you should do is believe your own eyes.
Look for it in paperback in August 2016 under the title The Unbelievable Fib, Book 1: The Trickster's Tale.
"I don't think those stories are a warning at all. I think they're a message. They tell you that you can't have magic without monsters. Now, some people spend their whole lives trying to hide from the monsters because they can make the world a frightening place. And the world can be frightening. It can be terrifying. That's the truth. But that's not the entire truth…
–
The entire truth is that anything is possible, Pru, not just the awful things. Not just the monsters.There's magic out there, too, in the woods, in the world. Talking squirrels. Brave companions. Traveling houses. There's so much to see and explore, if only we're open to it. If only we're willing to risk being unsafe and unsure, at least on occasion."
–Adam Shaughnessy, The Entirely True Story of the Unbelievable FIB