World Lion Day 2015 comes in with a roar and a continued uproar about Zimbabwe's Cecil the Lion being illegally killed by an American.  Like all such things, America's reaction (by animal rights activists, conservationists, hunters, cat lovers, children, and the mighty media) says more about our culture than it says about one dentist (with too much money and too little respect).  And like all such things, it reveals the cultural isolation that is America – living apart from countries like Zimbabwe where lions are a complicated and dangerous affair.
And who made the lion the King of the Beasts anyway??  Oh, right, us.  In countless stories of his irrefutable majesty, children's literature and stories throughout the ages gives the big cat reign.
Curious City joined Chris Lenois on Green Mountain Mornings for this discussion of the King of the Beasts.  Listen to the podcast here.
__________________________________________________________________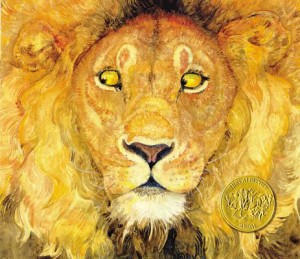 The Lion & the Mouse
by Jerry Pinkney
Publisher:Little, Brown Books for Young Readers
Age Range:3 – 5 Years
Locate at a Indie Bookstore
Winner of the Caldecott Medal.
In award-winning artist Jerry Pinkney's wordless adaptation of one of Aesop's most beloved fables, an unlikely pair learn that no act of kindness is ever wasted. After a ferocious lion spares a cowering mouse that he'd planned to eat, the mouse later comes to his rescue, freeing him from a poacher's trap. With vivid depictions of the landscape of the African.
__________________________________________________________________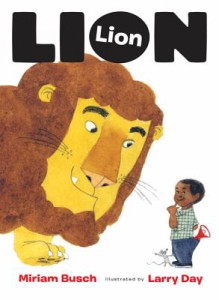 Lion, Lion
By Miriam Busch
Illustrated by Larry Day
Publisher: Balzer & Bray/Harperteen
Locate at a Indie Bookstore
For fans of Ezra Jack Keats, this perfect read-aloud is a timeless story featuring plenty of animals!
A little boy is looking for Lion. Lion is looking for lunch.
And so our story begins. But look closely… In this tale, nothing is quite as it seems!
Children will delight in this classic picture book with a mischievous twist.
__________________________________________________________________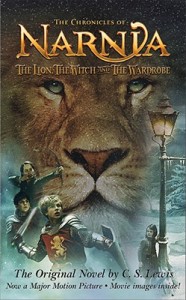 The Lion, the Witch and the Wardrobe
(Chronicles of Narnia Series #2)
by C. S. Lewis
Publisher:HarperCollins Publishers
Range: 9 – 12 Years
Locate at a Indie Bookstore

Four adventurous siblings—Peter, Susan, Edmund, and Lucy Pevensie—step through a wardrobe door and into the land of Narnia, a land frozen in eternal winter and enslaved by the power of the White Witch. But when almost all hope is lost, the return of the Great Lion, Aslan, signals a great change . . . and a great sacrifice.
The Lion, the Witch and the Wardrobe is the second book in C. S. Lewis's classic fantasy series, which has been drawing readers of all ages into a magical land with unforgettable characters for over sixty years. This is a stand-alone read, but if you would like to explore more of the Narnian realm, pick up The Horse and His Boy, the third book in The Chronicles of Narnia.
__________________________________________________________________
Article:
"In Zimbabwe, We Don't Cry for Lions" 
By Goodwell Nzou
The New York Times
Goodwell Nzou is a doctoral student in molecular and cellular biosciences at Wake Forest University
"When I turned on the news and discovered that the messages were about a lion killed by an American dentist, the village boy inside me instinctively cheered: One lion fewer to menace families like mine.
My excitement was doused when I realized that the lion killer was being painted as the villain. I faced the starkest cultural contradiction I'd experienced during my five years studying in the United States…"
"…And Americans who can't find Zimbabwe on a map are applauding the nation's demand for the extradition of the dentist, unaware that a baby elephant was reportedly slaughtered for our president's most recent birthday banquet."
"…The American tendency to romanticize animals that have been given actual names and to jump onto a hashtag train has turned an ordinary situation — there were 800 lions legally killed over a decade by well-heeled foreigners who shelled out serious money to prove their prowess — into what seems to my Zimbabwean eyes an absurdist circus.
We Zimbabweans are left shaking our heads, wondering why Americans care more about African animals than about African people.
Don't tell us what to do with our animals when you allowed your own mountain lions to be hunted to near extinction in the eastern United States. Don't bemoan the clear-cutting of our forests when you turned yours into concrete jungles."
__________________________________________________________________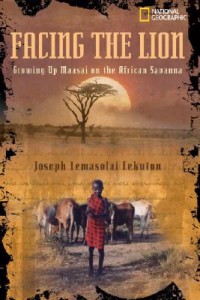 Facing the Lion:
Growing Up Maasai on the African Savanna
by Joseph Lemasolai Lekuton
Publisher: National Geographic Society
Age Range:12 – 17 Years
Locate at a Indie Bookstore
"This involving, anecdotal autobiography sketches the childhood of Lekuton, who grew up in northern Kenya, a member of a subgroup within the Maa culture known as the Ariaal. He explains that the beloved cows dictate where their nomadic "village" wanders: "If the grass runs out or the water dries up, we move. If there's better grazing land somewhere else, we move." Articulate and likable, the author easily ushers readers into his primitive yet colorful culture as he vividly describes aspects of his people's way of life. His topics range from the quotidian (the practice of drinking milk mixed with cow's blood; the youngsters' responsibility for the herd's calves; the role of the "pinching man," who metes out punishment to village children) to the momentous (the elaborate circumcision ritual that young men undergo on the path to becoming a "warrior").
Following the government's dictate that one boy in every nomadic family go to school, Lekuton attended a school run by American missionaries (and, depending on where his family was living at the time, walked up to 40 miles home at vacation time), went on to enroll in an elite boarding school in Nakuru, received a scholarship at St. Lawrence University in New York and currently teaches at a private school near Washington, D.C.-and, during school vacations, guides American visitors through his Maasai home. An intriguing portrait of a remarkable life and a culture little known to most American readers." —Publishers Weekly
__________________________________________________________________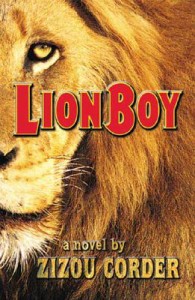 Lionboy
by Zizou Corder
Publisher:Penguin Young Readers
Age Range:8 – 12 Years
Locate at a Indie Bookstore
What do you do when you come home one day and discover that your parents have been kidnapped? Well, if you're a brave young guy named Charlie Ashanti, you go off in search of them. And since you happen to know how to speak Cat, your feline friends — the stray cats of the city and the caged lions on a magnificent, astounding floating circus — rally around you, bringing help, advice, and occasional special deliveries. Little do you know that in this search of yours, the fate of the world is at stake.
From an exciting new mother/daughter writing team comes this captivating adventure full of heroes, villains, and astounding events. Set in a near future that blends the familiar and the new in unexpected, intriguing ways, Lionboy is an exhilarating, suspenseful whirlwind of a novel — a book destined to become a classic.