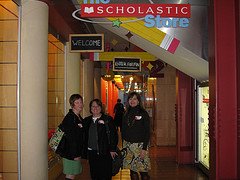 Just back from a swoop through the New York publishing offices on a buying trip for Raising Readers.
I have over 237 board and picture books in play (and stacked on my office floor) to select from for the literacy group's upcoming book selection committee meeting.
The group gives 12-15 books to Maine kids from birth to age 5 at their well child doctor visits. The organization has given out 1.2 million books in the last seven years!
If under pen point I had to choose the work I love the most, it would be hunting down and narrowing down what books amongst 1000's published each year, the group considers.
Also on my "to do" are events for Raising Readers, building an annual anthology for 5-year-olds, and maintaining their Blog.
Here I am pictured with Anne Quirion and Diane Skog from Raising Readers, happy as a clam to be headed into the Scholastic Store to read picture books upon the long tail of the Marc Teague dino.

More pictures.