Celebrate Malcolm X's 90th Birthday with a

Spoken Word Performance of His Teen Years!

Meet Malcolm X Before He Knew He Was

Destined to Fight for #BlackLivesMatter!
FREE MP3 SPOKEN WORD 
On 5/21/15 a free MP3 audiobook download of the acclaimed young adult novel X: A Novel will be available for one week.  Readers who grab that file between 5/21/15 (8 AM EST) and 5/27/15  will be able to keep the spoken word performance of Malcolm X's teenage years indefinitely.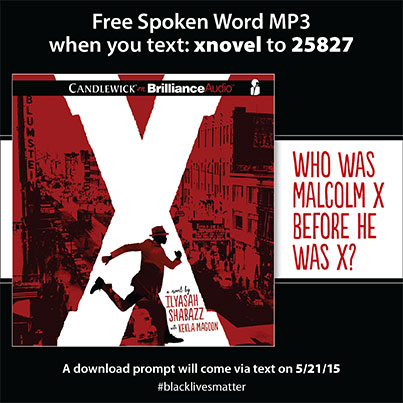 SIGN UP VIA TEXT
You can sign-up on the spot to get a text alert when the download file becomes available.  When you text to 25827 and put xnovel in the message field, they will get a prompt to grab an app to handle the download on 5/21/15.

NO STRINGS ATTACHED
This audiobook comes courtesy of Brilliance Audio, author Ilyasah Shabazz (Malcolm X's daughter), Candlewick Press  and Curious City DPW.
The only "solicitation" you will receive via text message after their download is an encouragement to receive other free young adult audiobooks throughout the summer including Monster by Walter Dean Myers.  All the free audiobooks originate from SYNC, a teen summer literacy program funded by AudioFile Magazine and the audiobook publishers.

WAYS TO SHARE THE NEWS
Social Media: Drag and drop the graphic/meme above or download it here.  Share the hashtags #xanovel #malcolmx #blacklivesmatter
Play & Share Audio Clip: Imagine where you can share and play the 4:21 minute sound clip?  Social networks? Classroom?  Morning Announcements?  Grab the sound clip on SoundCloud here.
Paper Reminders: Print and cut paper flyers to encourage teens and others to sign-up to get the download link via text.  Download a PDF here.
This Post: Share this opportunity with other educators and community leaders.
Website & Newsletter Description: Who was Malcolm X before he was X?  His daughter Ilyasah Shabazz and author Kekla Magoon tell the riveting tale of Malcolm's teenage years in X: A Novel.
"Shabazz and Magoon expertly guide the reader by presenting loaded scene after loaded scene, often making us watch young Malcolm choose the wrong path or opt for the buzz of the street over the pull of family and principle…X is a powerful, honest look at the early years of one of our country's most important civil rights leaders. Most exciting of all is the prospect that his story will awaken a new generation of young activists, inspiring them to step into what remains a vital fight."
—Matt de la Peña for The New York Times Book Review
The book, performed as a spoken word audiobook by narrator Dion Graham, will be free during the days surrounding Malcolm X's 90th birthday.
When you text the word xnovel to 25827, you will receive a text reminder to grab the MP3 (and the app to listen to it on) starting 5/21/15.  While the file will only be available until 5/27/15, once the MP3 is downloaded, it does not expire.
Share this news "to awaken new generation of young activists, inspiring them to step into what remains a vital fight" with Malcolm X's story.
Educators and community leaders can visit here [http://www.curiouscitydpw.com/2015/03/21/x-a-novel-free-mp3-download-of-malcolm-xs-teen-years/] to get tools to share the news with their teens!

SAMPLE OF AUDIOBOOK

MORE ABOUT THE BOOK & THE AUDIOBOOK PRODUCTION

X: A Novel
By Ilyasah Shabazz & Kekla Magoon
Audio Performed by Dion Graham
Book Published by Candlewick Press
Audio Published by Brilliance Audio
Cowritten by Malcolm X's daughter, this riveting and revealing novel follows the formative years of the man whose words and actions shook the world. 
Malcolm Little's parents have always told him that he can achieve anything, but from what he can tell, that's nothing but a pack of lies—after all, his father's been murdered, his mother's been taken away, and his dreams of becoming a lawyer have gotten him laughed out of school. There's no point in trying, he figures, and lured by the nightlife of Boston and New York, he escapes into a world of fancy suits, jazz, girls, and reefer.
____________________________________________
Audiobook Review
"Hooking listeners with his dynamic rendition of the opening scene, Graham portrays Malcolm on the run in Harlem, and then moves deftly between the bravado of his teen years and the vulnerability of his childhood in periodic flashbacks. As the text portrays Malcolm's keen intelligence as well as the insecurity and pain that drive him, Graham delivers a sensitive performance that keeps the time shifts clear and gives vibrancy to the large cast of characters." —Audiofile Magazine, Earphones Award Winner
Book Reviews
"Shabazz and Magoon expertly guide the reader by presenting loaded scene after loaded scene, often making us watch young Malcolm choose the wrong path or opt for the buzz of the street over the pull of family and principle…X is a powerful, honest look at the early years of one of our country's most important civil rights leaders. Most exciting of all is the prospect that his story will awaken a new generation of young activists, inspiring them to step into what remains a vital fight."
—Matt de la Peña for The New York Times Book Review
"A completely absorbing novel… Readers for whom pre-civil rights America is ancient history will find this poetic interpretation eye-opening and riveting." —Kirkus Reviews (starred review)
"This fictionalized account of the boy who became Malcolm X maintains a suspenseful, poetic grip as it shifts among moments in his life between the years 1930 and 1948. … A compelling coming-of-age story."
—Publishers Weekly (starred review)
"An eye-opening look at an important historical figure. The author's honesty about his early troubles serves to convey that it is possible to rise through adversity to make a positive difference in this world."
—School Library Journal (starred review)
"Although this is a work of fiction, it's strongly tethered to the facts, to the people and events that contributed to Malcolm's world view and his path to becoming a leader. Malcolm's voice is often funny, always perceptive, and as appreciative of beauty as he is critical of the disparity between the rights of whites and blacks."
—Shelf Awareness (starred review)
"Shabazz and Magoon bring energy, immediacy, and emotional power to Malcolm's first-person, present-tense voice. Often painfully candid, the authors effectively depict Malcolm's lifetime of racial slurs and casual injustices, symbolized by the image of a lynched man hanging from a tree. It's a satisfyingly complete, never simplistic story of one young man's journey through trouble to the promise of a life of purpose and meaning."
—Booklist (starred review)