Pleased as pie to have spent such delicious time with the creators at the SCBWI Austin  Conference.  This welcoming and boundlessly productive conference was planned, encouraged, and steered by the grand Debbie Gonzales, Carmen Oliver, Mark G. Mitchell, and a bounty of clever volunteers.
This Q&A is a result of my presentation and individual consults with creators.   Why a Q&A a week later and 2,000+ miles from the original source?  There is only so much time in a conference weekend, so I requested written questions and promised this follow-up post.
Brain Cloning
Q: Can I clone your brain?
A: Cloning of my brain is a scientific possibility, but at a market price that I find restrictive to most creators.  I hear, though, that the new iPad has a cloning function.  Let's see what the reviews are like on that app and we will talk again. Until then, you have only my written answers and are invited to be in touch any old time.
Author/Illustrator Marketing Partnerships
Q: Should an author and illustrator work together on the promotion of a book?
A: If the illustrator has a financial stake in the sales of the book, then, yes, the author and illustrator should find a way to work together for mutual gain.  You both brought talent to the table to produce the book and you both have things to offer in the promotion field.  Your publishers may have discouraged interaction during the creation process of the book, but that moratorium should end as soon as the book's production is complete.  Think of all the time you have from final art to publication date to plot and produce marketing materials and strategy…
If that strategy involves the illustrator producing additional illustration or design, the author MUST acknowledge that the illustrator's work is a financial donation to the marketing cause.  Illustrators should even attach a price for work done on marketing.  Why?  Because when reporting the marketing work you are doing to your publisher (and you always should market yourself to your publisher), it does not hurt in the least to provide a list of hours committed (in kind, but with a $ amount affixed), consultant fees paid (if you use one), and all expenses.
Q: Do authors and illustrators feel an equal commitment to a picture book?
A: Not always.  Authors submit their work to publishers for consideration hoping to be hired for their skills while publishers go seeking illustrators to do a book as work for hire.  (This is a gross generalization, but bear with me…)  Authors often refer to a picture book as "my book" while an illustrator will refer to the book "as one I illustrated."  It is, though, a PICTURE book and there should be equal pride and equal commitment by each to the book and to finding its readers.  The onus is often on the author to reach out to the illustrator, I think, to bring them squarely into that co-production circle.
Q: Does Curious City work with both the author and illustrator?
A: Absolutely.  We have often served as the bridge between the two.  My favorite project for picture books is to create Event Kits or Story Hour Kits to share with librarians, educators, and other children's programmers.  I rely heavily on capturing illustrations from the book or new illustrations created for the purpose.  As an example, look at the wonderful posters that Brian T. Jones created to support an Event Kit for Quackenstein Hatches a Family by Sudipta Bardhan-Quallen.
Event Kits
Q: I can see creating a media packet for a library, filled with songs, activities etc. to download but how do you go about getting it to libraries or getting the word to libraries?
A: Ask a local librarian or one that you are friendly with nationally to "test" your Event Kit (with or without you).  Perhaps offer to donate several copies of your book in exchange or provide a local school visit or something that is a benefit to her (but not a bribe).  If she likes the kit, ask if she will post a review of the experience to her state list serve and any national list serve she is a member of.  Librarian list serves are a very active means for understaffed librarians to share and request ideas from colleagues.  Request also that your publisher add the kit to your page.  Ask your publisher to distribute it at the library conferences they attend.  (You may need to offer to print and ship the kit yourself to get them to agree.)
Starting Promotion
Q: Should you start promoting a book before its completed or acquired?
This is a question best asked of your agent as you may not want to release details of a your work before it becomes a book. You should, though, during your research and writing be thinking about your readers and how you might reach them (if the process does not interrupt your creative process).  You can also be gathering materials that will be interesting to potential readers once your work is a book.  Some creators blog about research (items that will legitimize/deepen their interest in their subject or character) and keep the posts "private" (blog posts can be delineated at Public or Private).  Those posts can be transformed to Public as marketing for the book begins in earnest.
Take pictures OFTEN.  For example, of you were working on a circus book, did you research with the bust of P.T. Barnum glaring at you from the top of a library shelf (I did)?  Could that bust be fodder for a post later or a slide to illustrate a point at a conference or school visit?  Did you write don the name of the librarian that helped you? Gather now with thoughts of marketing later.
Social Networking (Until the Cows Come Home)
Q: Facebook vs. Twitter?
A: We find Facebook valuable on the marketing front not for the friendships, but for the proliferation of Pages.  Is there a Page that people have "liked" that relates to your book? Can you create a post that relates to your book and the force behind that page?  For example, Sarah L. Thomson, the author of the non-romantic vampire novel Mercy, finally was forced to read Twilight.  She was quite disturbed that Edward's controlling behavior = romantic love.  She blogged about it on her book website and posted the story to the Pages, "I Hate Twilight" and "Twilight Sucks."  This led to her highest blog visitation day.  Outside of uses like this, Facebook is about talking with your Friends.  Yes, Friends are valuable in the outreach for your book, but you have a limited reach there.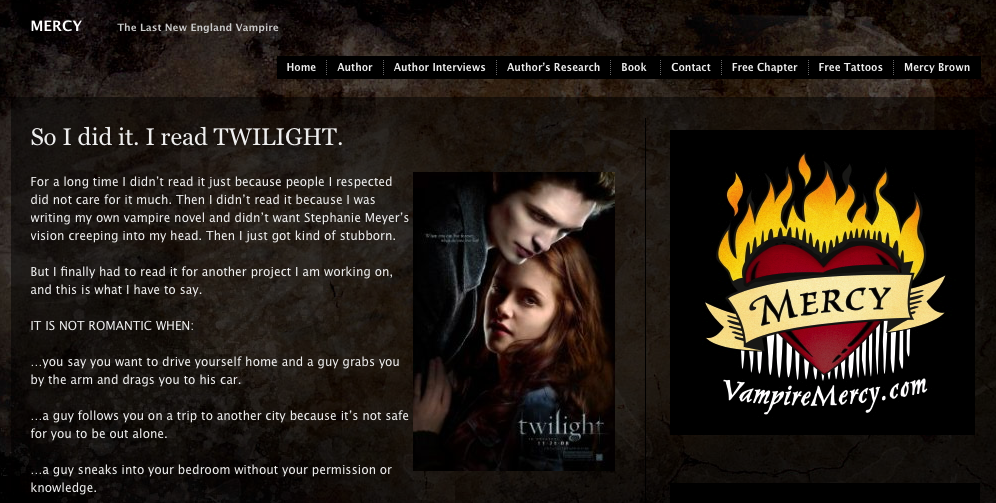 Unlike Facebook that keeps you within your circle of Friends, Twitter allows you broader access to folks. Twitter allows you to not only talk to your Followers, but the Followers of those you Follow (what a bizarre sentence this is).  Making Twitter work for you involves careful attention  and networking.  I recommend author/illustrator/clever one Katie Davis' tutorial "The I Hate Twitter and 9 Other Stupid Things to Stop Saying and Enhance Your Career Using Social Media Video Series."  The $32.00 investment is well worth it.
Q: How do Facebook ads work and are they expensive?
A: Facebook does a grand job of explaining it here.  You should simply know that you can create an ad for your book that targets things Facebookers have "liked."  You say how much you want to spend and you only pay if someone clicks on the ad.  You do not pay if someone simply reads it.  For example, we ran an ad for Anne Sibley O'Brien's After Gandhi: 100 Years of Non Violent Resistance.  One of the heroes profiled in the book is Thich Nhat Hahn.  There are208,000 fans of Thich Nhat Hahn on Facebook.  For the cost of $135, we drove just shy of 600 folks to the After Gandhi website or Amazon page.  We have repeated this exercise with other figures profiled to similar results.  Could this work for you?

Continued in Part Two…