If you are just joining us…Curious City is answering submitted children's book self-promotion / marketing questions by the ever-so-clever creators from the Austin SCBWI Conference on February 18. 2012.  The conversation began in Part 1 (but you can start anywhere you desire.)
This online Q&A stands as the only current affordable way to clone my (Kirsten Cappy's) brain per conference requests.
Teaching an Old Book…New Marketing Tricks
Q: If you have had a hardcover out for awhile (and there seems to be little hope of a paperback), would you spend time and money promoting it?
A: Let's ask a slightly different question.  Can you improve the chance of your book becoming a paperback or e-book by promoting it even years after publication?  Oh, yes.  It ain't over until it is out of print (and even then I might argue that it is not too late).  A book with slow sales has simply not found enough readers yet.  Have you ever found a reader that cares about publication dates?  Have you ever encountered someone that says, "That book is so 2006!"  A book is new to a reader when they discover it.  How is it discovered?  If you attended the Curious City workshop, you got an earful about the quest to discover readers.  If you did not, we should talk…
Teaching a New Format…Old Marketing Tricks
Q: Should my book be an e-book?
Q: How would you market a middle grade e-book?  
Q: How does an e-book stand out amongst so many others online?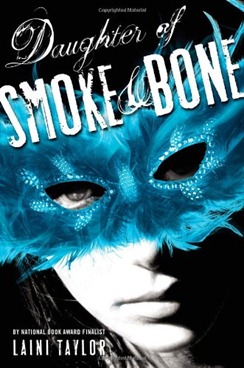 If you have an e-book version of your book or it is only in this format, you have the colossal advantage over those with good old fashion bound paper–accessibility.  Readers with e-book tablets / smart phones have found their spontaneous book buys increase drastically.  For example, when a fellow traveler recommended The Daughter of Smoke and Bone by Laini Taylor during a long stranding at the Newark Airport, I immediately bought a copy.  No, I did not buy it in the airport bookstore (they did not have it).  I bought it for my iPhone and started reading it 5 minutes after the enthusiastic endorsement.  Within a month, I had read everything else Taylor had written save the one book that is not an e-book.  I keep meaning to order a hard copy, but I just keep forgetting…
You may not care for my reading habits or may loath me for not shopping local, but you should notice that I am now a complete Laini Taylor fan because of the instant gratification of the e-book.  A report from the Pew Internet and American Life Project released in January 2012 reported that 29% of Americans owned at least one tablet or e-reader. That is up from 18% in December 2011.  More of us will be reading this way.
Is there any special, secret, or completely magically way to market an e-book?  Not that I am aware of yet. It is still the good old hard work of identifying potential readers and leading them to discover your titles.
Cold Calling or How to Get People to Listen to You
Q: Is cold calling useful?
A: Does calling strangers send a shiver down your spine?  I do it every day and I still have to steel myself.  Cold calling, though, is a different matter.  Cold calling is pitching to someone who is not prepared to hear from you.  Prepare them with an email, voice mail (I often call and ask for voice mail, not the person), or letter before you call to talk with them one-on-one.  I must say that one-on-one talk and even snail mail is coming back in style for me.  Admit it, your email in-box is often not your friend.  Is it anyone's anymore?  Yes, it is efficient to send someone an email, but will it languish, be accidentally deleted, or never even arrive?  If you email someone, call them a week later to discuss the email.
Q: How do you prepare for a cold call for school visits?
A: A cold call to PTA presidents or school librarians feels daunting because it puts them on the spot and puts you in the position of selling yourself. You may be better introduced to the school librarian by an email from a librarian colleague.  Can you offer a school that books you a 50% discount if they post a message to their library list serve reviewing your school visit?
At the very least, never walk away from a  school visit without quotes from the staff. I encourage my clients to hand out an evaluation form to every educator they encounter during a visit.  Offer to enter the educator to win a signed book if they hand you an evaluation.  Draw for the book before you leave for the day.  This lets you end the day on a high note and with a fistful of quotes about your performance as a school presenter.  Snail mail a letter and/or a brochure outlining your visits to regional PTA presidents and school librarians once you have compiled good quotes.  Build your reputation by relationships, not by cold calls.
Q: How do you prepare for cold calling media?
A: Yes, this is also daunting, but if you have sent them a press release prior to your call and if you truly have a story for them, they will be interested to hear from you.  The tricky thing is having a story for them.  The fact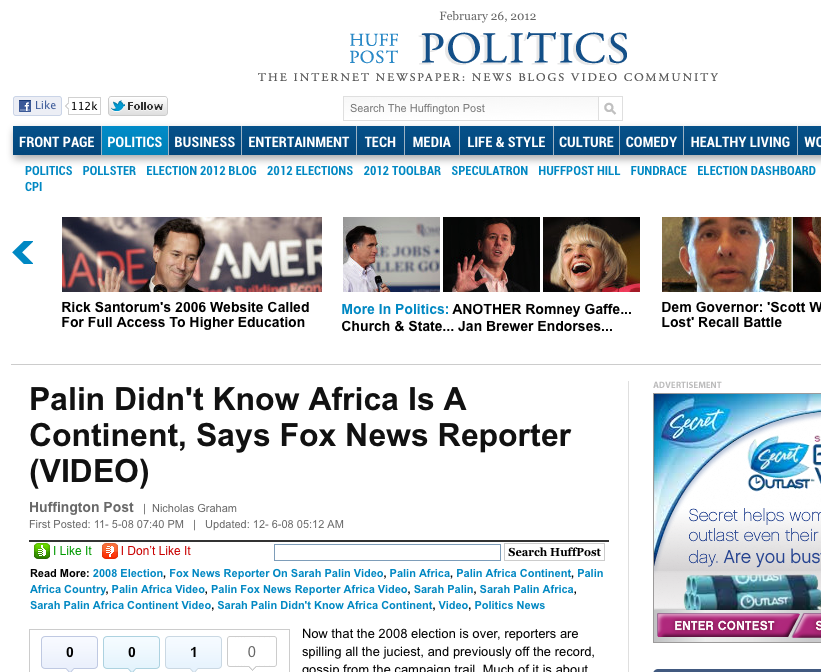 that you are an author and you have a new book out may not be a story.  Sorry, but too many books come out every year for that to be news.  Do you have a book about dog adoption and you are volunteering in a local shelter?  Do you have a book that is connected with local or national news?
For example, I did a media push for Mary Burns Knight's Africa is Not a Country when Sarah Palin kept referring to the continent as a country.  The press release described how it is an easy mistake to make, even one that Rhodes Scholar Bill Clinton made on occasion.  Make news by connecting your book to the real world and you will get coverage.
Blog, Blogglier, Bloggiest
Q: Do you recommend blog tours for YA e-books or other books?
Q: What do you think of blog tours?
A: Yes!  First, stop thinking about your e-book as some odd creature in the literary menagerie.  It is simply a format like hardcover or paperback.  Yes, your format needs a device, but that device's availability is growing rapidly in schools and homes.
Approach YA blogs, but also remember that your audience is broader than those self-identified "YA Readers."  Think about what else your readers might like or think about what your character might like.  Are there blogs that your character or reader would visit that are not literary blogs?  Offer to send THOSE blogs a review copy.  Chances are they do not get offered YA books as much as YA book reviewers do!
Q: Can you explain tags on blogs more?  How about categories?
A: Hang out with Curious City for any amount of time and you will hear us gushing about WordPress.  WordPress is a very intuitive combined blog and website program with rather attractive templates.  So when you ask me a blog question, you are going to get a WordPress answer.
In WordPress, my understanding is that Tags are keywords that give you a slight leg up in the search engines.  Always, always tag your full name in a post.  You are the author of the post and you are writing that post because you ultimately want to be associated with that post.  Tag people mentioned in the post, books mentioned, locations mentioned, and so on.  Think about what a person would put in the Google search box that would lead to your post.  Those search words = your Tags.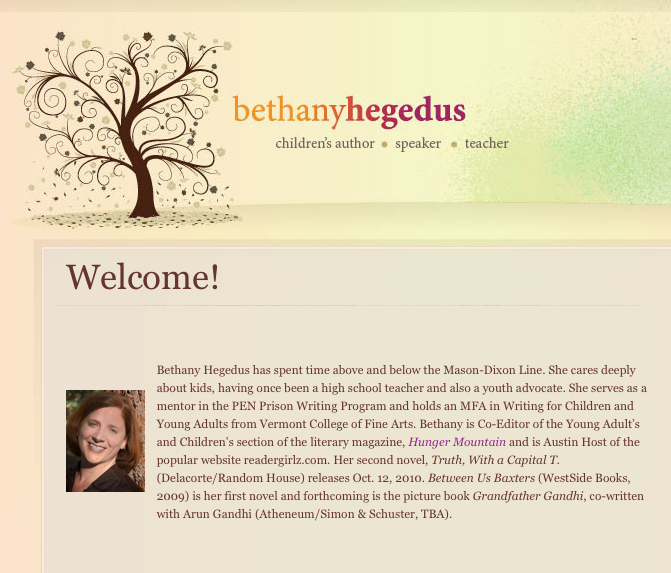 We use Categories on a broader level to index our posts.  Think of Categories as the main themes of your blog posts.  Think about someone your know.  Let's use writer, connector, and Writing Barn matron, Bethany Hegedus as an example and pretend she has a WordPress blog.  Her blog posts might break down into a couple of broad Categories: The Writing Barn (an event and creative space she has just launched), Hunger Mountain (the literary journal where she serves as children's lit editor), Austin Authors & Illustrators (because she is fiercely loyal to the creators in her adopted city), Grandfather Gandhi (her upcoming picture book), Author Interviews, Book Reviews, and so on.  Categories allow for readers of your blog to pursue other posts of interest–it gives them an index.  Look for them on this blog soon!
Q: How do you set up blog giveaways?  Any rules?  Suggestions?
A: Forms.  Again (forgive me) my structural response is a WordPress one.  WordPress recently added an easy Form that you can include in Posts or Pages.  These are great for for making giveaway forms on your blog.
Ages.  If you want to sit on the safe side of COPPA (legislation that discourages marketing to children) you should make sure any entrant is 13+.  Create a check off both so the entrant must say they are 13+.  Request that a parent or educator enter a child under 13 under this request.
Winner Time Limit.  State that the winner has 72 hours to respond to your email announcing they have won the giveaway.  Otherwise, you may find your self unable to give your fabulous something away.
Mailing List.  Ask entrants if you can add them to your mailing list.  You are not doing a giveaway ONLY out of the tenderness of your heart.  You are doing the giveaway to draw attention to yourself.  Hold onto that attention when you can.
Loosing Heart and Making Mistakes
Q: What's the biggest "no no"?
A: Will you make mistakes?  Yes.  Will you spend time on self-promotion and be unsure of the outcome?  Yes.  Marketing is not an exact science.  Results can be hard to track and may not manifest themselves for some time.  Will this be discouraging?  Yes.  I cannot come up with a marketing "no, no" besides the obvious "don't smoke or swear at school visits."
Our core advice is to take on small marketing projects with the moral support and thoughtful input of others.  Share your success.  Share your befuddlement.  And lastly, keep it up.  Readers need to discover you.  You did not write that book as shelf decoration, you wrote it to be read.
Working with Curious City
Q: How does Curious City first meet with a new creator?  One on one?  Conference call?  Skype?
A: Before Curious City starts any project, I read  your book.  As all of our outreach work is unique to the book's story or topic, meeting with a you before I have absorbed your book is meaningless.  Once I have read your book, I email to schedule a phone call (or a one-on-one if physically possible).  That first phone call is a live brainstorm where the you and I decide whether or not our ideas and style are in sync.  If you like Curious City's ideas and manner, we submit a written proposal complete with a quote.  Once the quote is settled, we can begin the first project together.
(I tend to not Skype that first call because I am someone whose brain works best when I am moving and talking.  A call with me can take you from one end of my house to the other and often out into the garden.  This is complicated in the winter.)
Some creators use us for that initial brainstorm and subsequent follow-ups and check-ins.  We often help shape a creator's own self-promotion on an hourly consulting basis and they do the work themselves.  With other creators, Curious City does both the idea creation and full implementation.  We are open to all scenarios.
Q: Would you consider doing group marketing consults via Skype?  Could a  group could gather once a month, get marketing assignments and feedback from you, and work together as a support group for each other in between?
A: This quite clever idea has all the elements we love.  It has creators who are motivated to both locate and talk with their readers.  It has creators willing to band together to navigate the insecurities of marketing.  And finally it has the voice of a practiced marketing consultant that has discovered the quick shortcuts and broad avenues of opportunity.  Yes!  Let's put this together!