The conversation about cultural authenticity in children's literature and #OwnVoices, painful as it may be, is essential for all writers.  The book industry owes readers the honesty of voice and culture and the industry certainly owes creators of color a much, much larger share of the bookshelves.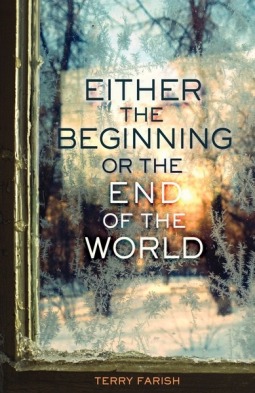 Cultural authenticity has always been deeply ingrained in Curious City's marketing mission. If  books are vehicles for engaging with a culture unlike your own (and books are prefect vehicles of such), the tools Curious City produces to facilitate that engagement should be vetted by that culture and include partners from that culture.
Terry Farish's award-winning young adult novel, Either the Beginning or the End of the World (Carolrhoda Lab), follows a 16-year-old Cambodian American girl as she confronts the PTSD that has been handed down a generation from the Killing Fields of the Pol Pot regime.  Part of that confrontation happens in the form of  a relationship with a returned Afghan vet who is himself in the grip of PTSD.
"Farish's writing is haunting. Beautifully written and briskly paced… An excellent choice for readers seeking a less than neatly packaged love story or a glimpse into the complicated lineage of war-torn areas."
—School Library Journal, Starred Review
Terry is a white author writing about the Cambodian American community.  She did her work in the writing process to ensure authenticity through research and interviews.  Together, she and I explored how that authenticity could carry through to the marketing of the novel.
The most arresting scene in the novel is when the characters, Sofie and Luke, meet.  They meet on a beach isolated at the bottom of a steep wooded slope.  High above the beach, a highway bridge holds up car after speeding car – each with passengers oblivious to the lonely beach below.  Raging around the beach is one of the most dangerous rivers in the world, a tidal river that can pull a boat or a body in too many directions at once.
The minute I finished the novel, I called Terry and asked if this beach was a real place.  When she confirmed it was, I asked to be taken there.  Within days I was standing on that winter beach and by the end of the day, over mugs of Turkish coffee, I had convinced Terry we would do what we could not possibly afford – shoot live action video on that beach.
Filming Sofie and Luke meeting meant finding actors.  A production meant finding music.  While we knew we wanted to work with Sudanese American videographer Fred Okot Ben (who had created the music video for Farish's The Good  Braider), everything else had to be discovered.
Working alongside Sudanese musician OD Bonny and Fred Okot Ben in 2013 to promote Terry's Sudanese American young adult resulted in a video that has had over 5,200 views.  Could we have that same experience with a Cambodian American musician?  Terry discovered Bochan, a Cambodian American singer whose father, Ros Sereysothea, was a rock and roll star in Cambodia before the rise of the Khmer Rouge.  Bochan has famously remixed her father's classic Cambodian rock song, Chnam Oun 16.  The remix, an anthem to ancestral connection and survival, was a perfect match for the novel.  Discover more about this brilliant family of musicians here.
Terry then reached out to the northeast's strongest Cambodian cultural group, the Cambodian Mutual Assistance Association.  The board recommended we call Brian Chen whose daughter Kornnita was the right age.  Both Brian and Kornnita were curious and agreed to meet us in the woods of Portsmouth, NH on a February day.  Kornnita would be our Sofie and Brian would serve as a cultural advisor.
While we reached out to several veteran acting troupes, we were sadly unable to get a vet to play Luke.  Regardless, we happily discovered the empathetic actor, James Muller who also agreed to follow us into the February woods.
On one of the coldest days New England can create, we gathered in those woods and made our way down the steep slopes, trading off mittens, gloves, wooly caps until we all could manage the cold.  The day was as magical and as slow-paced as any filming.  Again and again, Kornnita walked through the woods.  Again and again, James handed Kornnita his dog tags to demonstrate how her appearing on the beach saved him from suicide.
As Brian Chen and I spoke between takes, I learned he had a radio and TV show that airs to the Northeast Cambodian community.  Brian offered to show the video on his TV show in front of a Cambodian audience.
We went looking for an actress and we find both an advocate and an audience.  The process of finding authentic partners, while long, sometimes awkward and full of dead ends, does eventually come together as natural, organic and right.
The voice you will hear is not Kornnita's.  While she was bold enough to stand silently in front of a camera for the first time, the thought of speaking into a microphone and using her voice was too much to ask.  We turned to the Sturtevants, an astonishing family we had encountered years before.  Their daughter, Sophia Sturtevant, had grown into a confident performer through her music and she stepped forward to lend her voice.   And as things come together as natural, organic and right, Sophia is now the Curious City intern lending her bold voice and mind to more projects.
This was not off the shelf marketing.  Nor was an on-location shoot something we had ever attempted before.  But the clever Fred Okot Ben was confident and creative and our community connections were strong.
Were the cultural connections built smoothly and speedily?  No.  These things take time, patience, and the ability to move beyond our possibly inevitable gaffes.  Have we created something that all the partners can respect?  Have we created a tool that tells the story with respect?



Let the stories for youth be created with boldness and deep respect for the culture and let all of us make sure we pass those stories on with all the care they were written with.