Nest, Nook, & Cranny is a book for all ages featuring tongue-in-cheek sonnets and lyrical free verse by poet, Susan Blackaby.  The collection of poems explores the many kinds of homes animals make for themselves. Readers experience different habitats–desert, grasslands, shoreline, wetland, and woodland–and the animals that call them home.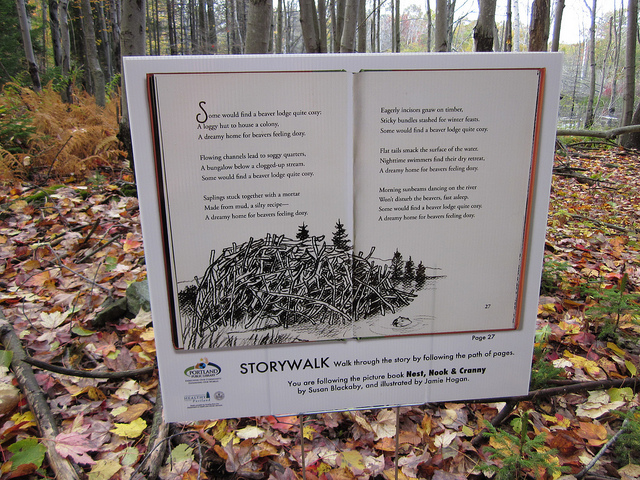 "As a writer, I'm often asked where I get my ideas, and I usually say that I poke my nose out the front door. I suggest you do the same," says author Susan Blackaby, "If you stay on the lookout for quirky, curious, and remarkable things, you'll soon discover them everywhere."
Peaks Island illustrator Jamie Hogan's expressive line art beautifully complements Nest, Nook, & Cranny.  Hogan uses a combination of collage, pastels, and charcoal drawings to surround Blackaby's poems with the animal behavior and habitats depicted in the collection.  The layout of the book looks very much like a nature sketchbook and Hogan has created a simple sketchbook that she gives to readers at book events so they can record their own nature discoveries.
"It was a delicious challenge to immerse myself in Susan Blackaby's wordplay and my own Peaks Island environment.  My radar always on the look out for immediate illustration reference," said Jamie Hogan, "Most of the illustrations are simple with plenty of white to give the poems their space.  I found inspiration in the woods and shorelines of Peaks Island.  Some of these influences came right to me like the heron on the Back Shore, while others eluded me.  I never did spot a beaver despite my many attempts!"
Families and nature lovers will be able to follow author Susan Blackaby's advice and "poke their nose out their front door" by traveling to Peaks Island to explore the same woods that Jamie Hogan did to find her inspirations.  Following the woods paths with the Peaks Island Land Preserve or following a self-guided tour on the shoreline, readers will find Blackaby's poems and Jamie Hogan's illustrations posted along the way.
Returning  to the Gem Gallery, the nature lovers can then view the original artwork that graces the book's pages.  Books will be for sale and Jamie Hogan will be on hand to sign them.