Having one of these days?  Or maybe 2017 just looks to you and your kids like one big shouting match.
At whatever level (or age) you are processing the nationwide anger, come back to kidlit to see anger and conflict produced with open mouths and steaming ears.  There is something deeply satisfying (and urgently relevant) about reading conflict and experiencing a character's path to resolution.
From origami folding to racial discrimination these four books will teach you something about your neighbors and yourselves.
This was a conversation with Chris Lenois of WKVT's Green Mountain Mornings. 
---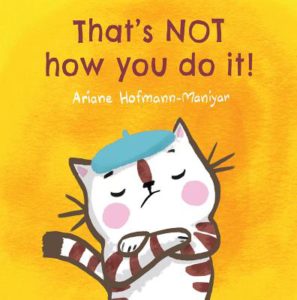 That's NOT How You Do It!
By Ariane Hofmann-Maniyar
Illustrated by Ariane Hofmann-Maniyar
Published by Child's Play-International
ISBN-13: 9781846439285
Age Range: 3 – 7 Years
Discover at a Local Bookstore
Lucy knows how to do everything. She knows how to eat with a spoon and fork, play the xylophone, paint elephants – and lots more besides! All her friends ask her for help if they need to know the right way to do something. When Toshi arrives, Lucy thinks he can't do anything properly at all. He eats differently, plays strange music, and he definitely can't paint elephants. She can barely hide her frustration. And when she finally tries to teach Toshi the right way to do things, she learns a very important lesson herself. A simple, funny tale about understanding, respecting and enjoying our differences.


This slideshow requires JavaScript.
---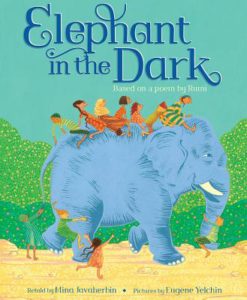 Elephant in the Dark
By Mina Javaherbin
Illustrated by Eugene Yelchin
Published by Scholastic, Inc.
ISBN-13: 9780545636704
Age Range: 4 – 8 Years
Discover at a Local Bookstore
When the villagers hear of a huge and mysterious creature that has come all the way from India, they steal into the dark barn to find out what it is.
"It's like a snake!" says one.
"It's like a tree trunk," says another.
"No, it's like a fan!" argues the third.
Who is right? Which of them knows the creature's true shape?
This slideshow requires JavaScript.
---
Something About America
By Maria Testa
Published by Candlewick Press
ISBN-13: 9780763634155
Age Range: 10 + Years
Discover at a Local Bookstore
A New York Public Library Book for the Teen Age
The thirteen-year-old from Kosova thinks of herself as a typical American schoolgirl. But for her parents, moving to Maine was just a sad necessity, a way to escape from war and find medical care for a daughter scarred up to her chin. But then a hateful event changes everything — forcing residents old and new to reexamine what it means to be an American.

EXPLORE teaching and discussion materials.
---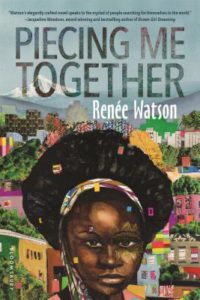 Piecing Me Together
By Renee Watson
Published by Bloomsbury USA
ISBN-13: 9781681191058
Age Range: 12 +
Discover at a Local Bookstore
"Timely and timeless." —Jacqueline Woodson
"Important and deeply moving." —John Green
Acclaimed author Renee Watson offers a powerful story about a girl striving for success in a world that too often seems like it's trying to break her.
Jade believes she must get out of her poor neighborhood if she's ever going to succeed. Her mother tells her to take advantage of every opportunity that comes her way. And Jade has: every day she rides the bus away from her friends and to the private school where she feels like an outsider, but where she has plenty of opportunities. But some opportunities she doesn't really welcome, like an invitation to join Women to Women, a mentorship program for "at-risk" girls. Just because her mentor is black and graduated from the same high school doesn't mean she understands where Jade is coming from. She's tired of being singled out as someone who needs help, someone people want to fix. Jade wants to speak, to create, to express her joys and sorrows, her pain and her hope. Maybe there are some things she could show other women about understanding the world and finding ways to be real, to make a difference.


EXPLORE Discussion Guide About Race, Class, Gender, and Intersectionality

---

Arun Gandhi, carrying on the messages of his grandfather Mahatma Gandhi, describes anger as a gift. Adults and children can transform how they see anger and themselves with the Grandfather Gandhi picture books. Explore them here.