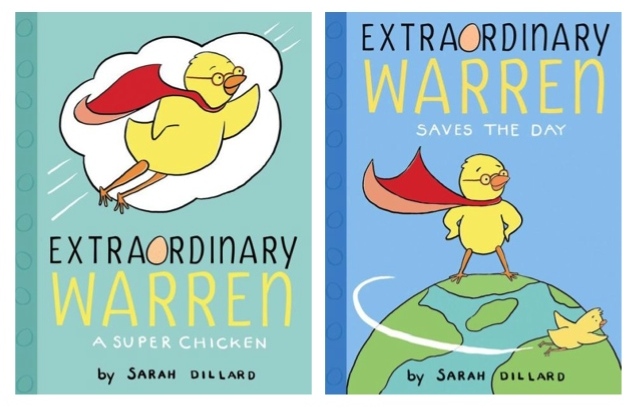 Congratulations to Sarah Dillard! Her Extraordinary Warren: A Super Chicken is a Finalist for the Cybils!
The Extraordinary Sarah reached out to Curious City looking for ways to get the word out about her two forthcoming picture book/early reader/comic book chicken-hero releases.  As with each new client, we started with a brainstorm,  That brainstorm looked like this…
Makes perfect sense right?  The result of the brainstorm was the decision to create a Story Hour Kit where readers could become "extraordinary" themselves.  Together Sarah and I developed three activities that could be used independently (in a library, classroom or home) or used in sequence.
The Egg Hunt
Sarah gamely agreed to make paper Warren's that readers could hold after a reading of the books and fly around the room until they found the lost paper Egg's.  Since Egg spends most of the first book, well, within an egg, the activity instructions have the organizer roll the paper Egg's into a plastic Easter eggs.  Trust me, it makes perfect sense in context…
Extraordinary Warren Comics
Those two paper chickens could then be incorporated into a collage comic project where a reader could create their own Extraordinary Warren Comics.
Extraordinary Warren Mask
The pièce de résistance of the Story Hour Kit, however was the opportunity to don the signature glasses and beak of Warren. From the initial sketch, Kirsten Cappy and designer Marty Braun set to make the perfect Warren mask. Through extensive testing on ourselves and poor innocent children, we arrived at the perfected beaked wonder.
This slideshow requires JavaScript.
Story Hour Kit
In case you too would like to become extraordinary in the privacy of your own home or squawk about it in public, you can find the full Extraordinary Warren Story Hour Kit as a free download over at Curious City DPW!