The Spring rains have arrived and it is time to pull on your Wellies like Christopher Robin and head into the 100 Acre Wood (or your local equivalent).  In a podcast conversation on with Chris Lenois of WKVT's Live & Local, we explore children's books that take us "into the wild."
Listen to the conversation HERE. 
________________________________________________________________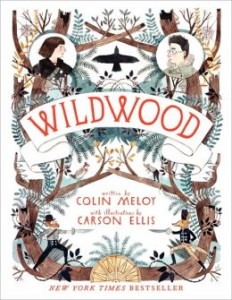 Wildwood (The Wildwood Chronicles Series #I)
By Colin Meloy
Illustrated by Carson Ellis
Publisher: HarperCollins Publishers
ISBN-13: 9780062024701
Age range: 9 – 12 Years
Locate a copy at Local Bookstore.
Prue McKeel's life is ordinary. That is, until her brother is abducted by a murder of crows and taken to the Impassable Wilderness, a dense, tangled forest on the edge of Portland. No one's ever gone in—or at least returned to tell of it.
So begins an adventure that will take Prue and her friend Curtis deep into the Impassable Wilderness. There they uncover a secret world in the midst of violent upheaval—a world full of warring creatures, peaceable mystics, and powerful figures with the darkest intentions. And what begins as a rescue mission becomes something much greater as the two friends find themselves entwined in a struggle for the very freedom of this wilderness. A wilderness the locals call Wildwood.
________________________________________________________________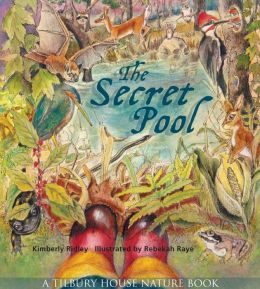 The Secret Pool
By Kimberly Ridley
Illustrated by Rebekah Raye
Publisher: Tilbury House Publishers
ISBN-13: 9780884483397
Ages 5+
Locate a copy at Local Bookstore.
You might walk right by a vernal pool and not notice it. Often mistaken for mere puddles in the woods, vernal pools are the source of life for many interesting creatures. If you look carefully, you can find them—and be amazed! These secret pools form every year when low places on the forest floor fill up with rain and melted snow. They soon become home to hatching wood frogs, spotted salamanders, and fairy shrimp. Even in late summer and fall, when many vernal pools have shrunk to mud holes, creatures such as turtles and snakes rely on them for shelter and food. The Secret Pool introduces young readers to the wonders right underfoot as the voice of a vernal pool shares its secrets through the seasons, and sidebars provide fun facts on its inhabitants and the crucial role these small, often overlooked wetlands play in maintaining a healthy environment.
________________________________________________________________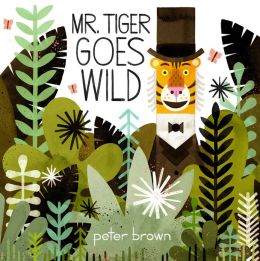 Mr. Tiger Goes Wild
By Peter Brown
Publisher: Little, Brown Books for Young Readers
ISBN-13: 9780316200639
Age range: 3 – Adult
Locate a copy at Local Bookstore.
"In a gratifying parable about self-actualization, Mr. Tiger lives in a drab society where bipedal animals dressed in fairly Victorian apparel exchange terse salutations, while adhering to rules of etiquette. Though similarly attired in a handsome suit coat and top hat, Mr. Tiger disrupts Brown's (You Will Be My Friend!) manicured spreads, which are colored in the ashy browns of daguerreotypes; he's the color of a mango, has lime green eyes, and faces readers with an expression of barely constrained disgruntlement. Mr. Tiger mechanically runs through the motions (stiffly lifting his hat to greet Mr. Deer), but, "He wanted to loosen up. He wanted to have fun. He wanted to be… wild." Mr. Tiger's expression turns to delight as he scampers on all fours, sheds his clothes, and heads to the wilderness—"where he went completely wild!" His eventual return to civilization reveals that liberation is on the rise. Readers who prefer the view from underneath the dinner table will find a kindred soul in Brown's brightly burning character who knows that the wilderness is always waiting, should the need arise." —Publishers Weekly
________________________________________________________________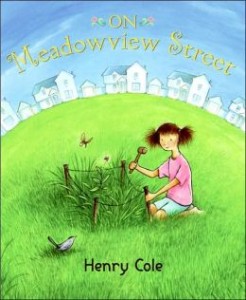 On Meadowview Street
By Henry Cole
Publisher: HarperCollins Publishers
ISBN-13: 9780060564810
Age range: 4 – 8 Years
Locate a copy at Local Bookstore.
"The front lawn of Caroline's new home is like all the others in her cookie-cutter subdivision-it's a simple, sterile patch of green that falls far short of the "Meadowview" that her street name promises. But after she saves the yard's single wildflower from her father's lawnmower, Caroline is inspired to turn her lawn into a tiny nature preserve. Mom agrees to buy a maple tree, Dad is only too willing to sell the lawnmower and help his daughter build birdhouses and a pond and an idyllic habitat begins to take shape-one that inspires their neighbors. "And soon, the Jacksons' yard changed. And the Smiths'. And the Sotos'," writes Cole (On the Way to the Beach). "Now there really was a meadow on Meadowview Street." As a writer, Cole is almost reportorial in tone; he wisely chooses not to limn the depth of his heroine's emotional landscape, which could have turned his book into a sappy "kids-can-do-anything" story. But the growing lushness of the yard-beautifully portrayed in meticulously detailed, velvety acrylics-clues readers into Caroline's burgeoning sense of belonging and accomplishment. It's a lovely parable of suburban life." —Publishers Weekly
________________________________________________________________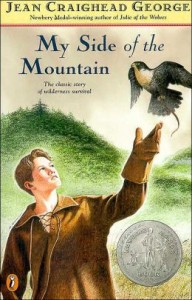 My Side of the Mountain
Publisher: Penguin Young Readers Group
By Jean Craighead George
ISBN-13: 9780141312422
Age range: 9 – 12 Years
Locate a copy at Local Bookstore.
Sam Gribley is terribly unhappy living in New York City with his family, so he runs away to the Catskill Mountains to live in the woods—all by himself. With only a penknife, a ball of cord, forty dollars, and some flint and steel, he intends to survive on his own. Sam learns about courage, danger, and independence during his year in the wilderness, a year that changes his life forever.
Followed by:
On the Far Side of the Mountain
Frightful's Mountain
________________________________________________________________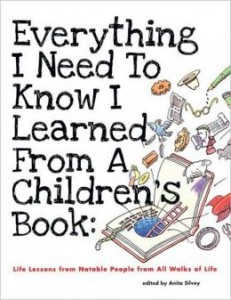 Everything I Need to Know I Learned from a Children's Book:  Life Lessons from Notable People from All Walks of Life
By Anita Silvey (Editor)
Publisher: Roaring Brook Press
ISBN-13: 9781596433953
Locate a copy at Local Bookstore.
"What children's book changed the way you see the world?"
Anita Silvey asked this question to more than one hundred of our most respected and admired leaders in society, and she learned about the books that shaped financiers, actors, singers, athletes, activists, artists, comic book creators, novelists, illustrators, teachers…
The lessons they recall are inspiring, instructive, and illuminating. And the books they remember resonate as influential reading choices for families. EVERYTHING I NEED TO KNOW I LEARNED FROM A CHILDREN'S BOOK—with its full color excerpts of beloved children's books, is a treasury and a guide: a collection of fascinating essays and THE gift book of the year for families.
________________________________________________________________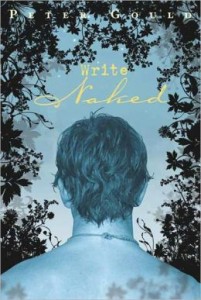 Write Naked
By Peter Gould
Publisher: Farrar, Straus and Giroux
ISBN-13: 9781429997447
Age range: 14 – 17 Years
Locate a copy at Local Bookstore.
Sixteen-year-old Victor, a thoughtful loner who tries to live his life "under the radar," wants to test out the saying "You have to be naked to write." When he sneaks off with an old Royal typewriter to his uncle's cabin deep in the Vermont woods and strips off his clothes, he expects Thoreau-like solitude. What he gets is something else—both funny and, as his high school English teacher likes to say, "transformative." For he discovers a face in the window watching him—Rose Anna, a homeschooled free spirit with an antique fountain pen and a passion to save the planet. Their unexpected encounter marks the beginning of an inspired writing partnership—and a relationship as timeless and eager as the Vermont woods in spring.
________________________________________________________________
RESOURCES
"Leave No Child Inside" Movement 
Based on the book, Last Child in the Woods  by Richard Louv
Green Earth Book Awards 
The Green Earth Book Award is the nation's first environmental stewardship book award for children and young adult books. Over 80 winning and honor books have been honored since 2005. The award continues to garner attention from the literary world as an esteemed award, bringing recognition to authors, but more importantly, providing the award-winning books to children.