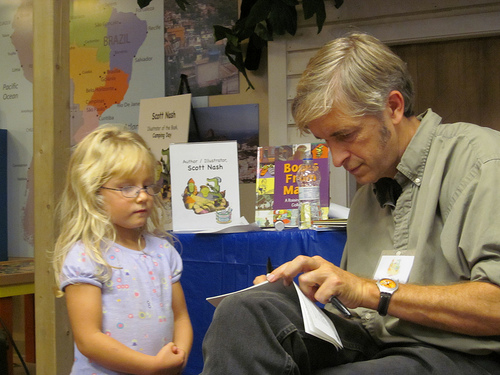 With over 1.3 million books given to Maine children, Raising Readers celebrated their 10th Birthday at the Maine Discovery Museum in Bangor, Maine.
Almost 300 readers and readers-to-be turned out to tumble through the museum looking for the books, authors, and illustrators that make up the Raising Readers' latest anthology for 5-year-olds in their program, Books from Maine: A Raising Readers Collection.
Children's Museums are wonderful places to hold book events if you respect the fact that they are places to explore, not places to sit and listen.  We choose to build this event, then,  around exploration.  Each child was given a birthday book encouraging them to go find five stations featuring the five books.
Authors, Amy MacDonald and Lynn Plourde and illustrator,
Scott Nash were the swell surprises at three of these stations.  They did not get much opportunity to read to children, but did, through the birthday book, get to interact with children one on one by signing their birthday book and talking about books and reading.  There were some lovely interactions.
In addition to the interactions, there were playful, visual tributes to the books to help children make those crucial connections between their world and the world of books.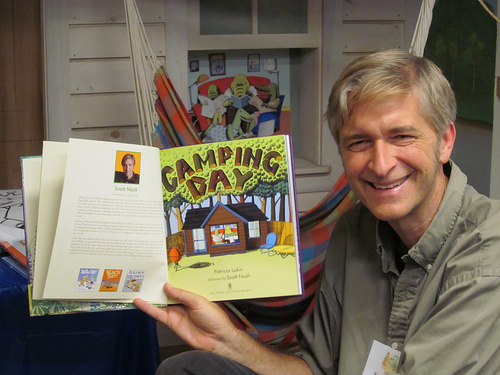 Scott Nash was set against a backdrop that looked like the opening page of his book, Camping Day.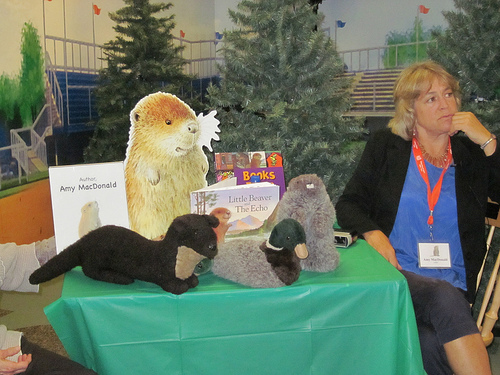 Amy MacDonald was surrounded by pine trees, beavers, otters, and turtles to celebrate her book, Little Beaver and the Echo.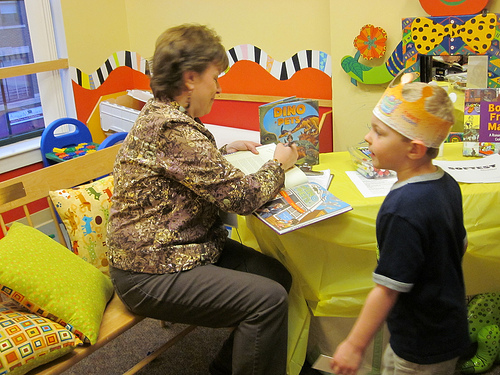 Lynn Plourde was surrounded by inflatable dinosaurs and a blow-up of a scene from the book to resemble her picture book, Dino Pets.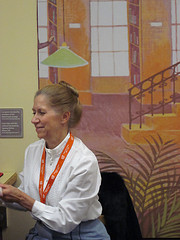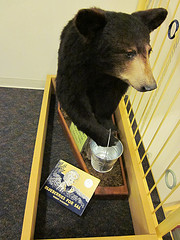 The book Miss Rumphius by Barbara Cooney was featured in the Rumphius themed room in the museum where they were greeted by a Miss Rumphius.
And finally, Blueberries for Sal by Robert McCloskey was represented by a young bear bearing a bucket of blueberries.
The final destination of the night was the museum's doctor office display where Dr. Colette Sabbagh handed out Raising Readers books to model the distribution point of 1.3 million books given to Maine kids by Raising Readers.
Curious City is so proud to be the book consultant on this program and to help design outreach events like this fine one.