As Women's History Month opens, I was curious to open the document The Declaration of the Rights of Women signed on the 100th anniversary of the Declaration of Independence. I was quite taken with the last line:
We ask justice, we ask equality, we ask that all the civil and political rights that belong to citizens of the United States, be guaranteed to us and our daughters forever.
—The Declaration of the Rights of Women
How do we pass on the concepts of justice, equality, and civil and political rights to our daughters, sons, and students?  (Is not children's literature (always) the answer to my rhetorical questions?)
In a podcast conversation on with Chris Lenois of WKVT's Live & Local, we explore three picture books that feature the channeling of anger into action, fury into forgiveness, and injustice into ideals.  Listen to the conversation here.
Podcast Correction: The document signed in Seneca Falls  was the Declaration of Sentiments and Resolutions signed in 1848!
________________________________________________________________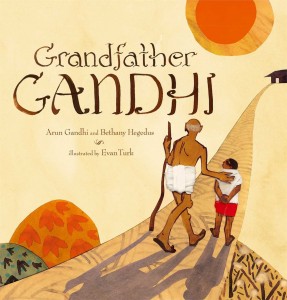 Grandfather Gandhi
By Arun Gandhi and Bethany Hegedus
Illustrated by Evan Turk
Published by Simon & Schuster
ISBN-13: 9781442423657
Ages 6-Adult
Locate a copy at Local Bookstore.
Mahatma Gandhi's grandson tells the story of how his grandfather taught him to turn darkness into light in this uniquely personal and vibrantly illustrated tale that carries a message of peace.
How could he—a Gandhi—be so easy to anger?
One thick, hot day, Arun Gandhi travels with his family to Grandfather Gandhi's village.
Silence fills the air—but peace feels far away for young Arun. When an older boy pushes him on the soccer field, his anger fills him in a way that surely a true Gandhi could never imagine. Can Arun ever live up to the Mahatma? Will he ever make his grandfather proud?
In this remarkable personal story, Arun Gandhi, with Bethany Hegedus, weaves a stunning portrait of the extraordinary man who taught him to live his life as light. Evan Turk brings the text to breathtaking life with his unique three-dimensional collage paintings.
Explore the book's website and take the "Live Your Life as Light" Pledge.
The music heard in the podcast clip was 'Ambwa' by Ustad Ghulam Farid Nizami.
________________________________________________________________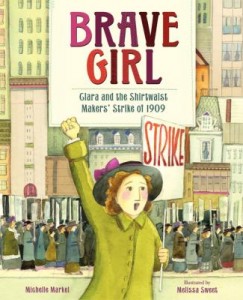 Brave Girl: Clara and the Shirtwaist Makers' Strike of 1909
By Michelle Markel
Illustrated by Melissa Sweet
Published by HarperCollins Publishers
ISBN-13: 9780061804427
Ages 6-12
Locate a copy at Local Bookstore.
When Clara Lemlich arrived in America, she couldn't speak English. She didn't know that young women had to go to work, that they traded an education for long hours of labor, that she was expected to grow up fast. But that did not stop Clara.
She went to night school, spent hours studying English, and helped support her family by sewing in a factory. Clara never quit. And she never accepted that girls should be treated poorly and paid little.
So Clara fought back. Fed up with the mistreatment of her fellow laborers, Clara led the largest walkout of women workers in the country's history. Clara had learned a lot from her short time in America. She learned that everyone deserved a fair chance. That you had to stand together and fight for what you wanted. And, most importantly, that you could do anything you put your mind to.
Explore the Amelia Bloomer Project
(Recommended Feminist Literature for Birth through 18)
________________________________________________________________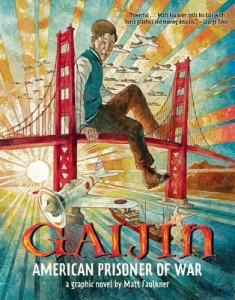 Gaijin: American Prisoner of War
A Graphic Novel by Matt Faulkner
Published by Disney Hyperion
ISBN-13: 9781423137351
Ages 8-Adult
Locate a copy at Local Bookstore.
With a white mother and a Japanese father, Koji Miyamoto quickly realizes that his home in San Francisco is no longer a welcoming one after Pearl Harbor is attacked. And once he's sent to an internment camp, he learns that being half white at the camp is just as difficult as being half Japanese on the streets of an American city during WWII. Koji's story, based on true events, is brought to life by Matt Faulkner's cinematic illustrations that reveal Koji struggling to find his place in a tumultuous world-one where he is a prisoner of war in his own country.
_________________________________________
RESOURCES
Explore "50 Books about Peace and Social Justice" compiled by the Cooperative Children's Book Center.