"The important thing is not to stop questioning. Curiosity has its own reason for existing." —Albert Einstein
Einstein said, "curiosity has its own reason for existing." I believe that the reason children's books exist is to evoke that curiosity. While many books evoke, some books are quite eager to inspire a generation to ask the big questions. Whether scientific, philosophical, political or personal, these kidlit titles tell you that TO ASK is crucial.
---
What is Ada Twist's very first word? "WHY?" No better word for a girl driven by discovery!
Ada Twist, Scientist
By Andrea Beaty
Illustrated by David Roberts
Published by ABRAMS
Age Range: 5 – 8 Years
Discover at a Bookstore
Like her classmates, builder Iggy and inventor Rosie, scientist Ada, a character of color, has a boundless imagination and has always been hopelessly curious. Why are there pointy things stuck to a rose? Why are there hairs growing inside your nose? When her house fills with a horrific, toe-curling smell, Ada knows it's up to her to find the source. What would you do with a problem like this? Not afraid of failure, Ada embarks on a fact-finding mission and conducts scientific experiments, all in the name of discovery. But, this time, her experiments lead to even more stink and get her into trouble!
Inspired by real-life makers such as Ada Lovelace and Marie Curie, Ada Twist, Scientist champions girl power and women scientists, and brings welcome diversity to picture books about girls in science. Touching on themes of never giving up and problem solving, Ada comes to learn that her questions might not always lead to answers, but rather to more questions. She may never find the source of the stink, but with a supportive family and the space to figure it out, she'll be able to feed her curiosity in the ways a young scientist should.
---
What is your big question? Will you live with you own deep curiosity?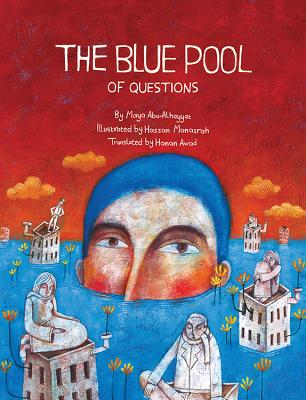 The Blue Pool of Questions
By Maya Abu-Alhayyat
Illustrated by Hassan Manasrah
Translated by Hanan Awad
Published by Penny Candy Books
Age Range: 6-Adult
Discover at a Bookstore
A man who doesn't quite fit in arrives in a city full of busy people who don't have much time for his weird songs, flower arrangements, and especially…his questions! One day, he asks so many questions that they form a giant pool in the middle of the city that stops everyone in their tracks. The man gathers up the courage to dive into the pool looking for answers, but what will he find under all that water? Through award-winning illustrations and poetic language, this tale underscores the importance of curiosity, the necessity of 
asking questions, and the courage required 
to break free from the status quo.
ASK a question and throw it into the Blue Pool.
EXPLORE having a Classroom or Community Conversation with this title.
---
The answer to your question may be as close as your phone, but should you trust that answer? Should you instead be asking MORE questions?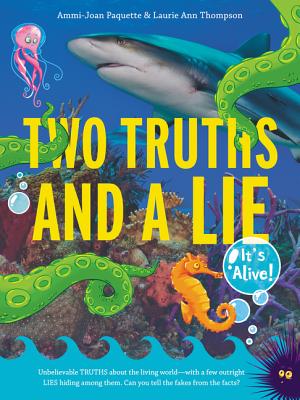 Two Truths and a Lie: It's Alive!
By Ammi-Joan Paquette & Laurie Ann Thompson
Illustrated by Lisa K. Weber
Published by HarperCollins Publishers
Age Range: 8 – 12 Years
Discover at a Bookstore
Two Truths and a Lie is the first book in a fascinating new series that presents some of the most crazy-but-true stories about the living world as well as a handful of stories that are too crazy to be true—and asks readers to separate facts from the fakes!
Did you know that there is a fungus that can control the mind of an ant and make it do its bidding? Would you believe there is such a thing as a corpse flower—a ten-foot-tall plant with a blossom that smells like a zombie? How about a species of octopus that doesn't live in water but rather lurks in trees in the Pacific Northwest?
Every story in this book is strange and astounding. But not all of them are real. Just like the old game in this book's title, two out of every three stories are completely true and one is an outright lie. Can you guess which? It's not going to be easy. Some false stories are based on truth, and some of the true stories are just plain unbelievable. And they're all accompanied by dozens of photos, maps, and illustrations. Amaze yourself and trick your friends as you sort out the fakes from the facts!
Acclaimed authors Ammi-Joan Paquette and Laurie Ann Thompson have teamed up to create a series of sneaky stories about the natural world designed to amaze, disgust, and occasionally bamboozle you.