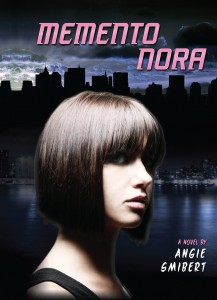 THE MEMENTO NORA PROJECT
Publishing Student Comics Inspired by Teen Novel
"You said someone needs to remember.  I was thinking maybe we could do it with a comic book.  Okay, maybe more like a comic strip.  With our stories.  And maybe other kids could tell us their memories before they are erased."  -from the novel, Memento Nora by Angie Smibert
The upcoming teen novel, Memento Nora by Angie Smibert (Marshall Cavendish) is set in a near-future dystopian world where daily attacks by a terrorist Coalition (as well as any other memory) can be wiped from people's minds by a little white pill.  Three teens, though, choose not to forget. They choose to share their memories – as well as some things the corporations who really run the world would rather they forget—in the form of an underground comic they smuggle into their high school and distribute in bathroom stalls (the only unmonitored space).
Novelist, Angie Smibert will partner with educators across the country in 2011 to inspire, publish, and promote student comics and videos focused on a theme of the book–combating social injustice and bringing attention to community challenges.
The Memento Nora Project will offer middle school and high school writers, artists, and creators an online site www.mementonora.com to publish their work through the spring semester of 2011 and into the fall.  Visitors to the site will be invited to comment and vote on the comics and videos.
"The characters Micah, Norah, and Winter expose corruption and oppression at great personal risk, says Kirsten Cappy of Curious City, the book advocacy group that created the Memento Nora Project, "Students are very attuned to injustice and I think they too can express their anger and solutions in comics and other media."
Two New England schools have had a sneak peek at the novel, Memento Nora by Angie Smibert and will be producing their comics in time for the book's launch in April.  Students at Mascoma Regional High School in Cannan, NH will be reading the novel in Koby Van Beest's graphic novel courses.  Van Beest's students will focus on Nora's statement "someone needs to remember" and create comics from scenes from the book or from other experiences that must be remembered.
"Publishing it online seems like a dream that could really inspire some of these kids," says educator Koby Van Beest.  "I have students in my Graphic Novel courses who will die and go to heaven over this."
Art Education students at Maine College of Art will be working with Maine students to storyboard and then draw scenes from the novel or a fictional or real-life incident that they connect with MEMENTO NORA.
"Memento Nora is an excellent teen novel," says Kelley McDaniel, the King Middle School Librarian, "It will appeal to the kids that loved The Uglies and The Hunger Games.  This project will help kids capture the emotional memories of this book.  Comics can be bigger than words."
Materials for educators to participate in the Memento Nora Project will be online at www.mementonora.com on March 1, 2011.