Summer is stomping into our cities and towns leaving kids with the sweet calamity of more reading time.  No assignments, no age restrictions, no genre restrictions – just the total chaos of pulling anything one wants to read off the bookstore and library shelves.  Here are the monstrously good reads we have just devoured at Curious City…
These books are part of a kidlit podcast conversation with Chris Lenois of WKVT's Green Mountain Morning.



---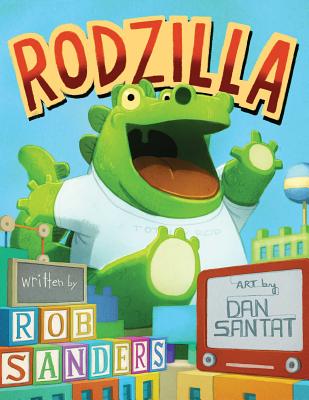 Rodzilla
By Rob Sanders
Illustrated by Dan Santat
Published by Margaret K. McElderry Books
Age Range: 4 – 8 Years
Hardcover
Find at a Local Bookstore
This just in! There's a Rodzilla on the loose! Is he a monster…or just your typical toddler? Tune in for the full report in this riotous picture book from Rob Sanders and Caldecott Medalist Dan Santat.
Rodzilla is the mightiest toddler to ever roam the streets of the city. Marvel at the sight of his chubby monstrosity. Gaze at his toothless grin. Take a whiff of his…no, don't do that. Only a mother could love such a creature.
Rodzilla is taking over the city (that is really his playpen) and causing all sorts of chaos for its inhabitants (um, his parents). Can he be stopped before he toddles one step too far? Told as an action-packed news report, kids will love following Rodzilla on his mighty tear through the city, and ultimately back to his parents' arms. Because sometimes even monsters need a little help.
Your monster can…
SPORT a Rodzilla Mask
CLUTCH a Wee Bus
CREATE Rodzilla Slime
You Can Even Hold an Entire Rodzilla Party or Story Hour…
GRAB the Story Hour Kit

---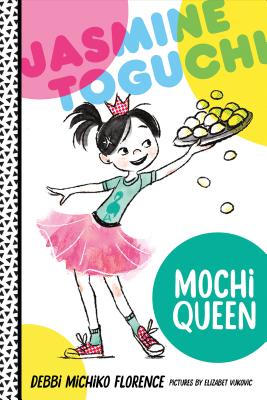 Jasmine Toguchi, Mochi Queen
By Debbi Michiko Florence
Illustrated by Elizabet Vukovic
Published by Farrar, Straus and Giroux
Age Range: 6 – 8 Years
Hardcover, Paperback
Find at a Local Bookstore
The first book in a new chapter book series featuring a spunky Japanese-American heroine!
Eight-year-old Jasmine Toguchi is a flamingo fan, tree climber, and top-notch mess-maker!
She's also tired of her big sister, Sophie, always getting to do things first. For once, Jasmine wishes SHE could do something before Sophie—something special, something different. The New Year approaches, and as the Toguchi family gathers in Los Angeles to celebrate, Jasmine is jealous that her sister gets to help roll mochi balls by hand with the women. Her mom says that Jasmine is still too young to join in, so she hatches a plan to help the men pound the mochi rice instead. Surely her sister has never done THAT before.
But pounding mochi is traditionally reserved for boys. And the mochi hammer is heavier than it looks. Can Jasmine build her case and her mochi-making muscles in time for New Year's Day?
Follow this read immediately with the sequel, Jasmine Toguchi, Super Sleuth.
---
In the Shadow of the Sun
By Anne Sibley O'Brien
Published by Scholastic, Inc.
Age Range: 8 – 12 Years
Hardcover, Audiobook
Find at a Local Bookstore
North Korea is known as the most repressive country on Earth, with a dictatorial leader, a starving population, and harsh punishment for rebellion.
Not the best place for a family vacation.
Yet that's exactly where Mia Andrews finds herself, on a tour with her aid-worker father and fractious older brother, Simon. Mia was adopted from South Korea as a baby, and the trip raises tough questions about where she really belongs. Then her dad is arrested for spying, just as forbidden photographs of North Korean slave-labor camps fall into Mia's hands. The only way to save Dad: get the pictures out of the country. Thus Mia and Simon set off on a harrowing journey to the border, without food, money, or shelter, in a land where anyone who sees them might turn them in, and getting caught could mean prison — or worse.
An exciting adventure that offers a rare glimpse into a compelling, complicated nation, In the Shadow of the Sun is an unforgettable novel of courage and survival.
READ an excerpt on Entertainment Weekly
EXPLORE the website.