Looking back on 2013, what were the news stories that you could not get enough of?  What stories did you need to avert your eyes from?  Sometimes the veil of story allows us – as adult and child readers – to more deeply understand and bear the news of the day.
In fact, in a study released by the journal Science, it was found that reading literary fiction makes us more empathetic, socially perceptive, and emotionally intelligent than reading non-fiction or the news.  Read more in the New York Times article, "For Better Social Skills, Scientists Recommend a Little Chekhov."
Curious City and Chris Lenois of WKVT Live & Local used January 2nd, 2014 to reflect on some of the top news stories of 2013 and some children's books that might help us celebrate, bear, and further understand our times.  Listen to the podcast.
___________________________________________________________________________________
Speaking of averting your eyes, the people of the Ural Region, saw a blinding light as a meteor heavier than the Eiffel Tower (!) crashed into their Northern landscape in February of 2013.  What else could have passed unseen into our atmosphere?  Mr. Wuffles might have some ideas…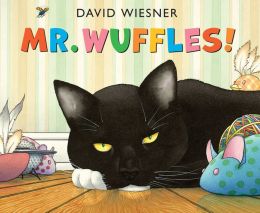 Mr. Wuffles!
by David Wiesner
ISBN-13: 9780618756612
Publisher: Houghton Mifflin Harcourt
Age range: 4 – 8 Years
Locate a copy at Local Bookstore
Big black cat Mr. Wuffles has no time for the inane toys his pet owners try to foist on him. Instead, he turns his attention to a small object which turns out to be an interstellar alien spacecraft occupied by Lilliputian aliens. Swatting at the ship, the feline manages to damage it, forcing the otherworldly visitors to flee it and seek shelter under a nearby radiator. There, against all expectations, they form an alliance with some equally embattled insects. Three-time Caldecott Medal winner David Weisner has created an almost wordless tale that translates well in any language.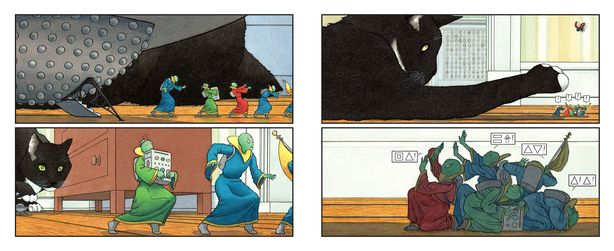 ___________________________________________________________________________________
Census numbers released in the summer of 2013 indicated that between 2005 and 2011 the number of families with one unemployed parent rose 30%.  What is the responsibility of the children's book world to include economic diversity in their books?  Rosie's family is worry about not being able to pay the bills and, thus, so is Rosie.  A popsicle stick is about to come to the rescue…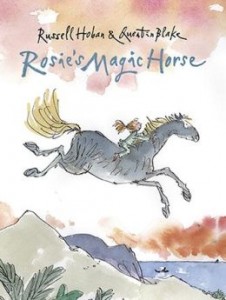 Rosie's Magic Horse
by Russell Hoban, Quentin Blake (Illustrator)
ISBN-13: 9780763664008
Publisher: Candlewick Press
Age range: 4 – 8 Years
Locate a copy at Local Bookstore
If an ice-pop stick can dream of being a horse, what magic might follow?
Once its icy sweetness is gone, a discarded ice-pop stick is lonely until young Rosie comes by and lays it in a cigar box with others like it. But this stick wants to be something! Meanwhile, just before bed, Rosie sees her parents worrying over their bills. That night, wishes intertwine when Rosie dreams of a horse named Stickerino galloping out of the cigar box. "Where to?" he asks. "Anywhere with treasure!" says Rosie. A girl and a horse galloping over cities, jungles, and an icepop mountain leads up to a clever heist of a gold-filled pirate chest — and a happy ending at home — in this wildly imaginative adventure.
___________________________________________________________________________________
48,000 American men and women have returned wounded from the wars in Iraq and Afghanistan.  How do we show children of vets and other children that rehabilitation is a brave and deeply individual act?  Try introducing Horace Pippin who overcame a World War 1 injury to become one of America's great painters…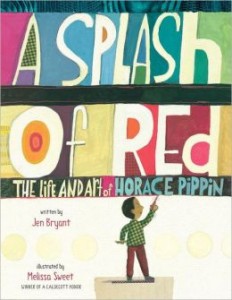 A Splash of Red: The Life and Art of Horace Pippin

By Jen Bryant
Illustrated by Melissa Sweet
Published by Random House
Ages 7-10
Locate a copy at Local Bookstore
As a child in the late 1800s, Horace Pippin loved to draw: He loved the feel of the charcoal as it slid across the floor. He loved looking at something in the room and making it come alive again in front of him. He drew pictures for his sisters, his classmates, his co-workers. Even during W.W.I, Horace filled his notebooks with drawings from the trenches . . . until he was shot. Upon his return home, Horace couldn't lift his right arm, and couldn't make any art. Slowly, with lots of practice, he regained use of his arm, until once again, he was able to paint–and paint, and paint! Soon, people—including the famous painter N. C. Wyeth—started noticing Horace's art, and before long, his paintings were displayed in galleries and museums across the country.
Jen Bryant and Melissa Sweet team up once again to share this inspiring story of a self-taught painter from humble beginnings who despite many obstacles, was ultimately able to do what he loved, and be recognized for who he was: an artist.
___________________________________________________________________________________
"Education is the most powerful weapon which you can use to change the world."
-Nelson Mandela 
Why not throw books at the world's problems?  Concerned about an aspect of the world?  Mourning Mandela?  Use the 'weapon' of education.  Donate a book like this to your school or public library.
Nelson Mandela
by Kadir Nelson, Kadir Nelson (Illustrator)
ISBN-13: 9780061783746
Publisher: HarperCollins Publishers
Age range: 4 – 8 Years
Locate a copy at Local Bookstore
One day when Nelson Mandela was nine years old, his father died and he was sent from his village to a school far away from home, to another part of South Africa. In Johannesburg, the country's capital, Mandela saw fellow Africans who were poor and powerless. He decided then that he would work to protect them. When the government began to keep people apart based on the color of their skin, Mandela spoke out against the law and vowed to fight hard in order to make his country a place that belonged to all South Africans.
Kadir Nelson tells the story of Mandela, a global icon, in poignant verse and glorious illustrations. It is the story of a young boy's determination to change South Africa and of the struggles of a man who eventually became the president of his country by believing in equality for people of all colors. Readers will be inspired by Mandela's triumph and his lifelong quest to create a more just world.
A New York Times Best Illustrated Children's Book of 2013

___________________________________________________________________________________
Obamacare was not the first experiment from the White House to try and  create a more economically just social and medical system .  Read the hilarious chapter in the life of a town created by Eleanor Roosevelt…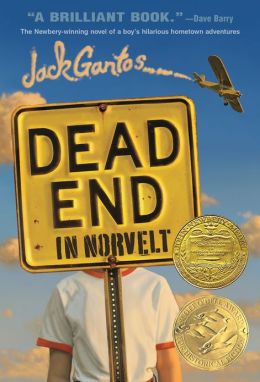 Dead End in Norvelt
by Jack Gantos
ISBN-13: 9781250010230
Publisher: Square Fish
Age Range: 10 – Adult
Locate a copy at Local Bookstore
Melding the entirely true and the wildly fictional, Dead End in Norvelt is a novel about an incredible two months for a kid named Jack Gantos, whose plans for vacation excitement are shot down when he is "grounded for life" by his feuding parents, and whose nose spews bad blood at every little shock he gets. But plenty of excitement (and shocks) are coming Jack's way once his mom loans him out to help a feisty old neighbor with a most unusual chore—typewriting obituaries filled with stories about the people who founded his utopian town. As one obituary leads to another, Jack is launched on a strange adventure involving molten wax, Eleanor Roosevelt, twisted promises, a homemade airplane, Girl Scout cookies, a man on a trike, a dancing plague, voices from the past, Hells Angels . . . and possibly murder.
Endlessly surprising, this sly, sharp-edged narrative is the author at his very best, making readers laugh out loud at the most unexpected things in a dead-funny depiction of growing up in a slightly off-kilter place where the past is present, the present is confusing, and the future is completely up in the air.
Winner of the 2012 Newbery Medal
Winner of the 2012 Scott O'Dell Award for Historical Fiction
___________________________________________________________________________________
William and Kate presented Prince George to the world in the summer of 2013.  Fiction is filled with the birth of royal babies.  This may be the strangest and most delightful so far…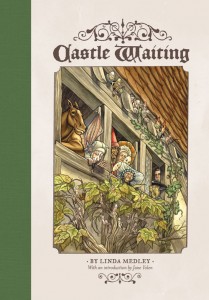 Castle Waiting, Volume 1
by Linda Medley
ISBN-13: 978-1-56097-747-6
Publisher: Fantagraphics
Publication date: 8/1/2002
Age Range: 12+
Locate a Copy from the Publisher
The 456-page Castle Waiting graphic novel tells the story of an isolated, abandoned castle, and the eccentric inhabitants who bring it back to life. A fable for modern times, Castle Waiting is a fairy tale that's not about rescuing the princess, saving the kingdom, or fighting the ultimate war between Good and Evil — but about being a hero in your own home. The opening story, "The Brambly Hedge," tells the origin of the castle itself, which is abandoned by its princess in a comic twist on "Sleeping Beauty" when she rides off into the sunset with her Prince Charming. The castle becomes a refuge for misfits, outcasts, and others seeking sanctuary, playing host to a lively and colorful cast of characters that inhabits the subsequent stories, including a talking anthropomorphic horse, a mysteriously pregnant Lady on the run, and a bearded nun.
___________________________________________________________________________________
In Rio in the summer of 2013, Pope Francis asked, "Who am I to judge a gay person?"  Later, Mexico's Supreme Court ordered all states to recognize gay marriage.  Once the doors of recognition and acceptance are open to the Latino American and Latin American gay community, they cannot close.  Celebrate by reading this astounding coming-of-age of two Mexican American boys…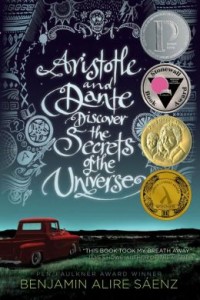 Aristotle and Dante Discover the Secrets of the Universe
by Benjamin Alire Sáenz
ISBN-13: 9781442408937
Publisher: Simon & Schuster Books For Young Readers
Age range: 12 – Adult
Locate a Copy at a Local Bookstore
Aristotle is an angry teen with a brother in prison. Dante is a know-it-all who has an unusual way of looking at the world. When the two meet at the swimming pool, they seem to have nothing in common. But as the loners start spending time together, they discover that they share a special friendship—the kind that changes lives and lasts a lifetime. And it is through this friendship that Ari and Dante will learn the most important truths about themselves and the kind of people they want to be.
Winner of the 2013 Pura Belpré Author Award
Winner of the 2013 Stonewall Book Award for Children's and Young Adult Literature
Winner of the 2013 Lambda Literary Award for LBGT Children's/YA Literature
A 2013 Michael L. Printz Honor Book
___________________________________________________________________________________
Radu Dogaru walked into a Budapest museum and stole pieces by Monet, Picasso, Matisse, and others.  In in a turn stranger than fiction, his mother burned the pieces in her stove to protect her son from arrest.  It makes this tale of inter-dimension art thievery sound feasible…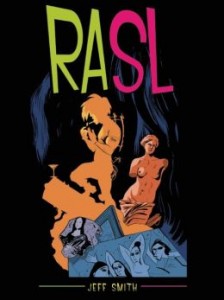 RASL
by Jeff Smith (Illustrator)
ISBN-13: 9781888963373
Publisher: Cartoon Books
Age Range: 14 – Adult
Locate a Copy at a Local Bookstore
When Rasl, a thief and ex-military engineer, discovers the lost journals of Nikola Tesla, he bridges the gap between modern physics and history's most notorious scientist. But his breakthrough comes at a price. In this twisting tale of violence, intrigue, and betrayal, Rasl finds himself in possession of humankind's greatest and most dangerous secret. New York Times bestselling author Jeff Smith's follow up to his epic fantasy BONE is a gritty, hard-boiled tale of an inter-dimensional art thief caught between dark government forces and the mysterious powers of the universe itself.