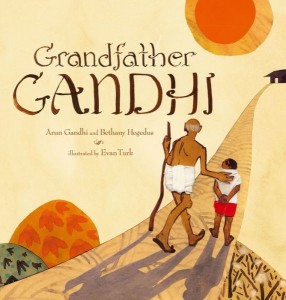 Today, Arun Gandhi, the fifth grandson of Mahatma Gandhi turns 80-years-old!  After a lifetime of educating the world about total nonviolence and forgiveness, he has brought his crucial lessons to children with the publication of the stunning picture book Grandfather Gandhi.  The book is co-written with Bethany Hegedus and beautifully illustrated by Evan Turk.

I am saying "Happy Birthday" to this astonishing human being by purchasing a copy of Grandfather Gandhi and donating it to my local school library.

Why?  Because we should all care about legacy.  Ideas thrive when children have access to books.
Join me?  Locate a copy at Book People | IndieBound | Amazon | B&N