In Greek myth, the Sirens were said to be impossible to resist.  I found the Sirenz creators to be equally tempting.
How is this for a first client meeting?  Pop to the front of the line of Alexander McQueen's Savage Beauty show at the Met with a snap of author Natalie Zaman's manicured hand and then off to Alice's Tea Cup to nibble scones with Zaman and classy co-author Charlotte Bennardo.  We all had "The Nibble" (and were stuffed for a week).
Charlotte and Natalie write in the alternate voices of Shar and Meg, two modern teen girls whose momentary act of girlish greed land them in a contract with the Greek God of the Underworld, Hades.  The first book in the Sirenz series chronicles the girls' fight to complete their assigned task (bring NYC's top fashion designer down to Tartarus) while resisting the charms and temptations of a haute (and haughty, well and naughty) Hades.
Curious City envisioned a website/blog for the series where characters Shar and Meg could play out their love of fashion and their loathing of certain intruding Gods.  We built a WordPress site, www.the sirenz.com and made Shar, Meg, and Hades the site's creators by creating fake user accounts for all three.

Where are the real authors in this scenario?  Together we built the backstory that "the contract" with Hades forbids Shar and Meg from telling the public about him.  The girls find a loophole, though.  They enlist two authors to spin the true tale of their Greek encounters as FICTION.  Bingo.  Now both the authors Charlotte & Natalie  and the characters Shar & Meg are real.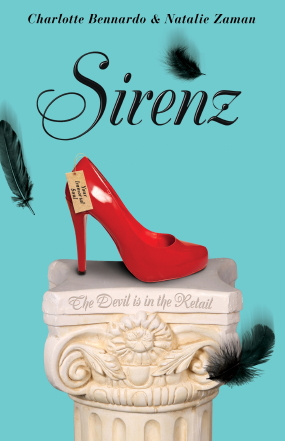 Authors Natalie Zaman and Charlotte Bernnardo have filled those blog/web pages beyond our wildest dreams inventing snippy hilarious conversations in the comment fields between Hades and his Sirenz, Meg and Shar.
Our recent outreach to YALSA Librarians about the series featured an invitation from Hades.  The god of bargains asked librarians what they wanted badly enough that they might be willing to spend just a single day as one of his Sirens.  The answers from librarians and follow-up quips from Hades have been delightful and devilish.
Lesson learned here?  A writer's world does not and should not stop at the page.
Next up?  Feathers Haute or Not?  Comment on Shar and Meg's text conversation and you might just win your own copy of Sirenz.