SHARE THE WORDS OF E.B. WHITE




and win an




E.B. WHITE COLLECTION




for your favorite library!

In celebration of the October release of Some Writer! The Story of E.B. White by Melissa Sweet (HMH Kids) and Charlotte Web's 64th birthday, we are offering you a way to share White's words and Sweet's illustrations!
Share any of the images below using the hashtag #EBSomeWriter before 11/4/16 and you could win the book collection (pictured above) for a favorite library.
---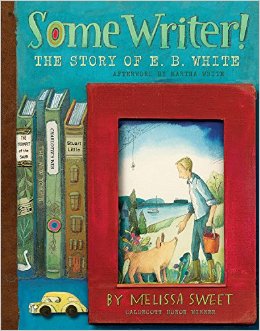 How does this
SOME GIVEAWAY! of
SOME WRITER! work?

1) Share one of the Some Writer! images below on Facebook, Twitter, or Instagram. Share as many or as often as you like, clever one.
2) Use the hashtag #EBSomeWriter in your post. Whatever would White think of hashtags??
3) Curious City will track the hashtag & select EIGHT WINNERS on 11/4.
4) Winners will have 3 days to respond before we move on to SOME (other) WINNER!
5) Those winners will be able to choose a library of their choice to receive new hardcover copies of Some Writer!, Charlotte's Web, Stuart Little and Trumpet of the Swan.
6) Winning libraries will be announced here by 11/11.
7) No purchase is, of course, necessary.
---