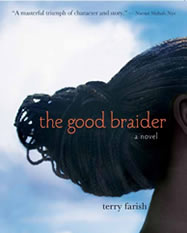 When author Terry Farish was working at the Portland Public Library, she befriended a young man from the Sudan who told her "there is no word" when asked about his favorite family meal. "My mother will cook it for you," he said. Terry Farish joined his family for a meal and from that day, began a journey of listening.
Her new friends in Portland's Sudanese community told of their tumultuous path from South Sudan to Portland, Maine. The cultural exploration that started as "there is no word" became a braiding of stories, experiences, and words which culminated in the acclaimed new novel, THE GOOD BRAIDER.
The release of THE GOOD BRAIDER, was celebrated in an event at the University of Southern Maine's Glickman Library in Portland, Maine on Thursday, November 8th.  A young actress originally from East Africa and now a member of the theatre group, A Company of Girls read aloud from THE GOOD BRAIDER, the author Terry Farish talked about the development of the novel, and South Sudanese rapper OD Bonny performed songs from his new CD, Kwo I Lobo Tek. The event sponsored by the USM Multicultural Student Affairs, the USM Bookstore, and Curious City was be followed by a book signing with East African refreshments.
The free verse novel for teens and adults is told in the character's Viola's strikingly original first person voice. The narrative follows Viola's dreams of South Sudan and her navigation of the strange world of America – a world where a girl can wear a short skirt, get a tattoo or even date a boy; a world that puts her into sharp conflict with her traditional mother who, like Viola, is struggling to braid together the strands of a displaced life.
"As I built relationships with new friends in Portland from Sudan," Terry Farish said, "I explained to elders that I wanted to write a book about the teens as they made their homes in Maine. The elders very much wanted this story to be told and shared their experience and struggles with me.  I approached the work as documentarian, spending a lot of time with families and learning how they spent their days, about their art, the work of their hands, the music they love, the stories they tell. However, I used this research method to create a novel. THE GOOD BRAIDER is fiction and based on research and dozens of stories I recorded."
Sudanese American rapper and performer OD Bonny was given a copy of the book prepublication and recognized Viola's journey in THE GOOD BRAIDER as he and brothers also fled South Sudan as young men. In fact, OD Bonny is working on a song and video for THE GOOD BRAIDER to further illustrate Viola's story. OD Bonny performs in a mixture of English and his native Acholi. His new CD "Kwo I Lobo Tek" translates as "Life is Hard in This World." "The song is about the struggle that we are facing in this world," says OD Bonny, "and what we can do to solve some of those issues." OD Bonny's performance at USM will kick off a fall tour to support the CD which includes dates in Nashville and Kansas City.
"The University of Southern Maine was pleased to host both author Terry Farish and performer OD Bonny," said Reza Jalali, the director of USM Multicultural Student Affairs, "THE GOOD BRAIDER is a beautiful and difficult book telling a story that is common to many of Portland's new arrivals. The character Viola is a wonderful example of the kind of student that attends USM from the new arrival community- resilient, resourceful, and ready to take on the world. Take OD Bonny, for example. OD, a talented Maine performer whose national fan base grows daily, came to this country from war torn South Sudan as a middle school student. We are proud to have him here at USM."