THE STORYTELLER:
The Moroccan Tradition & the Necessity of Telling Tales
Brattleboro Literary Festival
Saturday, October 15
2:30 PM – 3:30 PM
Oak Meadow
Brooks House
Brattleboro, Vermont
Share on Facebook
For over a 1000 years in Morocco, storytellers have held audiences in thrall. The global economy and technology, as is has in many cultures, has drained this tradition. Award-winning illustrator and author Evan Turk tells a tale of a day in Morocco when the last storyteller sat without an audience and all the fountains had run dry. A thirsty boy was beckoned by that storyteller and one last story was told. Or was it the last one? Will the tradition continue with this one boy? Will the fountains again run with water? Join us as Turk reads his acclaimed picture book and leads families in an art project to tell their own stories.
Explore more of the story at TheStorytellerBook.com.
Listen to WKVT Podcast on the book…
---
ABOUT THE BOOK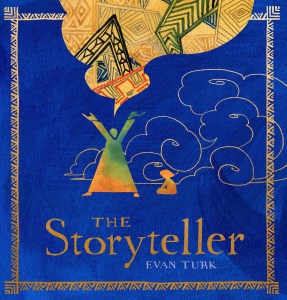 The Storyteller
By Evan Turk
Published by Atheneum Books for Young Readers
ISBN-13: 9781481435185
Age Range: 6 Years – Adult
Discover a copy at…
Amazon | Indiebound | Books-A-Million | Barnes & Noble | Simon & Schuster
"… will make readers tellers of tales." —Ashley Bryan
Description
From Ezra Jack Keats 2015 New Illustrator Honor recipient Evan Turk comes his debut work as author-illustrator: an original folktale that celebrates the power of stories and storytelling.
Long, long ago, like a pearl around a grain of sand, the Kingdom of Morocco formed at the edge of the great, dry Sahara. It had fountains of cool, refreshing water to quench the thirst of the desert, and storytellers to bring the people together.
But as the kingdom grew, the people forgot the dangers of the desert, and they forgot about the storytellers, too. All but one young boy, who came to the Great Square for a drink and found something that quenched his thirst even better: wonderful stories. As he listened to the last storyteller recount the Endless Drought, and the Glorious Blue Water Bird, he discovered the power of a tale well told.
Acclaimed illustrator Evan Turk has created a stunning multidimensional story within a story that will captivate the imagination and inspire a new generation of young storytellers.
Reviews
"Rich illustrations rendered in watercolor, ink, and pencil engulf the pages with desert golds and deep indigo, blending folk-art and contemporary styles. Double-page spreads dramatically illustrate kingdom's forgetfulness and subsequent incursion of swirling sands, as well as the sapphirine return of water through life-giving words. Turk's layered ode to storytelling's magic begs to be shared aloud with a group, though the detailed art merits close inspection."
—Booklist, Starred Review
"…Beautiful swirls of blue dominate many of the intricately bordered double-page spreads, fighting against the tans and browns of the djinn and the sands he represents. Each spread takes on a life of its own, sometimes highly geometric, other times full of swiftly crayon-drawn individuals, and still others with heavily inked and outlined figures. Original storytelling with the feel of the best folklore, enhanced by illustrations done in a style not seen anyplace else."
—Kirkus Reviews, Starred Review
"Swaths of indigo swirl across detailed folk art illustrations in this intricate allegorical tale about the power of storytelling. A layered narrative featuring stories nestled within stories begins with a boy in a drought-stricken Moroccan village, where water and storytellers are scarce….Turk (Grandfather Gandhi) combines primitive sketches and simple patterns to create sophisticated multimedia spreads. Fountains of blue pour from the mouths of storytellers, cementing the message that stories, like water, are life sustaining. The revelation of the final narrator brings this multifaceted tale to satisfying closure."
—Publishers Weekly, Starred Review
"…In predominant hues of brown and blue, Turk's bold, semiabstract mixed-media illustrations conjure up swirls of sand and waves of water, evoking the environment and its people….Using age-old literary elements and a loose, contemporary art style filled with symbolism…This lush and lovely title is highly recommended for its aesthetic qualities as well as its multiple curricular tie-ins, including geography, environmental studies, language arts, and art education."
—School Library Journal, Starred Review
"The story of The Storyteller will make readers tellers of tales. Thus, the request for stories to quench our thirst will never dry up. Evan Turk's illustrations are a visual play of story in itself as well."
—Ashley Bryan, multiple Coretta Scott King Award winner
"It seems odd to say, but this book, wrapped as it is in classic motifs and themes dating back hundreds, even thousands, of years, is one of the freshest, most timely picture books I've had the honor to read in a long time. Visually stunning with a storyline to match, Turk is beginning to make good on his talents. This is a man with storytelling in his blood and bones. Our children reap the rewards. A can't miss book."
—Elizabeth Bird, School Library Journal