A chill is in the air and the summer days of lounging with a chapter book in hand appear to be over for the year…WAIT not so fast!  You can incorporate elective reading in your day-to-day DESPITE homework, soccer, and this and that.  Create a habit of 20 minutes a day when the WHOLE family is reading something they WANT to read.  No judgement, no reading levels, just ADVENTURE…
Here are some recommendations from Curious City's radio appearance on Green Mountain Mornings available as a podcast here …
________________________________________________________________
Hilda and the Troll
Series: Hildafolk
By Luke Pearson (Illustrator)
Publisher: Nobrow Ltd
ISBN-13: 9781909263147
Age range: 6 years
Locate a copy at a Local Bookstore
Sea spirits, giants, weird woodmen and trolls; Hilda's outings never quite fall into the realm of the ordinary. And this one certainly has some surprises, but of course, as Hilda so adeptly points out: "such is the life of an adventurer."

________________________________________________________________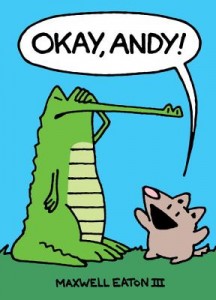 Okay, Andy
Series: Jump-Into-Chapters Series
By Maxwell Eaton
Publisher: Blue Apple Books
ISBN-13: 9781609053505
Age range: 5 – 8 Years
Locate a copy at a Local Bookstore
Andy, a crabby alligator, is a reluctant friend to Preston, a young coyote pup. Find out what makes Andy even crabbier—and how many times Preston misunderstands what's going on! They spend lots of time not catching rabbits, falling over cliffs, and trying to decide the difference between an owl and a bear. This Jump-Into-Chapters title is a perfect bridge between picture books and text-heavy chapter books.
________________________________________________________________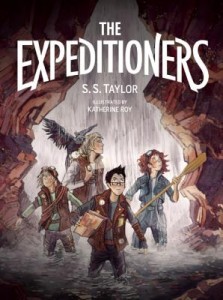 The Expeditioners and the Treasure of Drowned Man's Canyon
By S. S. Taylor
Illustrated by Katherine Roy
ISBN-13: 9781938073717
Age range: 10 – 14 Years
Locate a copy at a Local Bookstore
Computers have failed, electricity is extinct, and the race to discover new lands is underway! In this nail-bitingly thrilling adventure novel, brilliant explorer Alexander West has just died under mysterious circumstances, but not before smuggling half of a strange map to his intrepid children — Kit, the brain, M. K., the tinkerer, and Zander, the brave. Why are so many government agents trying to steal the half-map? What powerful secrets does it hold? And where is the other half? It's up to Alexander's children — the Expeditioners — to get to the bottom of these questions, and fast.