As the day to celebrate romantic love approaches, we ask what Kid Lit character holds your heart in a way only a Valentine should? Who would you run away with?
Listen to Podcast of our conversation on Kid Lit Love with Chris Lenois of WKVT's Live & Local here.
In a poll of children's book writers, librarians, and readers on Facebook, the Classics came into play. Would you also…
Go down the river with Huck Finn?
Go into that dark cave with Tom Sawyer?
Go up into the Alps with Heidi?
Take the plunge with Mr. Darcy?
Go into Boo Radley's yard with Scout?
Leave the Shire with Bilbo Baggins?
Or go down the rabbit hole with Alice??
(And where do you stand on the Harry and Hermione and Hermione and Ron romantic controversy raised by Dame J.K. Rowling? Do you stand by Hermione's decision while her creator seems to be backing off?)
While you ponder these great romantic questions, here are some books you might share with your romantic self or a small or big loved one. (Recommended by Curious City, Chris Lenois, and said Facebook community.)
_________________________________________
"One sunny day, a penguin and a rabbit fell in love."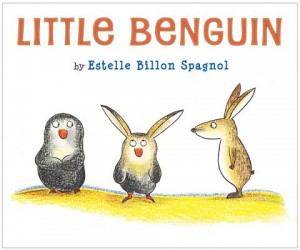 Little Benguin
By Estelle Billion Spagnol
Published by Holiday House
ISBN-13: 978-0823429349
Locate a copy at your local bookseller
Little Benguin is a little bit bunny and a little bit penguin. Not one. Not the other. A mix. His parents think he's special just the way he is, but the other animals avoid him. Little Benguin is lonely. "I want to be normal!" he wails.
Thanks to the arrival of a hungry wolf, an ensuing chase, and a masterful escape, it soon becomes clear to everyone that being different has its advantages. In this bright and funny story of courage and acceptance, Little Benguin shines as a one-of-a-kind, and wholly special, hero.
_________________________________________
"Once upon a time in a very busy city, on a very busy street, in two very small apartments, lived…Herman and Rosie."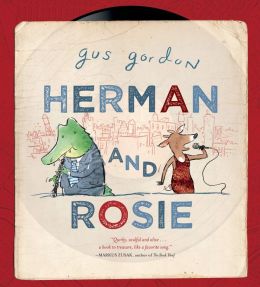 Herman and Rosie
By Gus Gordon
Published by Roaring Brook Press
ISBN-13: 9781596438569
Locate a copy at your local bookseller
Herman liked playing the oboe, the smell of hot dogs in the winter, and watching films about the ocean. Rosie liked pancakes, listening to old jazz records, and watching films about the ocean. They both loved the groovy rhythm of the city, but sometimes the bustling crowds and constant motion left them lonely, until one night…
_________________________________________
"Then Moose had a brilliant idea: Why not build a big house where they could all live together?"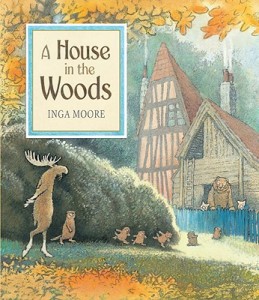 A House in the Woods
By Inga Moore
Published by Candlewick Press
ISBN 9780763652777
Locate a copy at your local bookseller
One little pig has made a little den for herself in the woods, and another little pig has a small hut next door. One morning they return from a walk to find that their big friend Bear has moved into the den and an even larger Moose into the hut. CRASH! With both homes collapsed, they're all in a pickle–but what if they find a way to build a house in the woods that all four of them can share? With lush, whimsically detailed illustrations and a cast of endearing, industrious (and most accommodating!) characters, Inga Moore constructs an inviting story of friendship that kids will be happy to visit awhile.
_________________________________________
"Ganesha loved to eat sweets and candy, especially the traditional Indian desert, laddoo."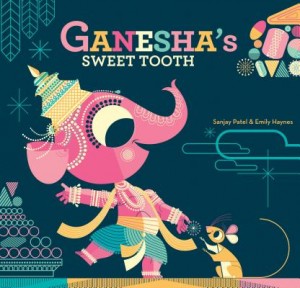 Ganesha's Sweet Tooth
By Emily Haynes & Sanjay Patel
Published by Chronicle Books
ISBN 9781452103624
Locate a copy at your local bookseller
The bold, bright colors of India leap right off the page in this fresh and funny picture book retelling (with a twist) of how Ganesha came to help write the epic poem of Hindu literature, the Mahabharata. Ganesha is just like any other kid, except that he has the head of an elephant and rides around on a magical mouse. And he loves sweets, especially the traditional dessert laddoo. But when Ganesha insists on biting into a super jumbo jawbreaker laddoo, his tusk breaks off! Ganesha is terribly upset, but with the help of the wise poet Vyasa, and his friend Mr. Mouse, he learns that what seems broken can actually be quite useful after all. With vibrant, graphic illustrations, expressive characters, and offbeat humor, this is a wonderfully inventive rendition of a classic tale.
_________________________________________
"When he'd sworn at her and been sworn at in return, they became great friends."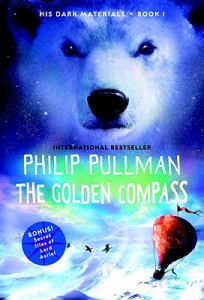 The Golden Compass
By Philip Pullman
Published by Yearling
ISBN 9780440418320
Locate a copy at your local bookseller
Lyra Belacqua is content to run wild among the scholars of Jodan College, with her daemon familiar always by her side. But the arrival of her fearsome uncle, Lord Asriel, draws her to the heart of a terrible struggle—a struggle born of Gobblers and stolen children, witch clans and armored bears. And as she hurtles toward danger in the cold far North, Lyra never suspects the shocking truth: she alone is destined to win, or to lose, this more-than-mortal battle.
Philip Pullman's award-winning The Golden Compass is a masterwork of storytelling and suspense, critically acclaimed and hailed as a modern fantasy classic.
_________________________________________
"Life ain't supposed to be nothing, 'cept maybe tough"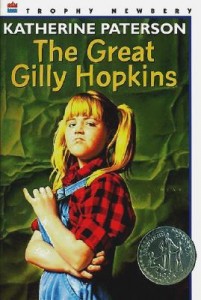 The Great Gilly Hopkins
By Katherine Paterson
Published by HarperCollins
ISBN 9780064402019
Locate a copy at your local bookseller
Eleven-year-old Gilly has been stuck in more foster families than she can remember, and she's disliked them all. She has a county-wide reputation for being brash, brilliant, and completely unmanageable. So when she's sent to live with the Trotters — by far the strangest family yet — Gilly decides to put her sharp mind to work. Before long she's devised an elaborate scheme to get her real mother to come rescue her.
But the rescue doesn't work out, and the great Gilly Hopkins is left thinking that maybe life with the Trotters wasn't so bad…
_________________________________________
"Shh," he said. "Look."
"Where?"
"Can't you see'um?" he whispered. "All the Terabithians standing on tiptoe to see you."
"Me?"
"Shh, yes. There's a rumor going around that the beautiful girl arrving today might be the queen they've been waiting for."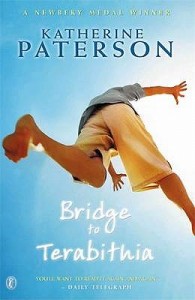 The Bridge to Terabithia
By Katherine Paterson
Published by Puffin
ISBN 9780140312607
Locate a copy at your local bookseller
Jess Aarons has been practicing all summer so he can be the fastest runner in the fifth grade. And he almost is, until the new girl in school, Leslie Burke, outpaces him. The two become fast friends and spend most days in the woods behind Leslie's house, where they invent an enchanted land called Terabithia. One morning, Leslie goes to Terabithia without Jess and a tragedy occurs. It will take the love of his family and the strength that Leslie has given him for Jess to be able to deal with his grief.
_________________________________________
"She had unusually dark brown eyes for one so fair. Her name was Sally Lockhart; and within fifteen minutes, she was going to kill a man."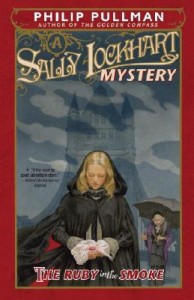 Ruby in the Smoke
By Philip Pullman
Published by Knopf Books for Young Readers
ISBN 9780375845161
Locate a copy at your local bookseller
"BEWARE THE SEVEN blessings . . . " When she first utters these words, 16-year-old Sally Lockhart doesn't know their meaning. But when an employee of her late father hears them, he dies of fear. Thus begins Sally's terrifying journey into the seamy underworld of Victorian London, in search of clues to her father's mysterious death.
_________________________________________
"The only thing worse than a boy who hates you: a boy that loves you."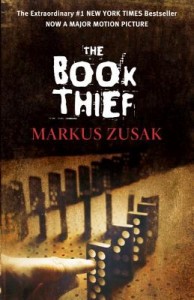 The Book Thief
By Markus Zusak
Published by Knopf Books for Young Readers
ISBN 9780375842207
Locate a copy at your local bookseller
It is 1939. Nazi Germany. The country is holding its breath. Death has never been busier, and will become busier still.
Liesel Meminger is a foster girl living outside of Munich, who scratches out a meager existence for herself by stealing when she encounters something she can't resist–books. With the help of her accordion-playing foster father, she learns to read and shares her stolen books with her neighbors during bombing raids as well as with the Jewish man hidden in her basement.
_________________________________________
"You like someone who can't like you back because unrequited love can be survived in a way that once-requited love cannot. "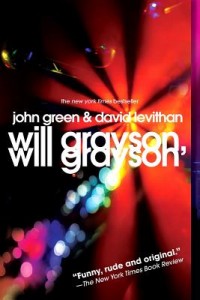 Will Grayson, Will Grayson
By John Green; David Levithan
Published by Speak
ISBN 9780142418475
Locate a copy at your local bookseller
One cold night, in a most unlikely corner of Chicago, Will Grayson crosses paths with…Will Grayson. Two teens with the same name, running in two very different circles, suddenly find their lives going in new and unexpected directions, and culminating in epic turns-of-heart and the most fabulous musical ever to grace the high school stage. Told in alternating voices from two YA superstars, this collaborative novel features a double helping of the heart and humor that have won them both legions of fans.
_________________________________________
"As he read, I fell in love the way you fall asleep: slowly, and then all at once."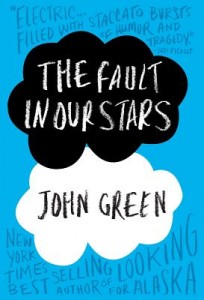 Fault in Our Stars
By John Green
Published by Dutton
ISBN 9780525478812
Locate a copy at your local bookseller
Despite the tumor-shrinking medical miracle that has bought her a few years, Hazel has never been anything but terminal, her final chapter inscribed upon diagnosis. But when a gorgeous plot twist named Augustus Waters suddenly appears at Cancer Kid Support Group, Hazel's story is about to be completely rewritten.
_________________________________________
"I bet you could sometimes find all the mysteries of the universe in someone's hand."
Aristotle and Dante Discover the Secrets of the Universe
By Benjamin Alire Saenz
Published by Simon & Schuster Books
ISBN 9781442408920
Locate a copy at your local bookseller
Aristotle is an angry teen with a brother in prison. Dante is a know-it-all who has an unusual way of looking at the world. When the two meet at the swimming pool, they seem to have nothing in common. But as the loners start spending time together, they discover that they share a special friendship—the kind that changes lives and lasts a lifetime. And it is through this friendship that Ari and Dante will learn the most important truths about themselves and the kind of people they want to be.
_________________________________________
RESOURCES
Discover all the book that librarians loved this year at the Youth Media Awards.
Dive into a previous generation of Harry Potter romance with the fan fiction series, the Shoebox Project.