Are you a WordPress user?  I am. (In fact, sometimes my enthusiasm borders on Gollum-my-precious-like affection.)
I am going to attempt to describe an aspect of blogging on WordPress that I have so far failed to describe with clarity–Categories.  I will attempt to do so using loose and sacrilegious literary references.
Categories allow you to index your blog posts.  In the past (before WordPress became our sparkly future), the only ways to navigate through a series of blog posts was to scroll through page after page or to click on the Archive that sorted our posts by date.  This will seem dreadfully unproductive to you when you discover that people can now navigate through your posts based on topic.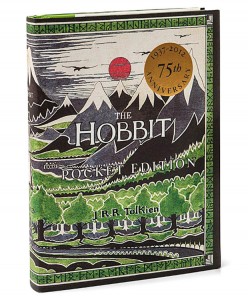 Categorizing Your Books
One way to get started with Categories is to create a Category for each one of your book titles.  Let's take someone we all know–the honorable Mr. Tolkien.  If I was building a WordPress site for JRR, I would create a Category for each of his books.  This way when JRR blogged about The Hobbit, it would get categorized or indexed as "The Hobbit."  Why is this important?  Think of yourself as a rapid Tolkien fan.  When you finished The Hobbit, would you not want to explore JRR's blog posts and read everything he had to say about the book?  You would.
While I would, of course, create a page on JRR website for The Hobbit with bibliographic information, reviews, and the like, it could not contain all the deep background/research/thoughts JRR would put on his blog.
Book Page vs. Book Category
So now I have created a Book Page called The Hobbit and I have a Category called "The Hobbit."  Do you understand the different content on each?  The Page is a bibliographic (and somewhat static) item and the Category is an index item where JRR completely geeks out on his writing of the classic tome.
Categories Create Unique URL's
Like you might believe in Elves, suspend your disbelief for a minute while I say…giving a book (or anything for that matter) a Category in WordPress also gives it a unique web address.  If all JRR's  Hobbit posts are Categorized as "The Hobbit," WordPress does a bit of magic.  All those Hobbit blog posts can all be seen on one webpage which means…they have their own web address.  So what?
Categories Allow for Compelling Links
Alright, you doubting hobbit, 'so what' indeed.  Here's what.  If JRR wanted to call attention to all his geeky blog posts about The Hobbit, all he would need to do is grab the web address for "The Hobbit" Category , type "My Geeky Thoughts on The Hobbit" on (say) his Book Page, hotlink that sentence, and suddenly he would have a compelling link for readers to go deeper into his story.  Got it?
Gay Dads, Breast Cancer, and Adoption
In The Hobbit??  No, we have moved on.  Forget JRR (if you can.)  Charlotte Agell wrote an astonishingly great chapter book called the Accidental Adventures of India McAllister.  It is about a Chinese-adopted girl whose adopted parents have divorced.  Dad now lives with Richard and Mom is an artist (and breast cancer survivor).  As a marketer, I see several audiences for this book.  GLBTQ parents, adoptive parents, and maybe even cancer survivor parents.  How can I draw attention to the quirky, sweet, matter-of-a-fact things India has to say about her life around these "issues"?
We ended up quoting India on a blog and adding additional first-person posts.  Because we gave each post a Category (remember those?), we can point say GLBTQ parents to all the things India has said about her Dad and Richard.  Here is a link to all of those posts.  Not only have we built a compelling link for readers, but we have creating a possible marketing advantage.
Have you seen that I have now taken you into Categorizing topics not just book titles.  Yes.  Tricky, huh?
Orcs at Teatime
Okay, let's talk topics some more.  Did you notice JRR was back?  Good.   He wants to blog about things that touch on more than one of his books.  Orcs are always popping up just when you want to have Elevensies and thus appear in many of his books.  If JRR has a Category for "Orcs," readers can follow his thoughts on the creatures even though the post is also Categorized as "The Hobbit" and "Return of the King."  Yes, you can have multiple Categories for one post!
Creating Categories
Easy as stealing gold from Smaug.  (Actually quite a bit easier.)  When you create a post in WordPress a box for Categories will appear on the right of your screen.  Once you have used  +Add New Category, that Category name is then there for you to use in the future by simply checking the box beside it.
Tags, oh, Right Tags
Below Categories, you will also see Tags.  This spot is for keywords from your blog post that you would like to call out to the Search Engine's attention.  Don't overdo it, but always, always put your own name there.
Creating Extra Navigation
WordPress has Widgets, nifty things that you can place in the columns of your site.  One of those Widget options is Categories.  Use it!  That places the Categories (a.ka.a your indexing system) on potentially every page for a reader to explore deep into your blog.  Look to the right column here. You should  see an "Index of City Stories" which is my index of everything I have ever blogged about.
Sketching Smaug
A note for Illustrators.  If you are assigning Categories to your blog posts, then you can index images by (for example) topic and medium.  Say, for example, an art director comes to your website.  They look at your Portfolio (on a static Page) and like your style, but they are looking for someone to draw Smaug for a picture book version of The Hobbit.  Sadly, all you only have in your Portfolio is drawings of puppies.  BUT (phew) on your blog, you have some sketch work on dragons.  If you have a Category of "Dragons," the art director might navigate there and see your skill in capturing the scaly splendor.
If you are using Categories, you have a unique URL for each topic or medium.  Consider putting a few lines onto your Portfolio page inviting people to explore more work.  You can list those topics and mediums and hotlink them to the URL of that grouping of blog posts.
"Not all those who wander are lost" -J.R.R. Tolkien
They certainly will not be lost on your site if you lay down Categories, my dear hobbits.