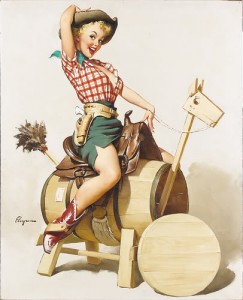 Thanks to all the clever creators at the Wild, Wild Midwest SCBWI Conference for attending my "Speak Your Mind, But Ride a Fast Horse: Rework Your Online Presence with WordPress" workshop.
We did the workshop Q&A as a write-in and I hope these answers might help you in your ride Westwards into web development.
(Feel feel to ride over to our partner Q&A about Marketing, All Hat, No Cattle, here.)
NEW TO THE WEB?  
If I am just getting started, where should I start?
You need three things (maybe four).
1) You need a domain name.  This is what the www.______________.com will be for your site.  If you were opening a flower shop, think of this as choosing the name of the shop.  And it is NOT like a shop because you can have various names.  Maybe you want www.YourName.com, www.YourNameAuthor.com, and www.YourBookTitle.com.  There are many places to get domain names.  I get mine from GoDaddy out of habit.  JUST get the domain name, though.  They will offer you all sorts of things they think you will need, but just go for the domain name.  A domain name should be under $20 a year.
2) Find a hosting service.  This is like renting a location for your flower shop.  I have tremendous success with BlueHost.  Hosting should be less than a $100 a year.
3) Install WordPress.  This is like buying the coolers, shelves, buckets, vases, lights, and cash register for the flower shop.  WordPress will hold the flowers, display the flowers, and help you share, and sell the flowers.  When you are ready to add content to your website, then YOU put in the flowers.  There are various small fees here, but you should not have to spend more than $75 for a theme (many, many are free) and some small plug-ins to help with various things like SPAM.
4) Locate a guide.  Although this is easier than it ever has been, the items above may be best done by a WordPress guide.  That guide should do all the steps above and then train you to put content into your site. Those guides can cost $600-$2600 depending on the complexity of your site.  I contend you can have a good site for $600.  Ask your local SCBWI, community college, or use people in the kids book business like your humble servants at Curious City.
Should you have a blog / website if you do not have a published work yet?  Where is the income stream if you don't have a book to sell?
Yes!  Publishers want to hire authors that know how to talk to their audience.  (Don't get me started on income streams and children's literature!)  Think of a website like your resume.  A job is your income stream, but the resume may have gotten you that job.
How do I point my domain name to WordPress?
Depends on whether you have a hosted website with a WordPress installation or you simply are using WordPress and are hosted by WordPress.  The "hosted" option varies, but someone at the host Help Desk should be able to help you.
If you blog at WordPress and your URL is www.MyName.wordpress.com and you want it to be www.MyName.com, then go to Dashboard>Store >Domains>Add a Domain Name.  WordPress has HELP screens to guide you here.  Have the website where you registered your domain name, domain name user name, and password handy.  You will need to go into your domain name account and change the Name Servers.  What??  Yes, seems obtuse, but Customer Service at your domain company can help.
NEW TO WORDPRESS?  NEW TO INTEGRATED WEBSITE & BLOG?
Can you compare the blog in WordPress to blogs in other programs?
Personally, I have only used Blogger.  My infatuation with WordPress comes from the ease in blogging, the blog's quick entry into relevance in search engines, and the ability to run a clean, attractive website alongside the blog.  Here is a good comparison of systems.
How can I learn how to use WordPress?
Here is one great tutorial.
If I blog on WordPress, but have a separate website, can you bring the two together under the website's domain name?
Absolutely.  You might want to seek help with the process, but basically you will install WordPress as your website's template, import your WordPress blog entries into it, and with a little spit and polish have an integrated website.
Will WordPress host your site?
Yes, they will.  I have some websites hosted by WordPress and some websites designed with WordPress software that are hosted by another hosting company.  I have never had an issue with WordPress, but to not put "all one's eggs in one basket", I suggest hosting with a WordPress friendly hosting service like BlueHost.  Hosting elsewhere is initially more complicated (and may require assistance) but in the end may be more stable.
How do I make my WordPress look unique and not like a template?
WordPress is template (or Theme) driven.  But the templates are getting more and more flexible allowing you to change design elements without much effort.  For example, my contract designer Marty Braun Illustration & Design and Curious City used the same template for our websites.  I think they look quite different.
Can you import your blog from Blogger?
Yes, you can!  You will need to set aside time to reassign Tags and Categories and to (sometimes) do some formatting adjustment.  You do it by going to Dashboard>Tools> Import.  See below the systems you can import from into WordPress.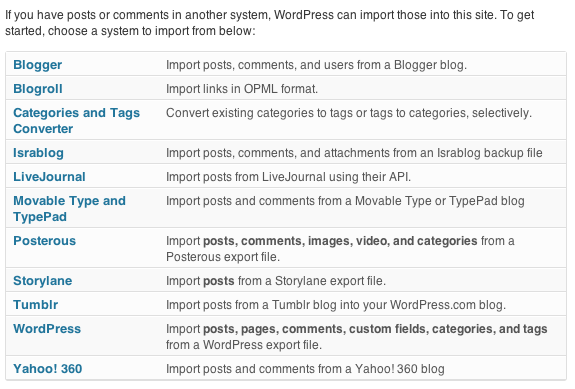 Should your blog and website be in the same place?
A few years ago, we did not have a choice.  WordPress and other systems now give us that opportunity.  So, yes, I believe that the consolidation of website and blog should be your goal.  People's attention spans are so short these days, why spit their attention between two locations?  For that matter, why split your web traffic between two locations?  Your website is the only way the majority of readers can engage with you.  Keep it clean, clear, and consolidated!
WORDPRESS QUESTIONS
When you switch Themes can formatting get lost?
Yes, when you switch Themes. some items may shift (you know like those airplane overhead compartments they warn you about).  You may need to spend some time tweaking.  With the new Responsive Themes (one that sense which device the reader is using and adjusts the layout for optimum viewing) your content gets juggled around on the page.  Look at it at all sizes, but also know that the adaptability of Responsive is far more important than image alignment.  In my experience, these transfers work better when you have not been too fancy with your image and text positioning to begin with.  I regret now, some of my fancy former posts with images left, right, and center all in the same post.
What if WordPress is telling you your pictures is too large?
"Too large" is a combination of an image's physical width and its resolution.  A digital camera image could be 10″+ wide.  Obviously it does not need to be that wide on your website!  A digital camera image also has a high resolution of 300 dpi or higher.  To look good on a computer screen, an image only needs to be 72 dpi.  So how to edit it?  Well…that all depends on your operating system,  image source, and where the image is stored.  I use a simple Mac program called Graphic Converter.  I would ask someone that knows you and your computer to help you select a program.
Should I install Jetpack?  How do I get Google Statistics?
If you have the latest version of WordPress, you should see a menu item in the Dashboard for Jetpack.  Have a look around.  There are many options to add to your site.  I love the "WordPress.com Stats" which allows (among other groovy things) for you to see what people Googled to find you.
Sadly, I have not explored Google Statistics.
How do you link up Facebook to WordPress?
There are two ways.  First, many WordPress Themes (templates) offer a "Facebook Like Box" as a Widget.  Use it if it is an option for you.  I allows for a "Like" box to appear on your website.  People are more likely to press "like" on your website and start getting your Facebook feeds than they are to search for you on Facebook to "like" you there.  NOTE this only works for Facebook pages not for personal profiles.
Facebook will allow you to have your blog feed automatically onto your Facebook wall (or at least it did in the very near past.  Facebook's functions change often.)  I prefer, however, to post my blog entries by hand because it allows me to a) give a short description of what I am sharing and 2) it allows me to tag people or organizations in my Facebook post.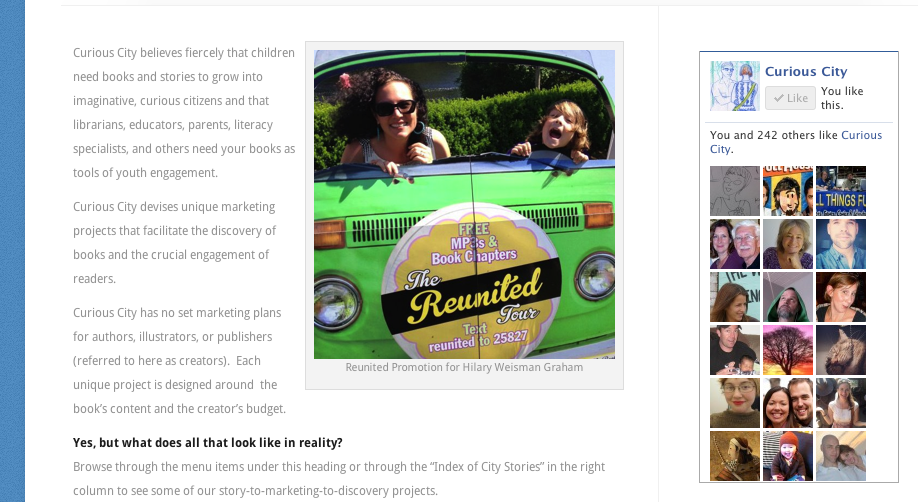 How do I block SPAM in my comments?
Because WordPress is SO open to comments and sharing, it appears its comments are very open to SPAM.  Never fear, there is a fix for that.  In your Dashboard look for references to Akismet.  It is magical little plug-in that stops the majority of the SPAM.
Should your blog be on the home page of your website?
The default for WordPress is to put the blog on the Home page as the WordPress creators/programmers find the sharing of ideas and information to be the most important goal.  I have to agree.  You want your website to look fresh, but really it is a matter or preference.  I am currently experimenting with a static home page with the blog tucked behind.  I am not sure what I think about it yet!  Every page, however has my Category list or index of my blog posts, so I still feel like I am putting my blog posts front and center.
Consider creating a mission statement for yourself and placing it in the top Widget spot.  This will say who you are no matter what page people land on.  Having a static web page makes you think you can control the message, but many of your readers may never see your Home page.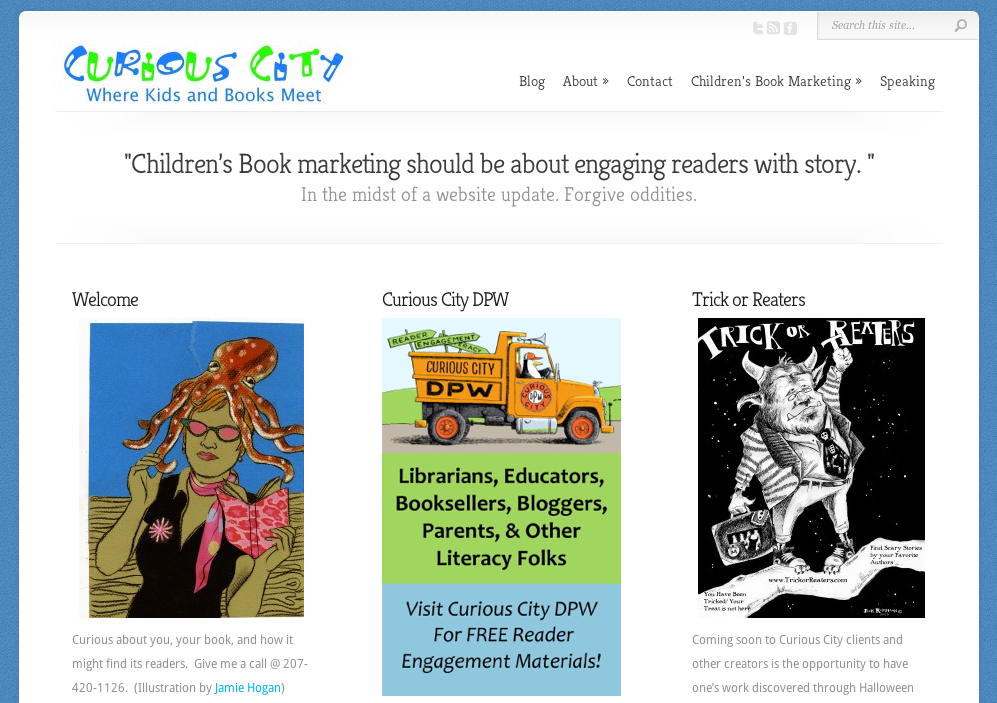 BLOGGING
How many words should be in a blog post?
That is an individual choice.  Think about the on-screen reading experience, however.  Reading a screen is not like holding a printed page.  Most online readers like something shorter, punchier, and broken up with images.  Even newspaper and magazine online stories break-up a post to several pages so one does not have to scroll down too far.  For example, this post is TOO long!
How often should you blog?
Oh, you know I hate "shoulds."  Know that some blog readers will dismiss a site where the top blog post is old.  Every two weeks or less is ideal, but I often don't make that goal!
One trick if you don't want people to focus on the dates of your posts, is to make your dates less prominent.  Go from Dashboard>Settings >General>Date Format.  Sometimes, I change the date format to the European way which looks like a blob of numbers to most Americans.
How do you find a particular niche to blog about?
The answer to that question is as complex as "how do I find something unique to write a book about?"  What do you WANT to talk about?  What interests YOU?  Yes, blogging is work, but what you are writing should reflect what you are uniquely curious about.
Should you collect names for a mailing list?
Yes.  WordPress offers a Widget that allows people to follow your blog.  Readers get an email each time you post.  But, you may want to be in touch with people with an email newsletter.  I suggest using MailChimp.  It is a very friendly, integrates well with externally hosted WordPress sites, and is inexpensive.   You may need someone to help get you started.  I turned to my more operationally clever business partner to set it up.
How can I solicit specific information from people on my blog?
Whenever I have wanted people to give me specific feedback on a project, I have been slightly disappointed with the results.  People visit different pages and posts on your site and getting their attention on a topic can be hard.  You can always ask a question in your blog posts to encourage comments.  WordPress also offers simple forms for pages that when filled out, shoots you an email.  Put one up and see what you get!
Should you guest post?
Sure!  But look you blogs in your content area to appear on, not just your circle of writer friends.  Guest blogging when done well, introduces you and your book to a new audience.  Choose that audience wisely because writing posts for other blogs is a lot of work!
Can you blog in a character's name?  Can you do this pre-publication?  Do you need a disclaimer saying this is not a real person?
I adore character-driven websites.  It allows the book to have a longer life, it allows for the book to stay "current", it shows that the author can continue a character, it shows that an author is capable of world-building, it will create content that draws people to the book, and it rewards the reader with bonus material.
Whether you should do it pre-publication is debatable.  On one side, it shows the publishers that you have strong, creative marketing skills.  On the other side, publishers tend to want to help shape a character/story and take ownership of a character/story.  Would your character's pre-determined personality and back story online feel too much too soon for them?  It might.  Best to ask an agent this question.
As for revealing the secret, I never have.  Let your readers wonder.  The fact that there is a book for sale clues many in.  Here are a few character-driven or meta-fiction blogs: Ballpark Mysteries, Sirenz, Lobster Boy, and India's Ink.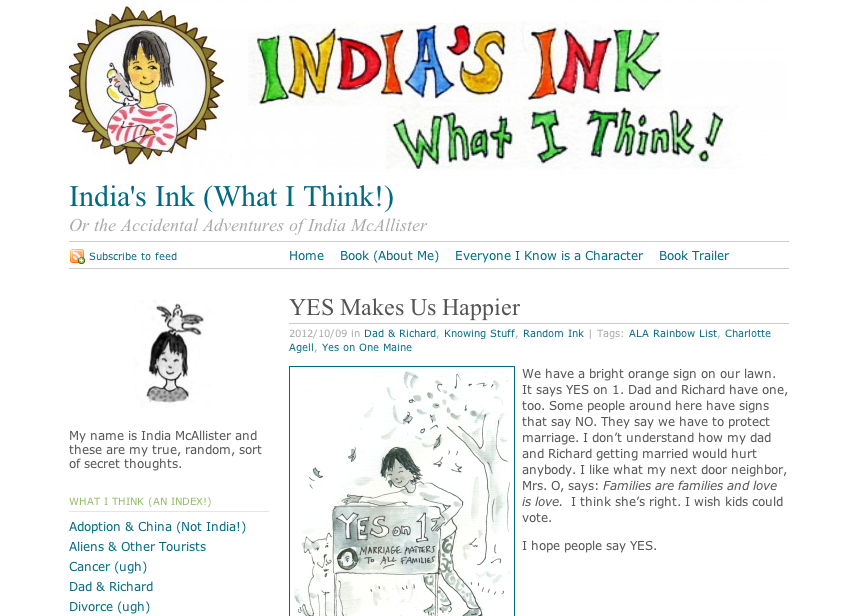 How do I get permission to post student's art and letters?  Can I post pictures of kids from my events or do I need a photo release?  Do I need legal help to post a contest?
The bottom line is that families do not want their children's photo, art, letters, entries. and so on posted in a public place where someone of ill intent could trace their children.  Families have different interpretations of how safe is safe.  When I solicit artwork or entries from kids, I ask their families to tell me how to list their name (and to consider their online privacy when doing so).
On your Contact page of your website you might consider adding language that a) you invite letters and artwork from readers and b) like to share them with other readers.  Ask that they inclose a separate note from their family giving you permission to share it and (again) how to give them credit while still protecting their privacy.
As for event photos, check with the venue.  They may have a policy of their own, but to be at your safest, you really need permission if a child's face is showing.  Some schools have blanket permissions for their students.  Ask your school host and when you do post the photo make sure to caption it with "used by permission of…".
Contests have gotten looser and looser as the web has gotten bigger and bigger.  In the name of books and literacy you can get away with many casual giveaways and awards.  Without knowing the particular circumstance of a contest, though, it is hard to comment.
ILLUSTRATORS
For Illustrators using WordPress, should they have a static page for their Portfolio?
The good news for illustrators is that recent upgrades in WordPress allows you to create a Gallery on any Post or Page.  New Themes are being developed every day with artists in mind as well.  The best use of of WordPress is to have a static page as your Portfolio, but also blog your images.
If you are assigning Categories to your blog posts, then you can sort images by (for example) topic and medium.  Say, for example, an art director comes to your website.  They look at your Portfolio and like your style, but have a picture book project about cats.  Perhaps on your blog, you have been sketching your studio cat.  If you have a Category of "Cats," the art director might see your skill in capturing the feline physical humor.  If you are using Categories, you have a unique URL for each topic or medium.  Consider putting a few lines onto your Portfolio page inviting people to explore more work.  You can list those topics and mediums and hotlink them to the URL of that grouping of blog posts.  Does that make sense?  It is hard to explain!
MISC
How do you separate your day job identity from your author identity?
You may simply need separate websites.  Maybe you need www.YourName.com and www.YourNameAuthor.com.  You can link liberally between them, of course.  Client author David A. Kelly struggled with this.  He added a mention of himself as a children's author to his day job website here, opened a author site here, AND actually opened a website for his book series here.
Should you have separate websites for your individual books?
There is not universal answer to this question.  Where is does possibly make sense to have a stand-alone website is when you have a series, when a book is a big age or genre departure from your other books, or when you want to be an absolute authority on a topic.  Take the picture book biography, A Splash of Red: The Life & Art of Horace Pippin.  The creators and I decided that the online presence for artist Horace Pippin was scattered and that we could consolidate information about him in one location to a) convert interest in the artist to interest in the book and b) provide readers of the book with a deeper experience of the artist.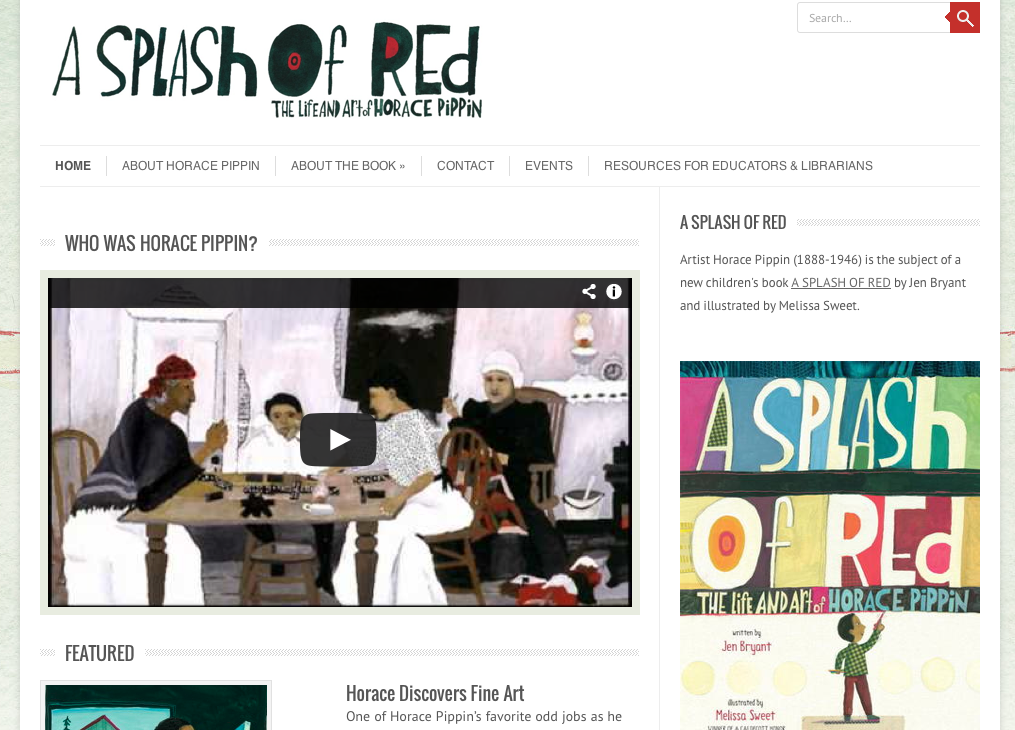 What is the biggest mistake new writers make with their website?
The biggest pitfall for a writer at any stage is getting overwhelmed by the construction of the website.  Web design is an operational project and you may not be an operational sort of person.  Call in the calvary.  get the help you need on your website so you can get to creating content–your strength.